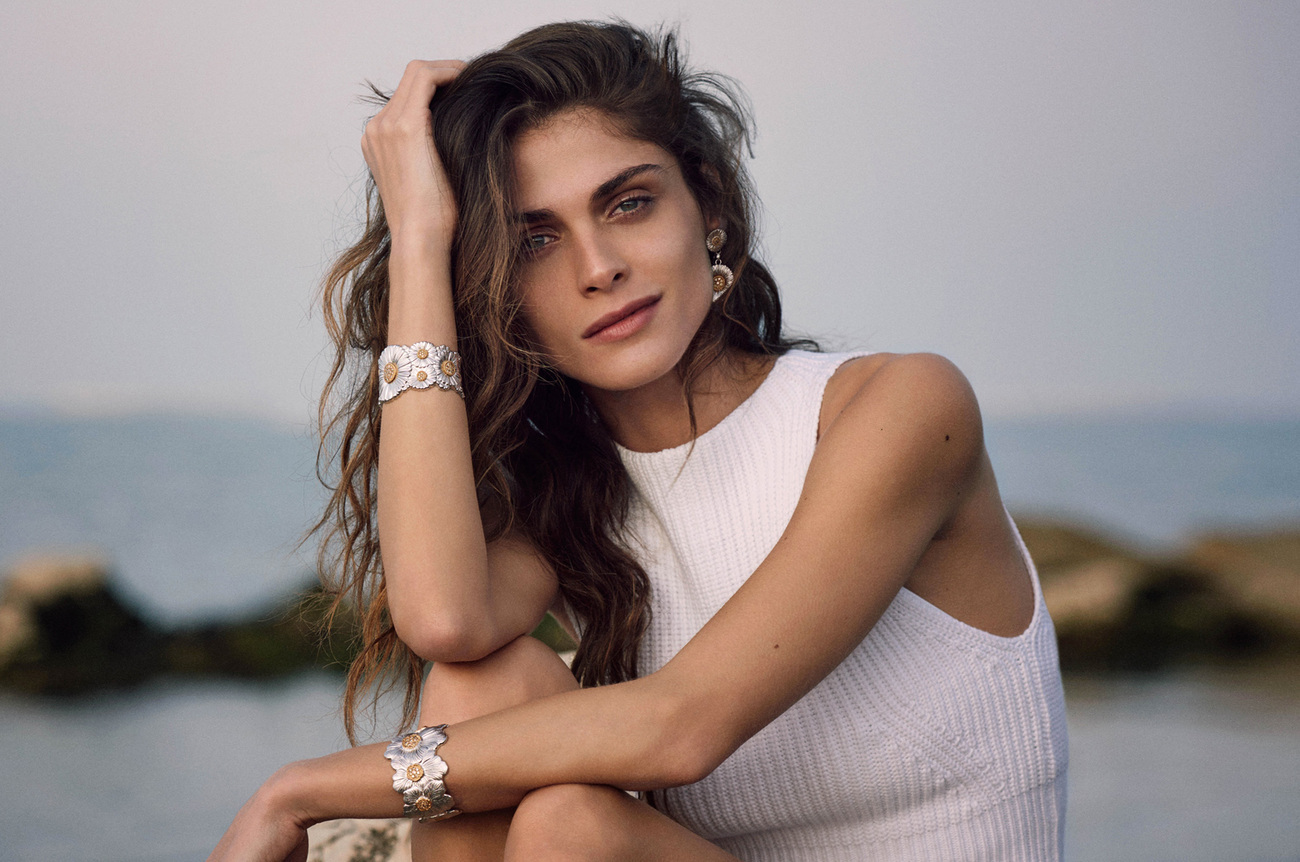 Europe has a long history when it comes to jewelry. In fact, some of the oldest pieces discovered are attributed to Homo sapiens and Neanderthals and date back to tens of thousands of years ago.
The first adornment objects were made tens of thousands of years ago, from hunting relics and they included animal bones, teeth, and nails. Their purpose was to help community members showcase the fact that they were brave and responsible. In time, as civilization arose, they became status symbols for the wealthy and powerful.
Nowadays, jewelry plays several roles in European culture. It is perceived as a sign of financial potency, a differentiator of class, it is meant to enhance someone's physical appearance, stand up for certain causes and showcase their personalities and values.
The European jewelry market is expected to cross the $34 billion threshold, in 2022
In 2021, the European jewelry market was assessed at $32,443 million and it is expected to reach $34,732 million in 2022, growing at a 2.23% CAGR, until 2026, according to Statista. Europe generates about 47% of China's sales, in the same category.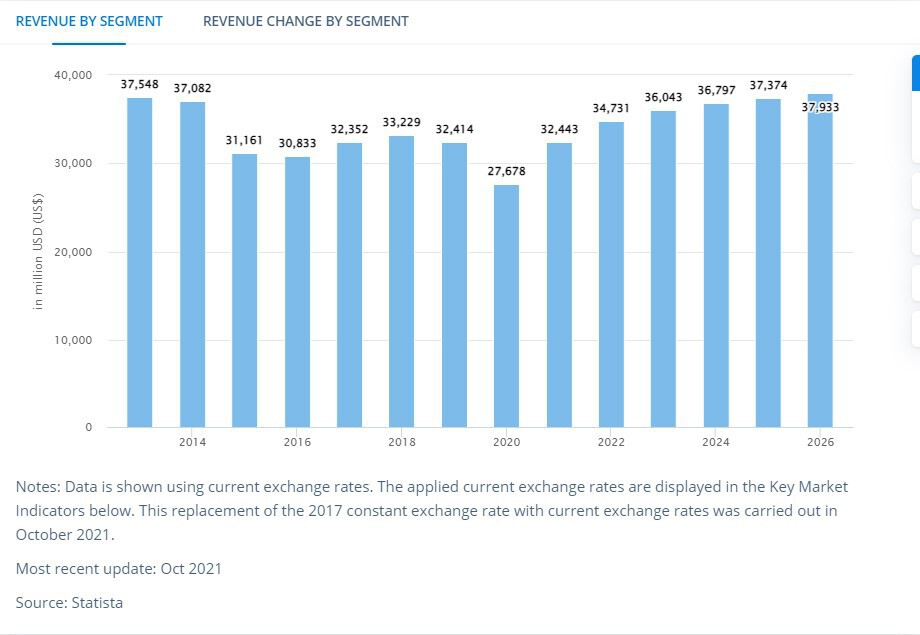 image credit : Statista, Revenue of Jewelry market in Europe 2013-2026
Compared to the continent's population, in 2022, the revenue per capita is expected to reach $40.9, with 73% of the sales being associated with non-luxury goods.
According to the Observatory of Economic Complexity, in 2019, Europe's top 3 jewerly exporters were Switzerland ($10.9 billion), France ($7.7 billion), and Italy ($7.3 billion), while the top 3 importers were Switzerland ($16.6 billion), United Kingdom ($5.64 billion), and France ($5.6 billion).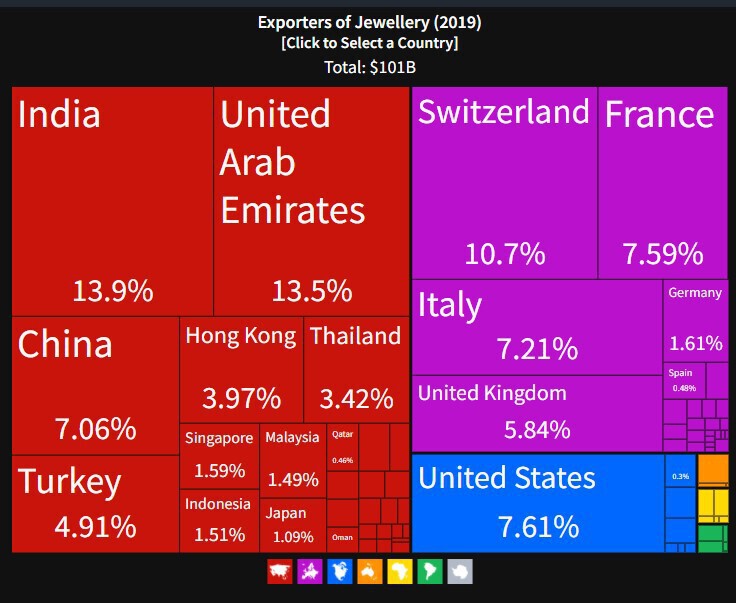 image credit : O.E..C (Observatory of Economic Complexity) Exporter of Jewelry in 2019, by country
Switzerland
Although associated more with watches than jewelry, Switzerland is thriving in this area. The country benefits from a mix of high-end consumers, which are interested in branded gold products, with 60% of their acquisitions targeting luxury pieces, significantly higher than Europe's 27% average.
The industry's revenue for 2022 amounts to $1,237 million, as Statista points out.
Swiss shoppers have a preference for trusted producers, respected and highly-renowned companies. This is no surprise if we take into account that the country is home to some of the world's most famous, exquisite brands, which have gone global, such as:
Chopard
Founded in 1860, by Louis-Ulysse Chopard, the famous watchmaker, the house of Chopard started making high-end jewelry in the 1880s, making a name for itself in the industry. In 2018, Chopard had over 100 stores worldwide and an annual turnover of over $800 million.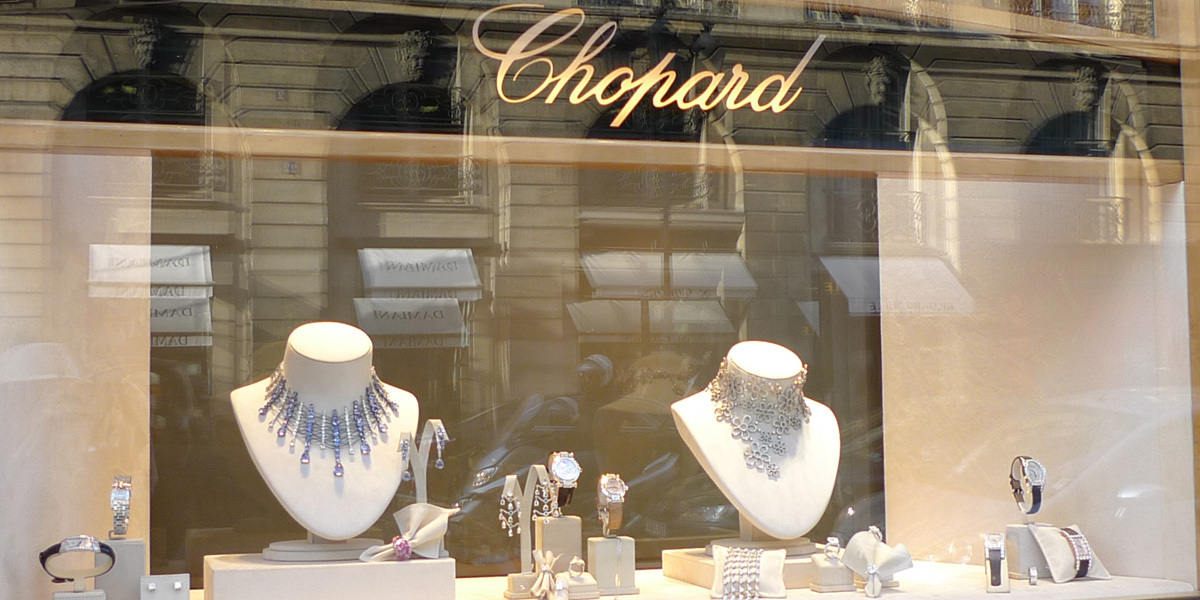 Image credit : Chick & Geek, Chopard's strorefront window, Vendôme Place (Paris)
Piaget
It took Piaget almost 80 years to expand its watchmaking business and add jewelry to its portfolio, but, nowadays, the company owns and operates the largest jewelry workshop in Geneva.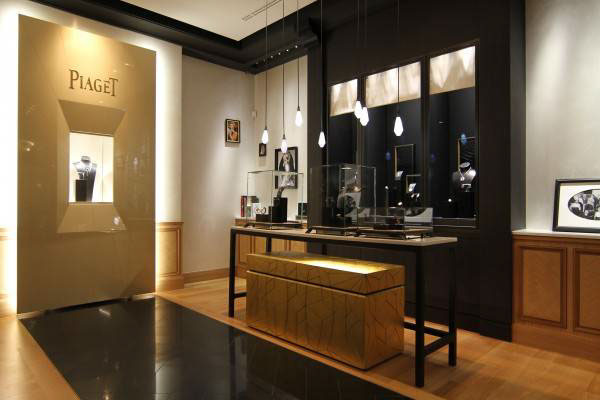 Image credit : Piaget Store, in Shanghai (Behance)
France
France is expected to sell jewelry worth of $3,889 million, in 2022, with more than half being represented by non-luxury pieces. Compared to other European countries, this year, France will have one of the highest per capita revenues in the European jewelry industry, of $59.3.
Even if France has been going through several crises in the past years, from the Yellow Jackets to the pandemic, consumers have a consistent appetite for jewelry. This has been keeping sales balanced, despite the overall climate, where stores were closed and retailers had a difficult time reaching their shoppers.
Of course, France is one of the best markets for jewelry and the home of some of the world's most aspirational brands, such as:
Cartier
According to Forbes 2020 data, French-native brand Cartier has a value of $12.1 billion and a turnover of $6.8 billion. Known as "the jeweler of kings and the king of jewelers," the company has over 100 stores worldwide, including flagship locations in New York's 5th Avenue, and London.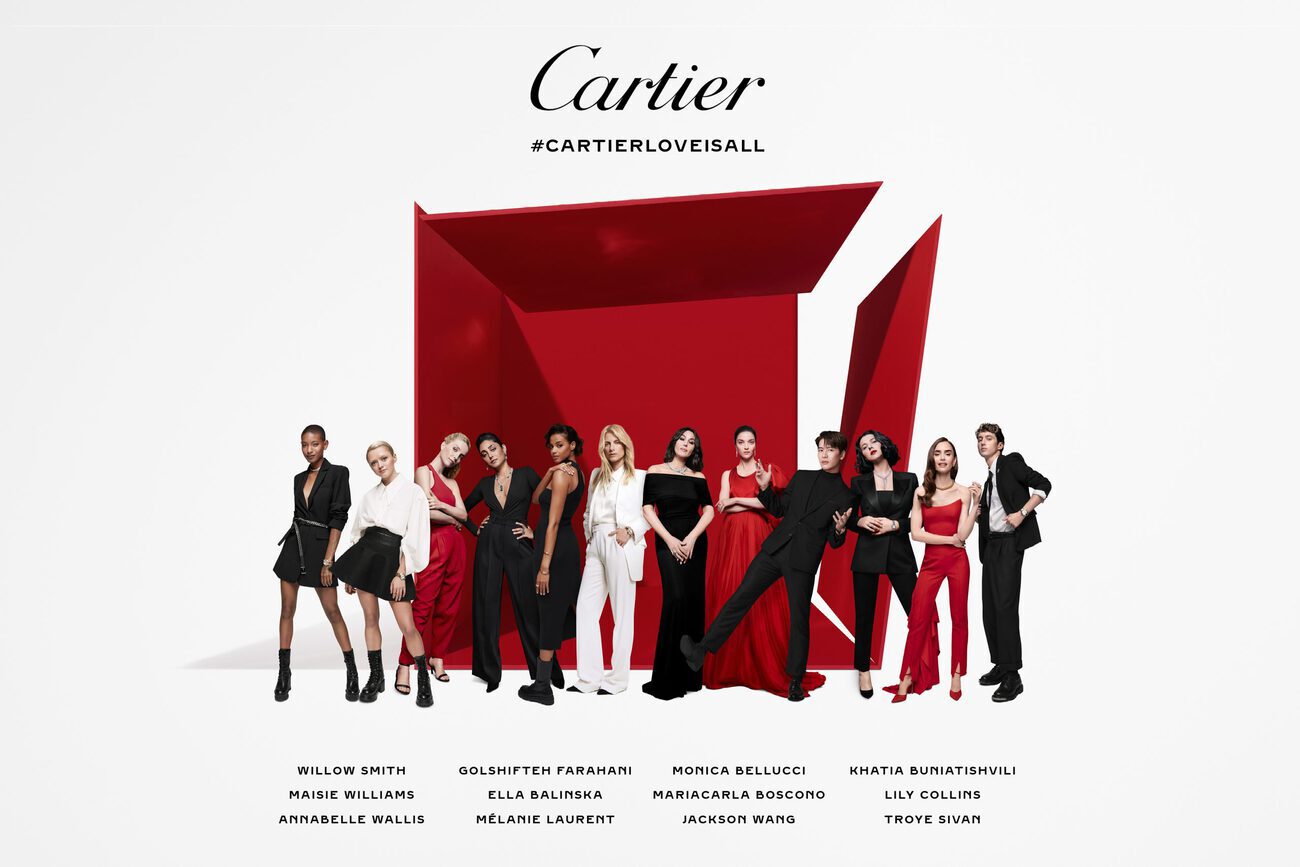 image credit : Marketing communication news : Cartier Love is all campaign, featuring top influencers
Tiffany & Co.
Headquartered in New York, Tiffany & Co. is part of the LVMH Moët Hennessy Louis Vuitton conglomerate. The company which generated $4.4 billion in fiscal 2019, according to Forbes, and $2.2 billion in 2020's third quarter is expected to help the group double its sales in the jewelry and watches segment. In 2019, Tiffany and Co. had over 2019 stores across the world.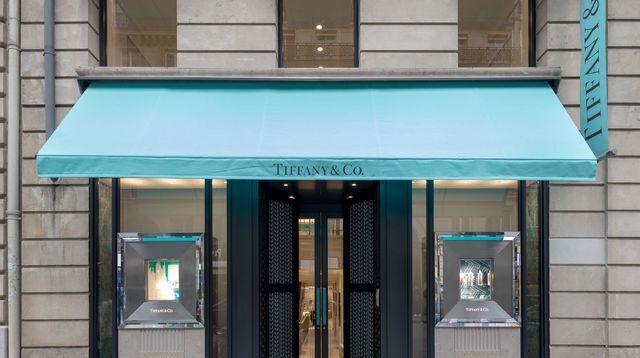 image credit : Tiffany & Co. store in Paris (Rue de la paix)
Chanel
Although known for its couture and perfumes, Chanel is one of France's most prestigious fine and costume jewelry brands. Its creations are available worldwide, in select locations like Harrod's (UK), Neiman Marcus (USA).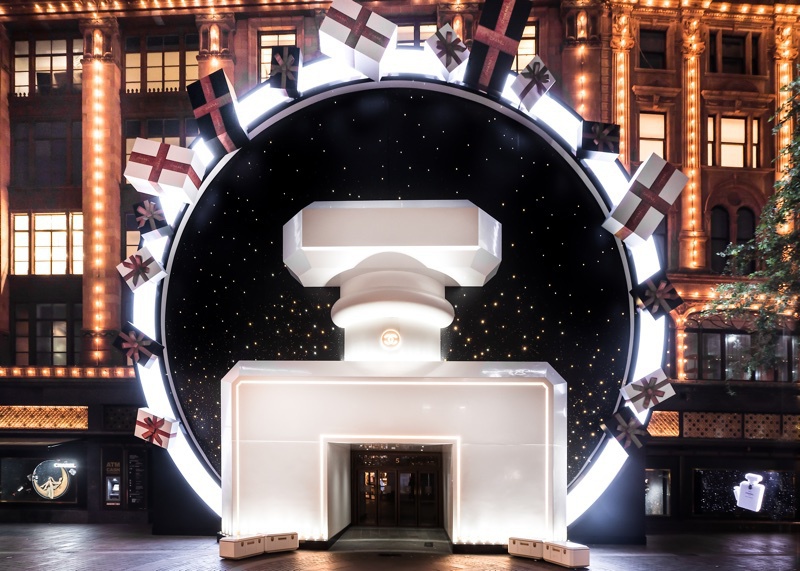 image credit : Cosmetcis Business, Channel installation at Harrods for the 100th anniversary of channel n°5
Italy, Germany, the United Kingdom and the rest of Europe
Italy, Germany, and the United Kingdom also have strong jewelry markets which are expected to overcome the $4 billion thresholds, in 2022.
Italy is known for its beautiful aesthetics, design, and manufacturing, so, the "Made in Italy" label is a guarantee of fine taste and quality. Some of the brands worldwide consumers appreciate are Bvlgari, Damiani, and Roberto Coin, which combine gold with precious stones, like diamonds.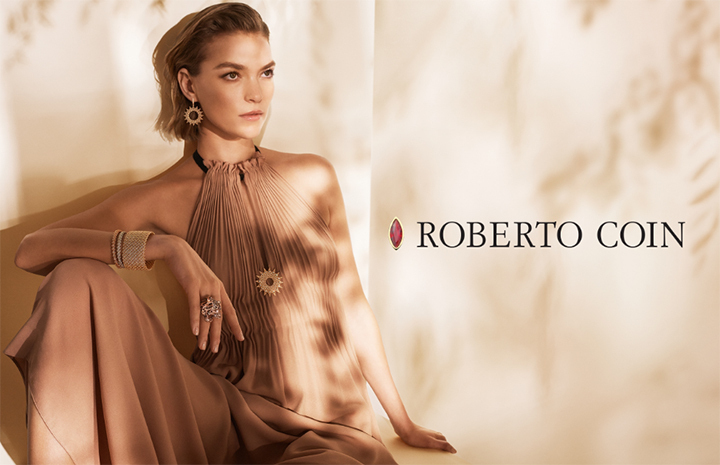 image credit : SwoMag - Roberto Coin 2018-2019 campaign with Arizona Muse
Germany is recognized for the way it works gold and for some of the world's most appreciated manufacturers, which have excellent techniques and heritage. Names include Wempe, Wellendorff, and Bucherer.
The UK is known for its Birmingham Jewelry Quarter that holds the largest concentration of jewelry businesses in Europe. There are over 700 independent manufacturers here, responsible for over 40% of the country's production. Some of the top brands in the UK are Element jewelry and Signet Jewelers.
In spite of the COVID-19 pandemic, the UK jewelry industry appears to be thriving. A Matter of Form March 2021 report showcases that 2 thirds of English consumers have purchased jewelry or watches between 2020 and 2021, 5% more than in 2018.
Still, apart from them, there are countries with lower turnovers, in terms of sales, but which have differentiated themselves by being the starting points for companies that have taken over the world.
Such examples include:
Denmark
Here, the jewelry segment amounts to $285 million, according to Statista. Denmark is known as the home of Pandora, the brand focused on silver jewelry and charms is sold in over 100 countries, on six continents, and in more than 7,800 points of sale. Pandora finished 2021 with a revenue of 19 billion DKK.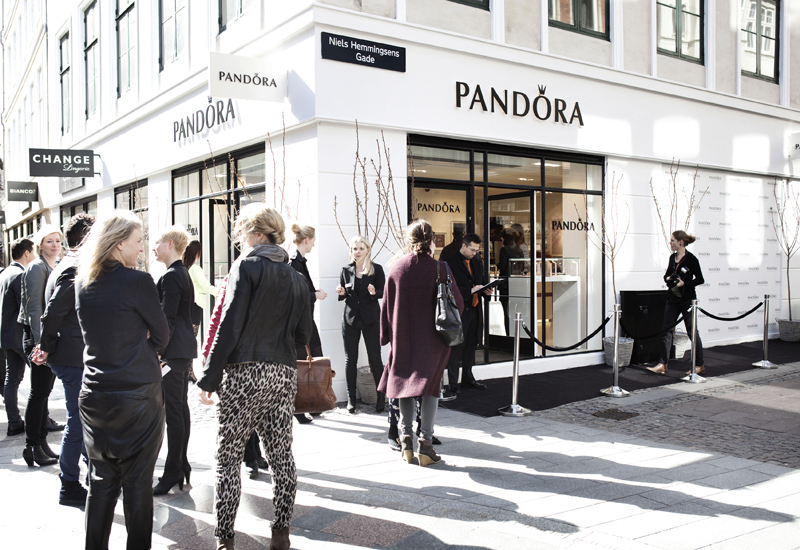 image credit : Professional Jeweler Pandora concept store in Copenhagen Denmark
Austria
Austria's jewelry market is assessed at ​​​​$420 million, in 2022. The country is recognized for the Swarovski brand, which is a family-run, independent company, with a turnover of over 2.7 billion, according to figures communicated in April 2020.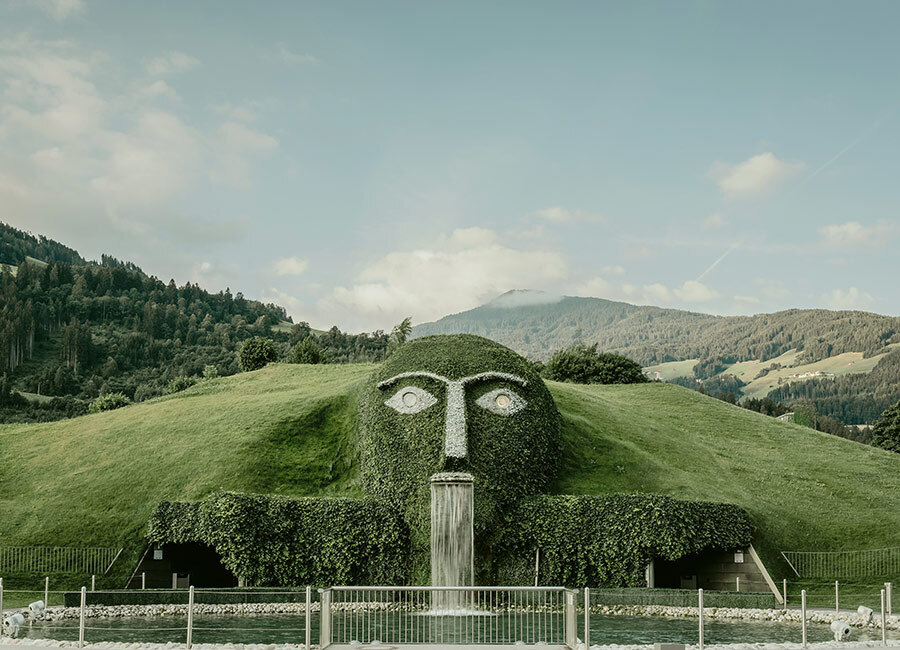 image credit : Swarovski Kristalwelten (The worlds of Crystal) in Wattens, Austria
European jewelry disruptors are combining finesse with sustainability and inclusivity
Fine jewelry, made from precious metals and stones has long been a financial investment that performed well economically across the years. This is why Europe has constantly registered a request for pieces with gold, silver, platinum, diamonds, sapphires, etc. Older demographics are those interested in purchasing items from heritage brands, made through traditional methods, with carefully curated materials. They make acquisitions for important moments, which need to be remembered, such as weddings.
Still, nowadays, heritage pieces are losing their appeal on the continent, as shoppers from the younger generations, such as Gen Z-ers, are less connected to the monetary and sentimental values of fine jewelry brands. Instead, they are looking for pieces that have a cultural appeal and which connect to the buyers, their values and causes.
Marie Lichtenberg
Former French ELLE editor Marie Lichtenberg created her eponymous brand from the desire to create modern heirlooms, which help people express themselves. The designer which pays much attention to quality and which works with precious gemstones and recycled gold, engraves her rare, fine pieces with phrases of endearment. This mix of aesthetics and emotions is what sets her apart, making the brand an extremely appreciated one, both in France and abroad.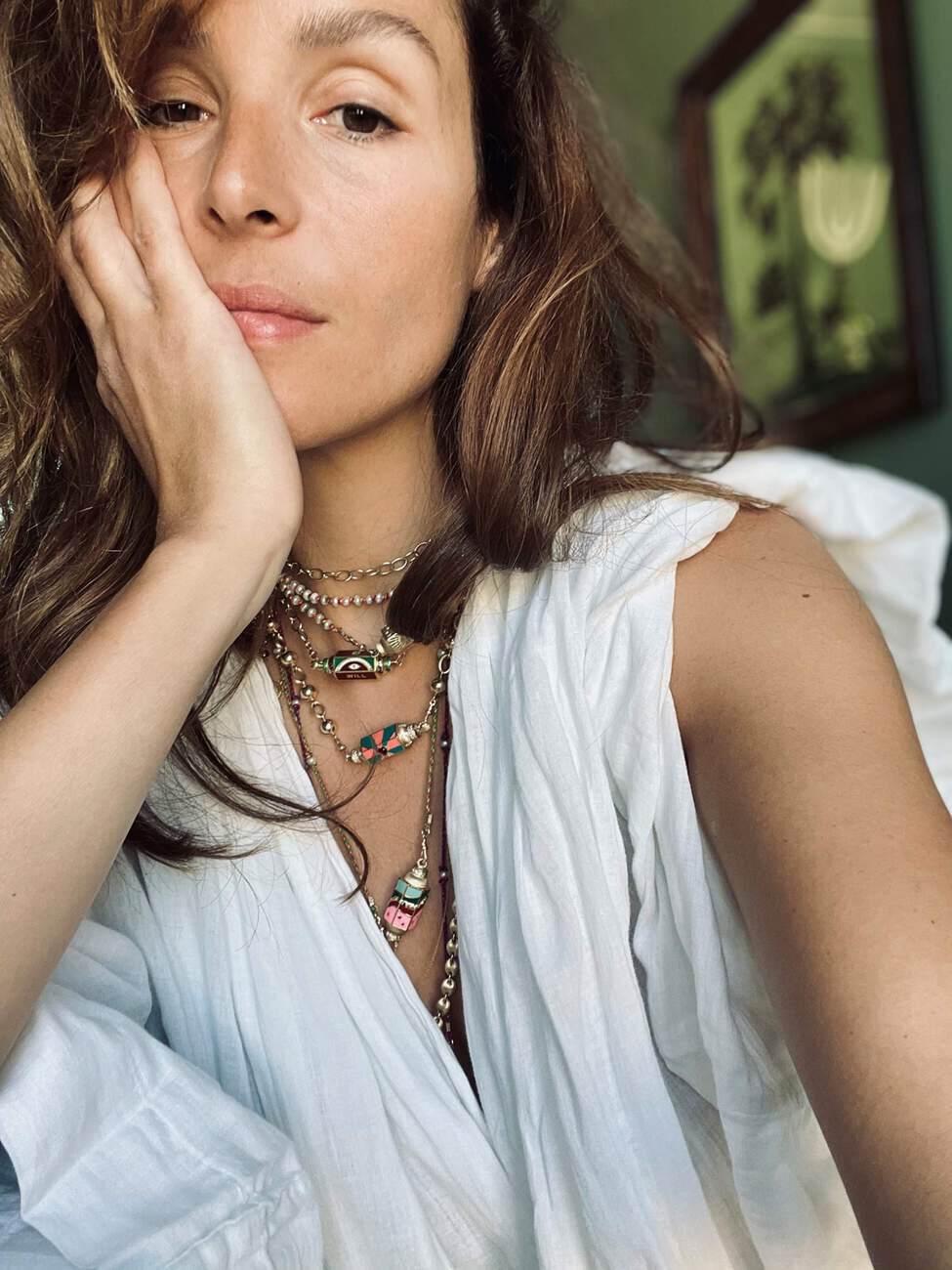 Image credit : Net-A-Porter Marie Lichtenberg, The French Fashion Editor who created the new cool girls' Locket
Simuero
Created by Rocío and Jorge, Simuero is an artisanal jewelry brand set in Valencia, Spain. All their pieces are one-of-a-kind, made-to-measure, crafted especially for the buyer, from recycled materials sourced from local suppliers. Simuero takes its inspiration from nature, its spontaneity and imperfect beauty.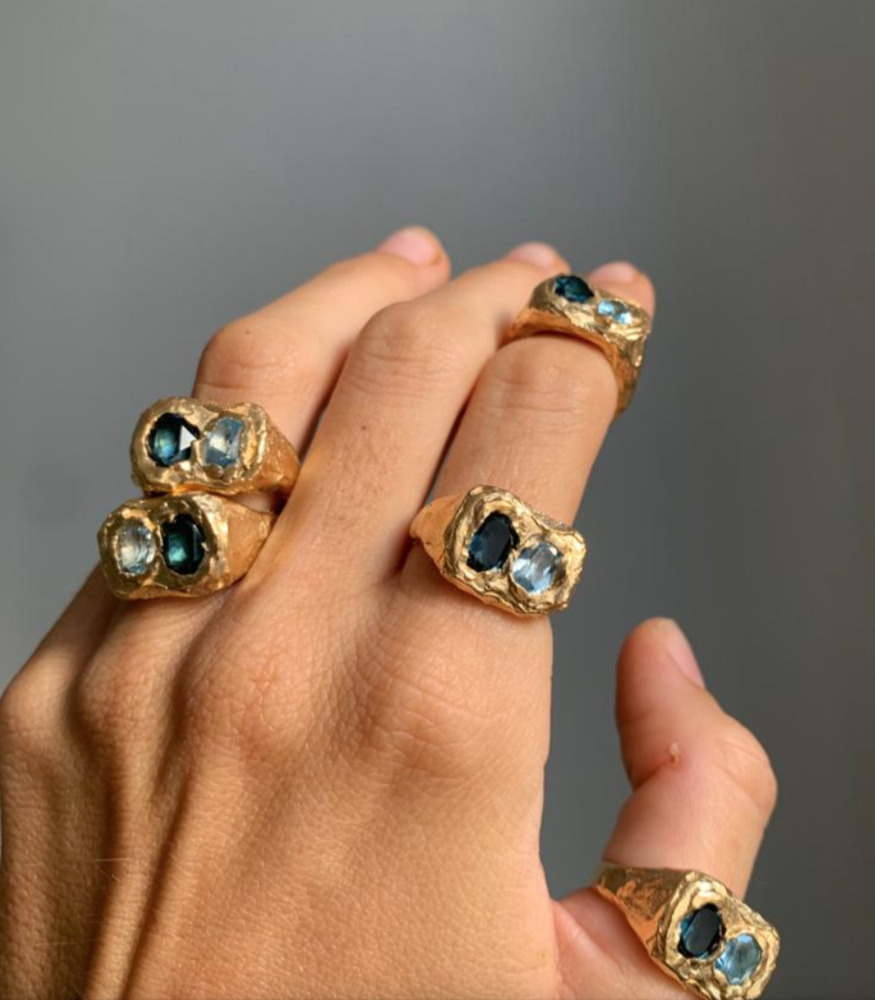 image credit : Georgia fowler, Simuro rings , La costa Pieces
Noën
German jewelry brand Noën was launched by Claudia and Malte Schindler in 2006. The jeweler works with small mines that don't use chemicals in the extraction process, making it a more sustainable option that protects both the workers and the environment. Their hand crafted pieces are sold in its home market and across Europe, in countries like Norway, Austria, Switzerland, Sweden, Denmark, Holland, Belgium.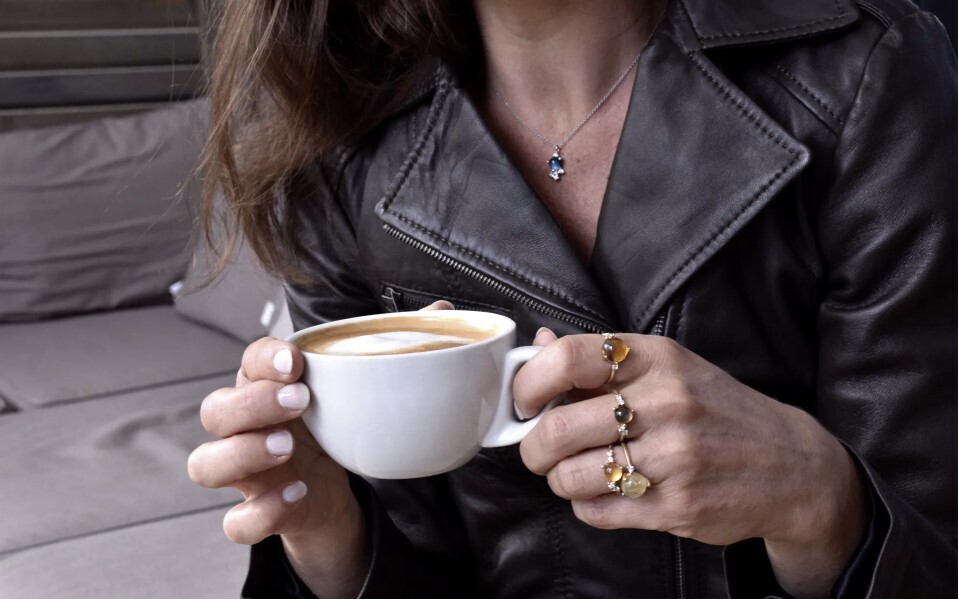 Image credit : Noen Gold Jewelery collection
JEM
The name of French jewerly brand JEM stands for jewelry Ethically Minded since the company works only with fairmined gold. The designer's appealing, clean aesthetics is considered disrupting in the overall landscape. It showcases that craftsmanship, ethic sourcing, and grace work together beautifully and that consumers don't have to choose between them. The pieces are available across France, with free shipping in Europe, but also in the UK, where several stockists sell JEM creations.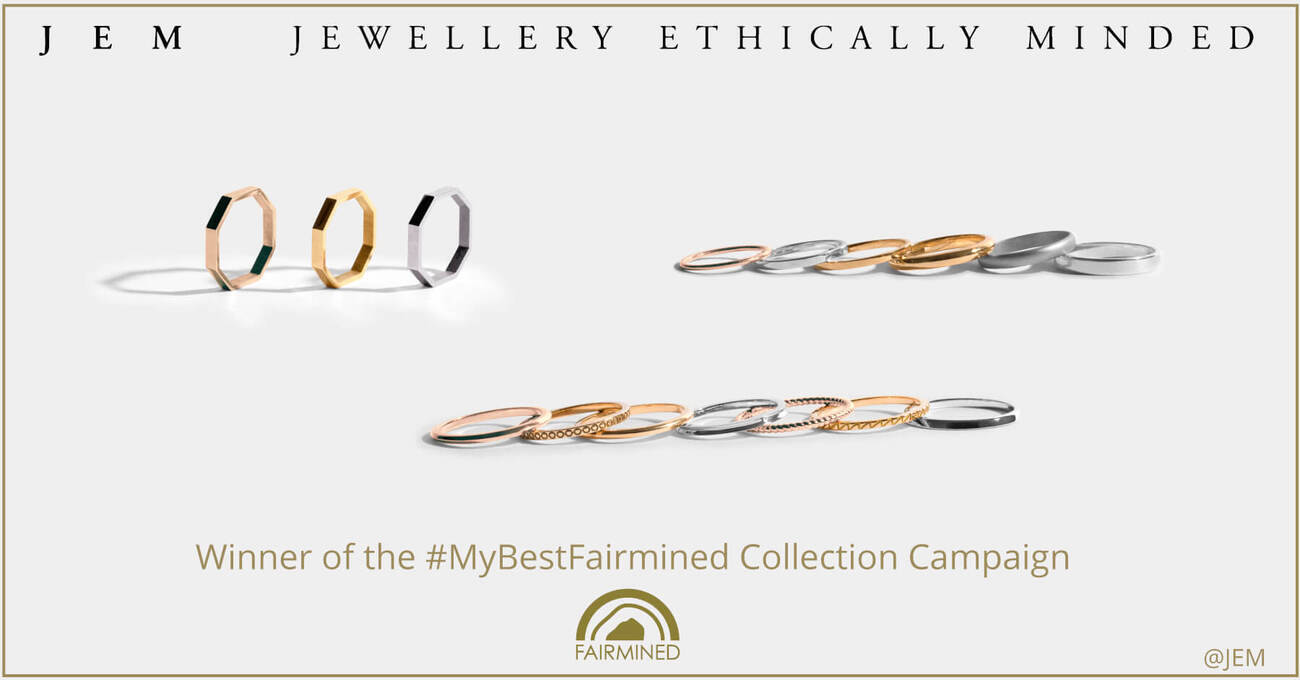 Image credit :Alliance for Responsible mining , JEM winner of the Best Fairmined Campaign
2022 Trends on the European jewelry market
E-commerce is a must
Through the pandemic, e-commerce has been a breath of fresh air for retailers, which were required to navigate the challenges of nonessential store closings and lockdowns. While these times were a catalyst of digitalization, jewelry brands realized that selling their products online brings a significantly wider range of benefits that they could leverage even when the pandemic would be over.
Indeed, e-commerce enables jewelry sellers to offer their consumers a more in depth look at their offerings, compared to physical shops, allowing them to display all their products, without worrying about security or holding a high level of stocks. By developing e-commerce platforms and expanding their capabilities, jewelry players penetrate a market with less limitations and more opportunities.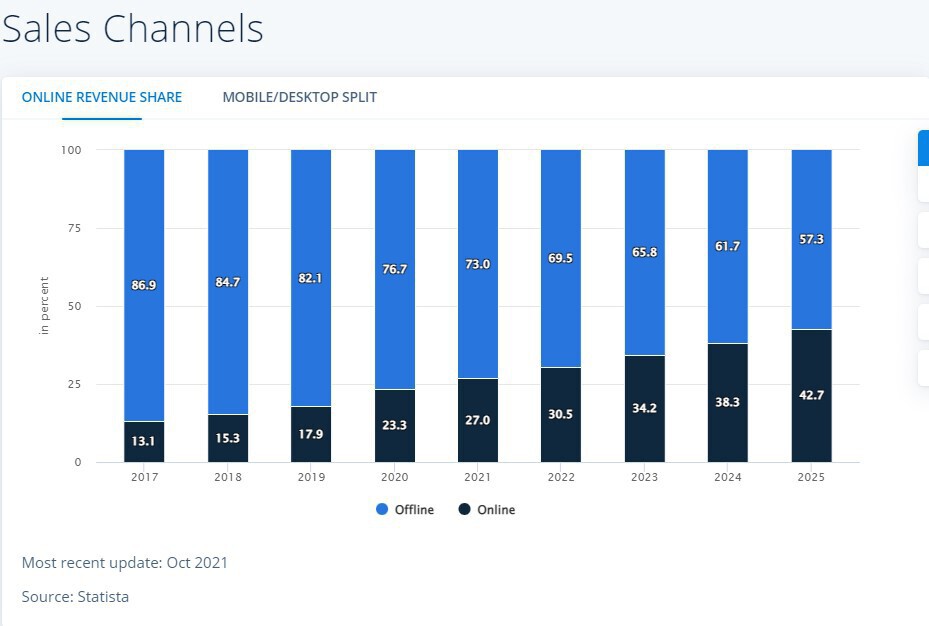 image credit : Statista , Evolution of the online revenue Share 2017-2025 on Jewelry market in Europe
While disrupting brands like JEM and Marie Lichtenberg are digital natives, in the past years, heritage companies have also entered the e-commerce game and are allocating more and more resources to it.
In an interview with Watchonista, Arnaud Carrez, Cartier's International Marketing and Communications Director declared that, between 2020 and 2021, the company's e-commerce platforms have seen triple-digit growth, showcasing that they intend to continue their digital transformation and investments.
When designing digital journeys, jewelry brands focus on the same values that differentiate them offline - customer-orientation, high quality, clean, beautiful, exclusive aesthetics and experiences. This is why user interface and user experience play a critical role for jewelry companies.
Omnichannel brings social commerce to the table
In the following years, more and more jewelry companies will stop talking about online and offline environments and adopt a unified, omnichannel approach. This involves integrating e-commerce and stores in the same strategy, synchronizing messages and campaigns to ensure that consumers benefit from seamless experiences, across multiple channels.
In the omnichannel context, social commerce already plays an important part. Shoppable posts available to European brands through platforms like Instagram, enable jewelry companies to reduce the sales funnel, by allowing impulse shoppers to purchase products directly from their feeds.
One of the brands that is mastering Instagram social commerce is Tiffany & Co., which uses inspiring visuals to entice users and convert them into shoppers.
image credit : Tiffany&Co. Instagram Feed
User-generated content drives inspiration and trust
Social commerce goes hand in hand with user-generated content. Social media users enjoy getting inspiration from real people, with which they may relate. This type of visuals increase brand trust and add dimensions to a company's feed, because it disrupts their posting routine and diversifies their aesthetics, to make it more inclusive and diverse.
User-generated content is particularly popular on Instagram. Dutch brand Myjewelery has a "Styled by you" section, where it showcases UGC received from shoppers and connects items to the e-commerce platform.
image credit : MyJewelry Instagram Feed. St Valentine campaign featuring couples of clients with brand's jewelry
B2B marketplaces are helping brands foster relations with wholesalers
Companies worldwide are creating B2B marketplaces that help jewelry retailers connect with producers and ateliers, and European brands are taking advantage of this new opportunity.
For example, conglomerates like LVMH, Kering and Richemont, as well as fine jewelry brands like Greek-born Ileana Makri, and London-based Polly Wales are using New York City online platform Joop to make wholesale transactions with retailers like Harrods, Net-a-Porter, Liberty and Selfridges.
The platform enables sellers to create virtual showrooms, where buyers may inspect their items and quality standards, as well as to foster communications with potential B2B clients.
Everything happens smoothly, as the platforms has a seamless flow with transparent procedures and well-made contracts and documentation.
Customization is more than messages and initials
With its mix-and-match approach to jewelry, Pandora has opened the door for customization, a trend which is particularly powerful nowadays. More and more consumers desire that exclusive feeling of having something which has been created particularly for them and, even more, being part of the creation process.
If up until recently, this was complicated to attain, now, with technology evolving, things got significantly easier and more appealing, for both sellers and shoppers. Due to customization software, customization now spans beyond adding initials, words or dates to jewelry. Our Hapticmedia agency's Client, Van Cleef & Arpels Jewelry House has, for exemple, used our services to offer online customization to their website visitors
Brands offers e-shoppers significant freedom, allowing them to design their own pieces, play with features, metals, stones, until they are completely enchanted by the end result. Once the order is placed, the manufacturer gets the order, as well as the design that goes into production.
Virtual try-on is here to stay
Virtual try-on has started gaining popularity before the pandemic, but it actually became a valuable choice when stores started to develop COVID-19 procedures and reduce consumers' interactions with jewelry.
From the desire to make their experiences safe and reliable, retailers either gave up allowing customers to try on their pieces or created sanitizing procedures which meant that, once tried on, products were not available for the coming 24 hours. These measures were particularly unsuccessful, especially for jewelers, since seeing how a certain piece looks on consumers weighs heavily in the acquisition decision.

UK's favourite high street jeweler, H.Samuel, part of the Signet group, enables its shoppers to try on rings, to choose the ones that look best. All they have to do is upload a photo of their hand and see how the design looks. Even better than virtual Try on through static photography, we can now use real-time virtual try on with AR product view technology (in live video)
3D visualization and technologies
The rise of omnichannel and digital commerce in the jewelry industry is synonymous with the increased usage of 3D visualization and martech technologies.
Online images need to provide a high level of details, to support the quality assessment process. These are not easily expressed through photography, as normal viewing doesn't cover it. 3D and 360 degree photography and zooming enables consumers to inspect pieces from all angles and focus on specific areas.
3D visualization also ensures that shoppers may view the full collection available, as well as custom-made pieces, without requiring brands to actually produce them or hold them in stock.
With our Apviz SaaS solution which is easy to use and cost-efficient, brands have no reason to postpone 3D adoption.
Conclusions
The digital transformation of the European jewelry industry comes with great opportunities for brands which may now offer exclusive, memorable online experiences.
Apviz solution enables marketing and development professionals to take advantage of technology and offer customization, 3D visualization and virtual try-on to their customers. As a SaaS product, Aviz is accessible, intuitive and cost-effective, which makes it a great tool for jewelry companies of different sizes and help them accelerate their time-to-market.