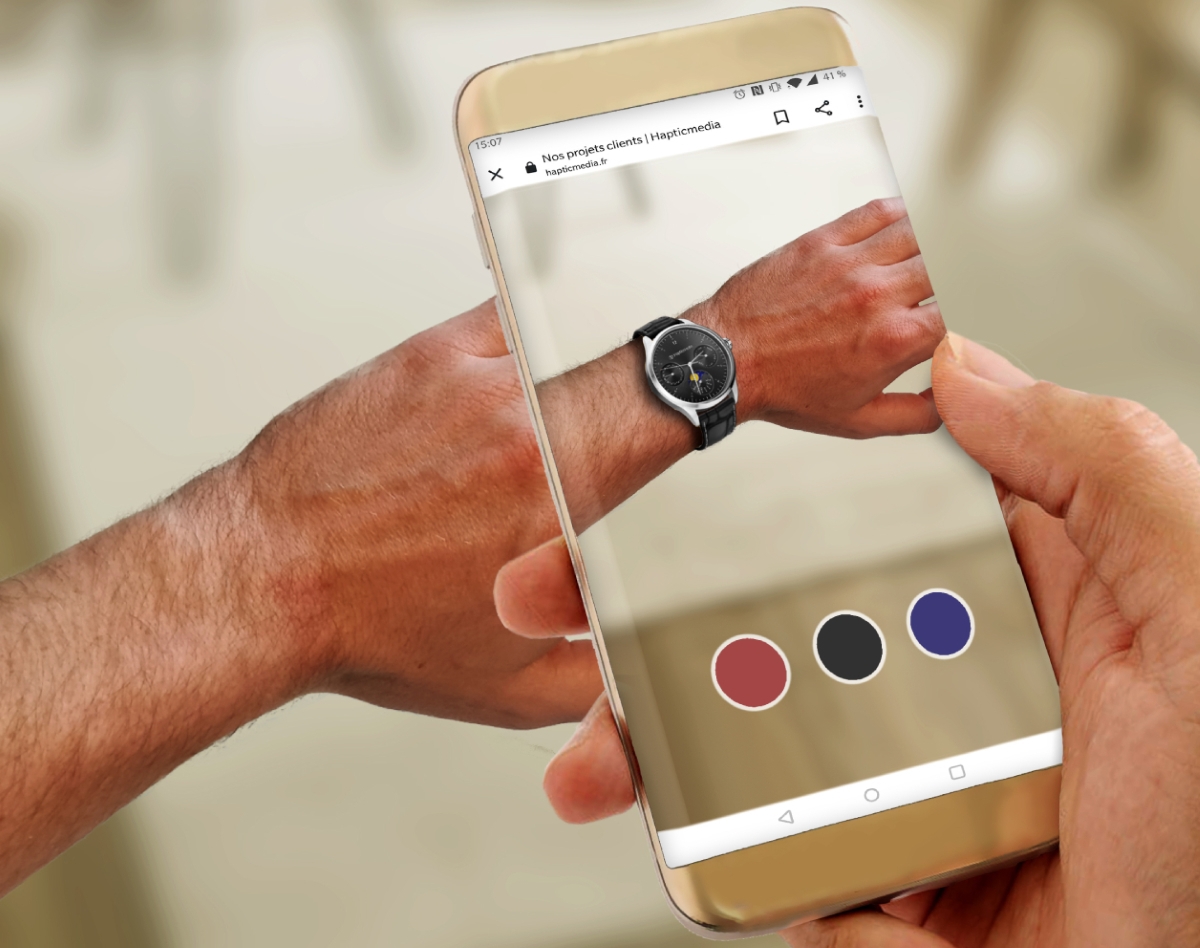 A user-friendly software interface, customization, and real-time virtual try-on are some of the valuable advantages of using 3D technology to improve e-commerce conversion rates and customer retention.
There's no doubt how much the e-commerce industry authority has grown over the years and post Covid-19 pandemic as well.
After all, the global ecommerce and other non-store retailers' market size is projected to grow by $9.5 trillion by 2027. B2C and B2B companies can break into this industry by implementing marketing strategies that improve the user experience and increase conversion rates.
In this article, we'll explore everything that you need to know about the latest trends increasing e-commerce sales, why 3D technologies matter to e-commerce retailers, and what to expect for the future of ecommerce.
Where the future of ecommerce is headed
In recent years, online buying has increased more than ever. According to 2017 projections, by 2040, 95% of purchases will be supported by e-commerce companies. So, the future of e-commerce is bright.
E-commerce refers to buying and selling any product or service online, without the need for physical stores.
Looking at the global e-commerce market value and how marketers are shifting their efforts online demonstrates that the future of ec-ommerce is heading in a positive direction. The latest e-commerce trends are also growing conversion rates and the overall customer experience.
Artificial intelligence (AI) is a great example of a trend that is taking the e-commerce industry by storm. AI is often used in e-commerce by using artificial agents and chatbots. AI agents can respond to customer questions immediately, making the online shopping experience easier.
In addition, most of the e-commerce trends powering online retail forward last year include visualization and 3D rendering solutions to improve the user experience by allowing customers to customize goods and use virtual try-ons to see how the product will work in real life before hitting the "checkout" button.
Big businesses like Amazon, Apple, Samsung, and more are also improving the functionality of their ecommerce platforms by implementing 3D technologies to elevate their marketing.
How 3D technologies will affect the future of e-commerce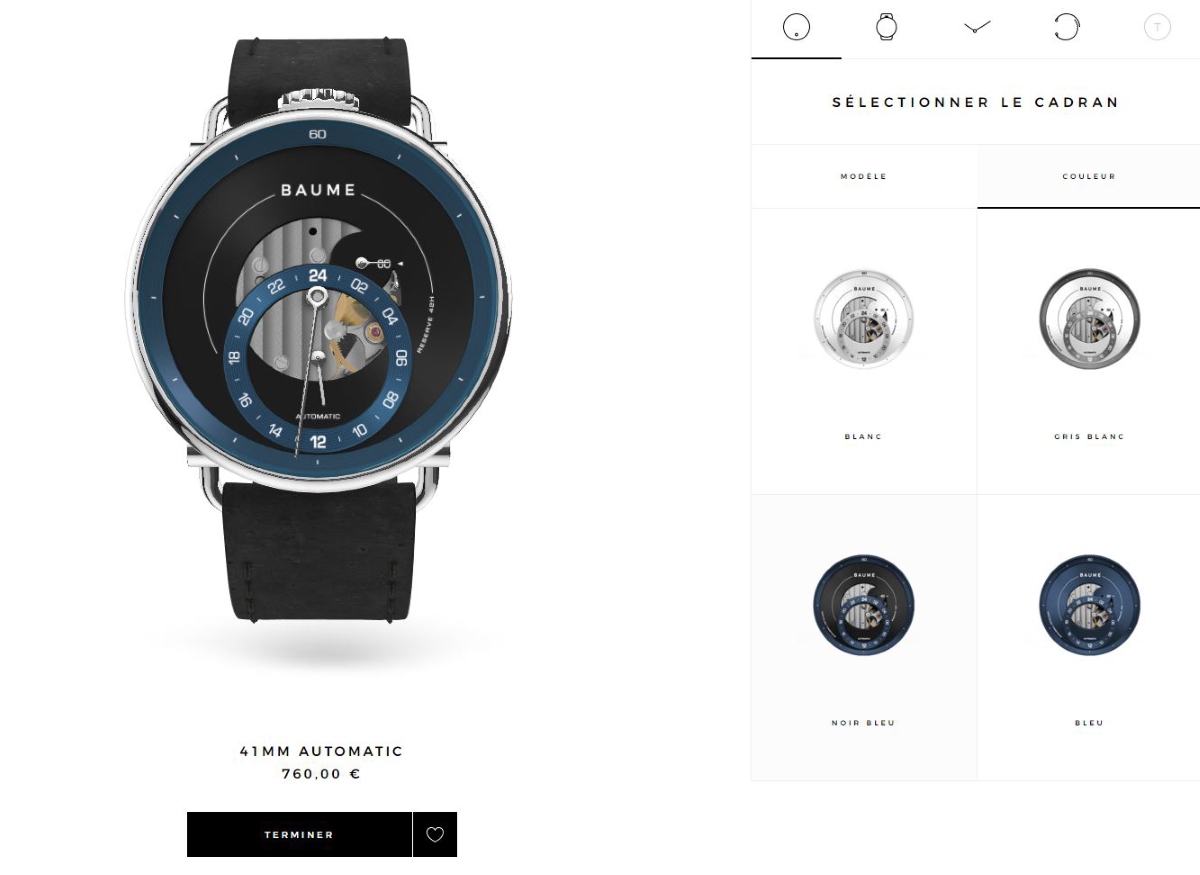 Image credit: Baume
3D visualizations and 3D renderings play a big role in the present and future of e-commerce.
Due to the COVID-19 crisis, the global market for Ecommerce and Other Non-Store Retailers estimated at US$2.8 Trillion in the year 2020, is projected to reach a revised size of US$9.5 Trillion by 2027, growing at a CAGR of 19.1% over the analysis period 2020-2027. With stats like this, there's no wonder why online businesses are adapting to the new trends.
Let's dive deeper into some of the latest trends for visualization and 3D rendering software in the e-commerce industry:
Augmented reality: AR allows buyers to project realistic 3D visualization of items into a natural environment, giving customers a unique and fun shopping experience. With this technology, online shoppers can truly see the item they're shopping for, which helps them make a buying decision. A good example of a company that offers this service is Baume. You can connect your smartphone to your wristband to visualize how your watch will look on your wrist. You can choose to bring further changes to the design or complete your purchase.
Mass customization. The main focus of mass customization is the delivery of customized goods with near mass production efficiency. Mass customization is a marketing strategy often used by e-commerce stores that use mass production to keep retail sale prices low and customize goods or services to each customer's preferences.
3D visualization services: These can help pre-sell e-commerce products by sharing photorealistic visuals, 3D animation, 360-degree models, and more. Thus, companies can test how to product will perform in the market and allow customers to pre-order their products or services. 3D visualizations and 3D rendering services also allow businesses to have a tremendous amount of creative control over how they display their products to attract new customers.
Virtual try-on software: This helps customers "try on" products before purchasing them by using camera-equipped devices such as mobile phones. With the help of Augmented Reality, users can visualize how a product would look in real life, for example they can choose a piece of jewelry — let's say a bracelet — and then point their smartphone camera at their wrist to see how it would look . They can use this to better select the right style, size, and fit before they buy, making the e-commerce experience much more enjoyable for consumers.
3D configurators: Companies implement this easy-to-use software to their
e-commerce marketing strategy by allowing consumers to personalize a product according to their wants and needs and preview how their custom changes appear in real-time. Everything from the color and size to the materials is customizable with 3D configurators.
Product bundling: 3D artists combine 3D models of the brand's goods to sell as a package at a lower price than if they sell them individually. With traditional photography, this process would be costly and time-consuming. Instead, 3D visualization provides the same result for a reasonable cost and much faster.
How brands are staying ahead of the curve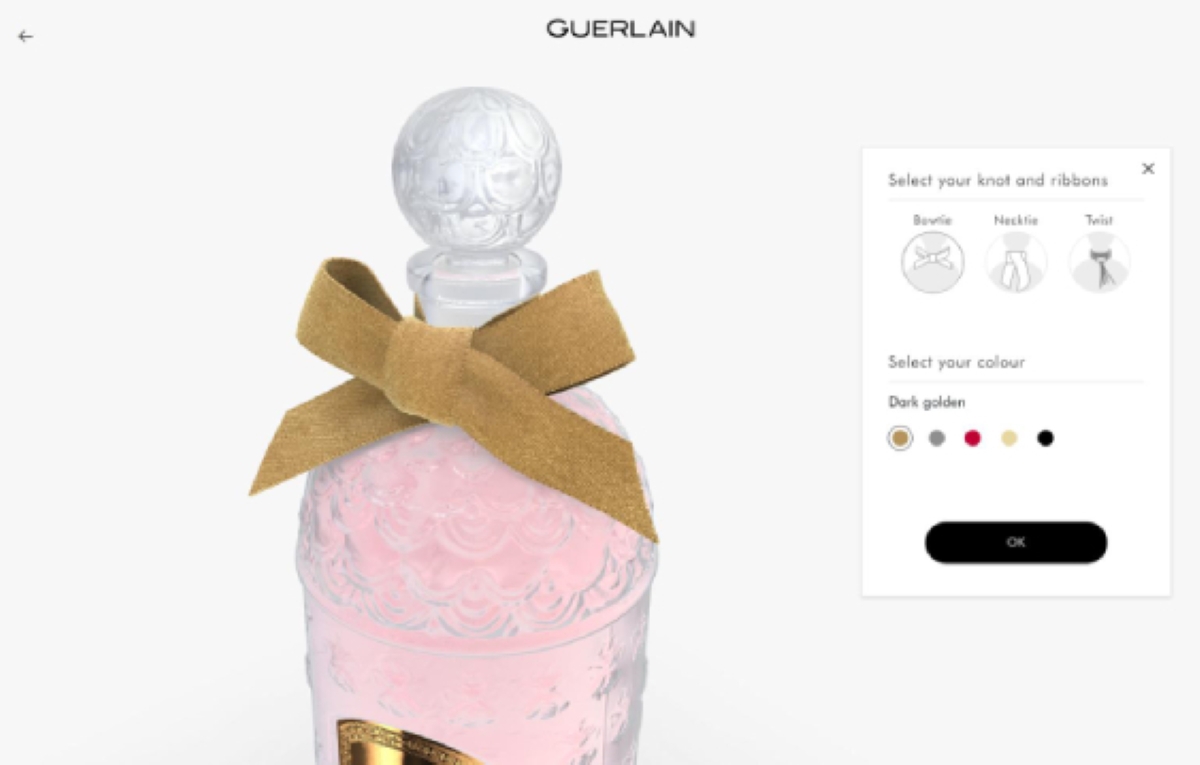 Image credit: Guerlain
Over the last year, the need for consumers to access products from the convenience of the home through computers and mobile devices has exponentially increased and become the new normal.
Because of this, the overall shopping experience has become more demanding. This is especially true when you look at online luxury industries, where customers are willing to pay more for new products but usually need more convincing. E-commerce brands are responding to this demand by relying on 3D technologies to increase conversion rates and customer satisfaction.
Let's see how different e-commerce luxury goods corporations have successfully used 3D visualization and 3D rendering technologies in their marketing strategy:
Stay ahead of the curve with 3D technologies
Understanding how successful businesses implement 3D technologies and the latest trends for the e-commerce industry will help you make product demonstrations more convincing, streamline product customizations, and increase customer retention.
Considering how the e-commerce industry growth rate has increased over the past year due to the increasing demand for shopping consumer goods online, there's no doubt why marketers are promoting digital products in dramatically different ways.
Digitizing your brand and implementing marketing strategies through 3D visualization and 3D rendering can help grow your e-commerce business and help you position your brand to the next level.
Apviz has more than 15 years of expertise in immersive technologies, including 3D rendering services, 3D visualization, 3D models, 3D configurators, product customization, optimization, and automation. Check here to see our client projects and contact us now.