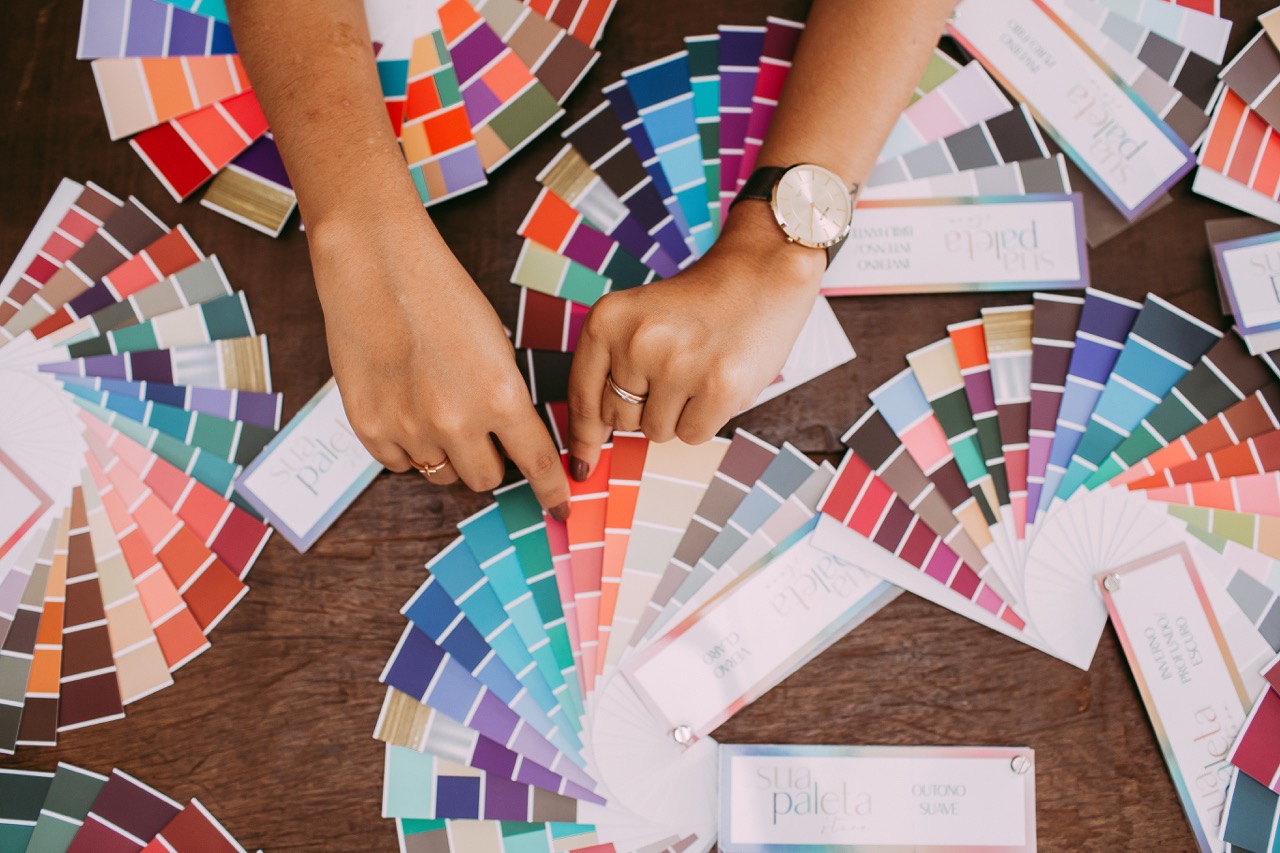 The custom made production is dedicated to the satisfaction of the customer by proposing a unique offer for each customer but manufactured in an industrial way at competitive costs.
Initially exclusively handcrafted and dedicated to luxury and high-end products, custom production is now used by a wide range of customers and products, thanks to the recent industrial advances. Mass customization and the smart industry are now accelerating this trend.
Exploring the Benefits of Made to Order or Print on Demand Production
3D configurator for Made to Order products
By using a 3D product configurator, customers can customize their products based on their preferences, creating a unique, personalized experience that meets their specific needs. Viewing a product in a 3D configurator that incorporates the customer's unique choices makes it possible to visualize a product that doesn't fully exist yet until it's manufactured.
The latest trends in made to order manufacturing are revolutionizing industries by offering customized products and experiences that meet individual needs and preferences.
Using a bespoke 3D configurator solution for manufacturers helps create a seamless experience that bridges the gap between manufacturing and customer expectations.
Print on demand: the rising concept of ecommerce
Print on Demand (POD) is a new concept that enables artists or entrepreneurs to effortlessly sell customizable products in e-commerce. There is no need to stock products or manage infrastructure, and no investment is required. Products are manufactured only when an order is placed and delivered directly to customers by a specialized platform. All it takes is a simple e-commerce website and a concept to easily and risk-free sell products.
Different kinds of industries and brands offer 3D customizable products today
3D configurator for fashion and apparel
Many clothing brands offer Made to Order, this allows customers to customize their own clothing by choosing fabrics, colors, shapes and add unique and personal designs and text.
Historically, tailors and garment makers offered made-to-measure garments, but handcrafted one-off pieces for their customers.
Tailored suits or custom-made shoes were the norm, but with industrialization, ready-to-wear manufacturers offered clothing in a limited number of sizes and colors for everyone. This lowered manufacturing costs, and therefore prices. Allowing everyone to have standardized products.
But it also forced brands and retailers to manage large inventories. This ultimately had certain disadvantages, such as relocating production to lower manufacturing costs, and high storage and unsold goods costs.
Today, more and more brands offer innovative marketing personalization strategies. The 3D configurator for fashion enables brands to offer a compelling customer experience on e-commerce sites.
Brands such as Lacoste, Nike, Adidas, North face, Under Armour already use a 3D configurator solution to offer a customized product on order.
More information on the Apviz 3D garment configurator solution
3D configurator for Furniture
Custom furniture is very popular with consumers who want unique pieces that meet their specific needs and preferences. This allows the customer to choose the size and colors of materials that precisely match their needs. By viewing their custom furniture in 3D at home using augmented reality, customers can see exactly how the furniture will look in their home.
When the furniture is made to order by an agile factory. This allows to reduce considerably the return costs when it is sold in ecommerce.
3D configurator for Jewelry personalization
Some jewelry makers offer made to order services, allowing customers to create custom jewelry that reflects their individual style. A 3D configurator for jewelry helps to really see what the jewel actually looks like. For example, for a specific design the rapport between carat size and ring size could be visually really different. A ring with a size 45 with a diamond of 2 carat looks really different from a size 52 with a 0.2 carat diamond. Another example is Engraving a personalized message helps customers to buy a very unique piece but it is difficult to really see what will be the result when the message will be engraved. Real-time jewelry 3D configurator for e-commerce like Apviz.io helps to see clearly the product that the customer wants.
3D configurators offer a realistic and interactive visual representation of products, providing customers with a better understanding of what they're buying and helping them be more confident in the purchasing decision that they're making.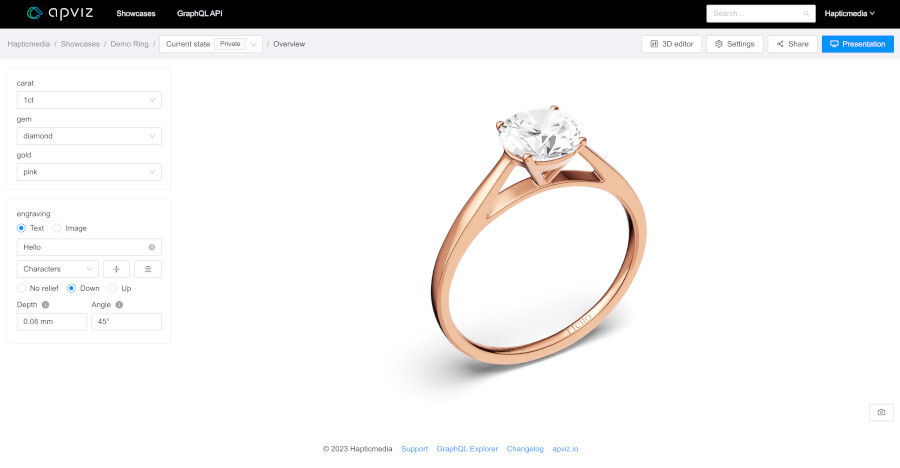 More information on the Apviz 3D jewelry configurator solution
3D configurator for packaging Web-To-Print
In the same vein as made to order, print on demand allows you to personalize a packaging design directly on your printer's website. For instance, you can create your packaging online by selecting from a range of box shapes. Then, you can choose your colors, import your logo, customize your text, and even simulate effects like embossing. Online packaging 3D configurator on the website enables you to visualize and validate your packaging design before it's made. Once you've made your selections and determined the quantity, you can place your order. It will be manufactured and delivered directly to your home or business office.
For the printer, this greatly reduces returns and customer dissatisfaction, ensuring a clear understanding of the final designs and the quality of printing effects by clients. This minimizes the risk of misunderstandings and ensures customer satisfaction throughout the process. By utilizing a print on demand 3D configurator, the printer can provide a seamless and efficient experience, enhancing their reputation and customer relationships.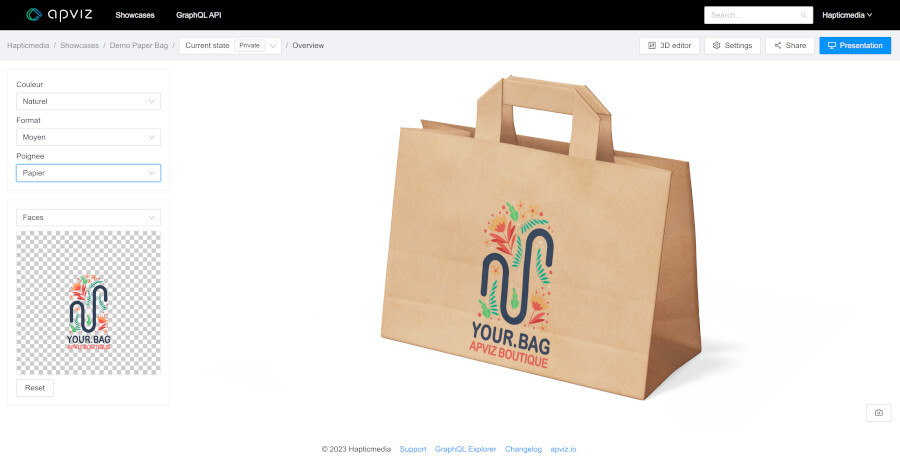 More information on the Apviz 3D Made to Order configurator solution
Acceleration of new technologies for manufacturing and new trends
New technologies, e-commerce and social media offer today relevant tools that allow brands to better understand their customers' expectations and to develop a customer-centric marketing strategy fully focused on the customer and entirely oriented towards his choices.
The way that we produce today has changed thanks to agile manufacturing, additive manufacturing, print on demand, robot, cobot.
On-demand manufacturing requires a significant transformation.
These new possibilities and trends bring numerous advantages for brands, but they also require a significant and profound transformation in their approach to production and work.
Work and production methods are evolving thanks to current cloud tools and data (CMS, CRM, PIM, DAM) that enable the management and tracking of the product life cycle, from its CAD design to its market release.
A high-quality 3D solution SaaS that enables the visualization of digital 3D clones of products allows for the conceptualization of products not as they will be sold, but through the definition of their business rules.
For example, with a Made-to-order product configurator for e-commerce, let's consider a t-shirt as the product, the following customization options are available:
Sleeve Options: 18 colors for both long and short sleeves.
Front Options: 12 colors for the front of the t-shirt.
Back Options: 12 colors for the back of the t-shirt.
Collar Options: 5 different collar shapes to choose from.
Logo Placement: The customer can choose from 4 different locations to position the logo.
Logo Color: The customer can select the logo color from a range of 12 colors.
Initials: The customer has the option to add their own initials to the t-shirt.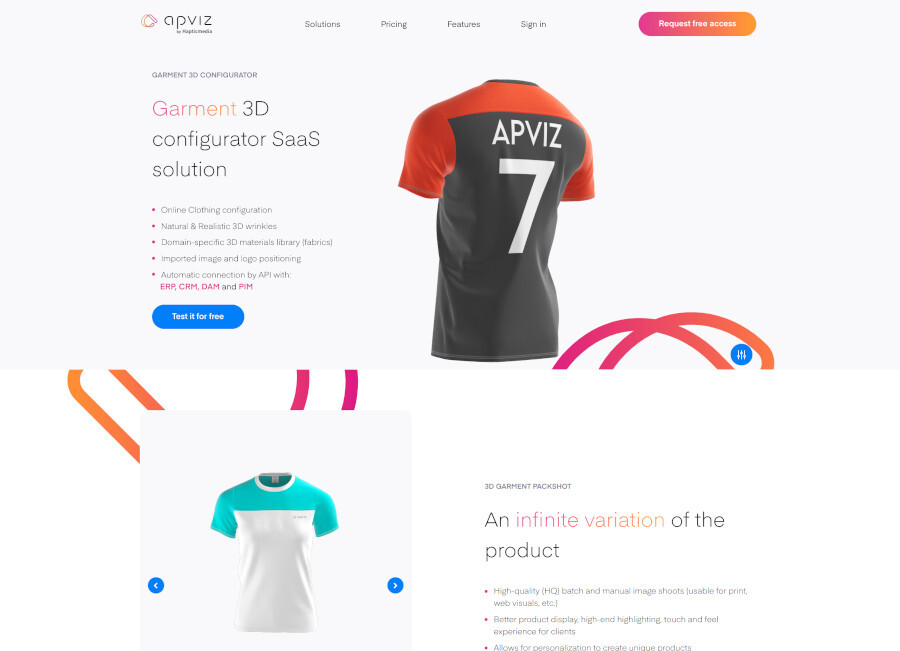 Please note that these options allow for a high degree of customization, providing customers with a wide range of choices to personalize their t-shirt according to their preferences.
The product truly exists in its digital form only once it has been customized by the customer, and in its physical form only after the order has been placed and the product has been manufactured.
A 3D SaaS platform like Apviz provides all the agility and scalability required for the visualization of made to order products on the internet and their connections to their ecosystems.
The "Marking and engraving" module in Apviz takes personalization to the next level by allowing hyper-customization, such as simulating engraving or stamping of texts on the product and importing images that will be printed on-demand using Print on Demand technology.
Business with sustainability
Made to order allows customers to personalize products to their preferences, resulting in higher customer satisfaction and longer product life cycles. By offering durable, customizable items, businesses can reduce the frequency of replacements and contribute to a more sustainable consumption pattern.
Another promise of made-to-order is to reduce carbon footprint and storage costs by minimizing delivery distances and adopting agile local production that only manufactures products upon order, eliminating the need for inventory. Only the products that are sold are produced, leading to more sustainable practices.
For example, custom product builders for personalized creations in the US. Products ordered in the USA are produced in agile factories or printing plants located in the USA and delivered there, thus limiting unnecessary, costly and polluting travel.
Increasing customer satisfaction
By allowing customers to personalize their products according to their preferences and needs, it enhances their overall shopping experience. The ability to customize products to their liking leads to a higher level of customer satisfaction and a stronger connection between the customer and the brand. Additionally, the made to order model ensures that customers receive products tailored specifically to their requirements, resulting in higher customer satisfaction levels compared to mass-produced, one-size-fits-all items.
By offering unique products that are made specifically for each customer and tailored to their exact measurements, it increases customer satisfaction. The user experience plays a crucial role in avoiding disappointments and facilitating the purchasing decision. Having a well-designed and user-friendly configurator is essential to guide customers through the customization process. It should simplify the choices, provide clear options, and minimize the risk of making poor design choices. A thoughtful and intuitive configurator helps customers feel confident in their selections and reduces the likelihood of dissatisfaction or regret.
Image Credit: Mike van Schoonderwalt - Pexels
Seamless Marketing to Manufacturing
Hapticmedia offers a tool that provides reassurance and helps users make informed decisions by offering pre-validated designs by the brand. It establishes a balance between offering enough freedom for unique, customized designs and totally free choices that could be intimidating. This expertise is made possible through the fully connected 3D visualization software,
Apviz, which seamlessly integrates with other databases through its API. With this solution, brands can offer a seamless and unique journey from the consumer to the manufacturing and delivery of products. You can effortlessly import a wide range of 3D products and establish business rules and customization guidelines enabling efficient lifecycle management for a multitude of products.
Conclusion
The future is undeniably headed towards these new production models, but there are still many barriers that require us to remain vigilant.
The foremost challenge is to always prioritize the added value perceived by your customers as the main guiding principle. Considering the significant changes in production methods and the investment required for the equipment and infrastructure necessary for on-demand production, it is crucial to ensure that the value delivered to customers justifies these transformations.
The focus on delivering additional value to the customer should remain the guiding principle of your made-to-order business. The overall ergonomics of the customer experience offered is also key to the success of your transformation. By prioritizing a seamless and user-friendly experience, you can enhance customer satisfaction and ensure the success of your made to order initiative.
Does your project effectively provide your customers with a high-quality product that offers a unique design yet is easy to configure, delivering a seamless customer experience?
Try Apviz 3D Made to Order solution
Featured image: Helena Lopes - Pexels.
Stay informed
Discover
more articles