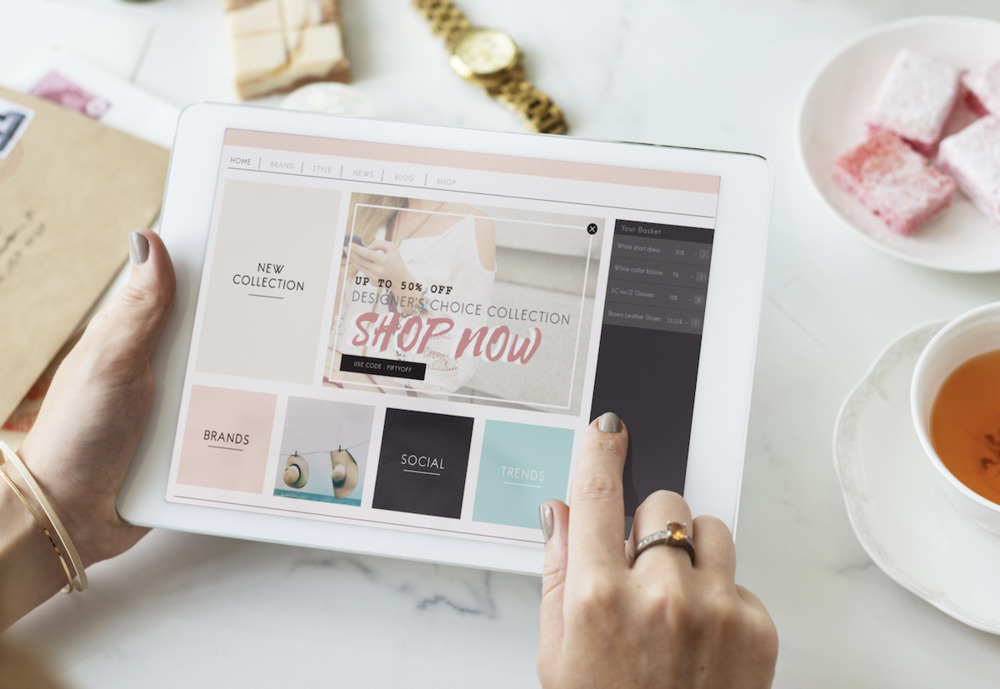 Last year (2020) didn't turn out the way we wanted. The pandemic affected shoppers and sellers alike on every level. And that has verily turned the tables in setting the e-commerce trends for 2021.
Even as the consumer demand continues to shift, research by the BCG Consumer Sentiment Survey projects the e-commerce market will reach a whopping $5 trillion dollars (USD) eCommerce sales by the end of 2021.
As we look at the biggest e-commerce trends in online shopping, you'll find strategies to improve your Shopify and other e-commerce platforms' sales performance.
1. Social commerce
Social media platforms allow e-commerce websites to rapidly reach a large audience and increase customer engagement. In social commerce, customers can buy products through social media channels (Hootsuite). This e-commerce trend is changing the way consumers shop by giving them deeply personalized product offers with customized, time-based offers.
For instance, e-commerce retailers can run interactive 3D ads on Facebook. This allows viewers to interact with the product in real-time and engages them better. By using a call-to-action button, the viewers can be directly taken to the product checkout page to complete the purchase.
2. Customer journey
Simply put, the customer journey is the research process that one undertakes to buy a product. While it can take only seconds to grab a soda in a grocery store, it could take months to buy a house.
Here's where e-commerce businesses need to work on customer journey optimization to shorten the sales cycle. Typically, the customer journey starts with the awareness stage, progresses into the consideration stage, and finally the decision-making phase.
In the awareness stage, the potential customer identifies a pain point and starts researching the solution. For instance, say a man is looking for an engagement ring. And let's imagine that his girlfriend loves the timeless pear shape double halo ring setting style. The man would possibly search online for the available solutions.
In the consideration phase, the man would have identified potential vendors. And in the decision making stage, he would buy from an e-commerce brand that meets all his needs and desires.
Although the customer journey is something that has existed for long, it is seen as an emerging e-commerce trend, because, the better the customer journey is optimized, the better will be the conversion rates and sales.
A few ideas of optimizing the customer journey is as follows:
Awareness stage: Leverage interactive 3D in Google ads.
Consideration stage: Create augmented reality and virtual reality experiences to stand out from competition and render an impeccable shopping experience.
Decision stage: Make the checkout process hassle-free and be sure to deliver post-purchase service where needed.
3. Same-day delivery of goods
The advancements in the digital age have propelled the desire to get things done instantaneously. The waiting culture is being replaced with the now culture.
According to InvesP, "61% of consumers are willing to pay more for same-day delivery."
This is why 25% of Prime members in American use Amazon Prime Now. Amazon has set the trend for fast deliveries, and it's only wise for other e-commerce businesses to follow this eCommerce trend.
4. Mobile shopping and mobile payments
Growcode estimates "four out of five Americans shop online, and more than 50% of them do it on a mobile device."
E-commerce businesses are collaborating with tech giants such as Apviz to improve their online customer experience. Including e-wallets such as PayPal to facilitate mobile payments in checkouts is also rising in popularity.
5. Influencers
E-commerce brands have for a long time leveraged the talent of influencers to reach a wider audience and better engage them. This e-commerce trend is set to continue even as e-commerce platforms use influencers in their content marketing efforts.
6. Personalized experiences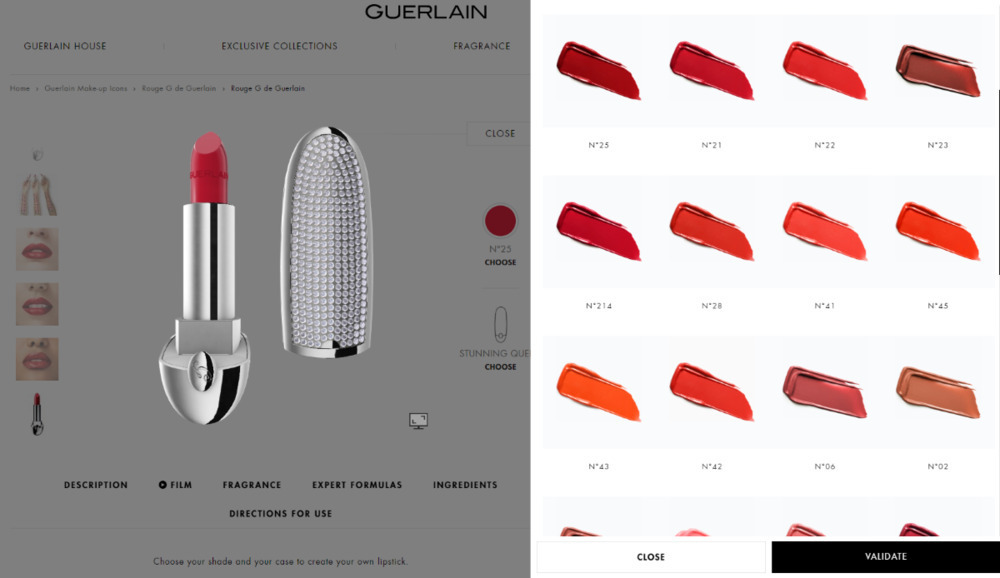 Image credit: Guerlain
E-commerce sites must have high-quality product images and juicy descriptions. In addition, online retailers must render personalized experiences by presenting products in interactive 3D, 360-degree views, and allow for real-time visualizations of product customizations.
For instance, Guerlain enabled its online shoppers to visualize its lipstick shades and reflection and refraction of its cases, along with product customizations. This has caused Guerlain to increase its sales by 30%.
7. Visual commerce
Visual commerce is another e-commerce trend that is seeing an uptick in 2021. Instead of only showcasing product images on their e-commerce product pages, online retailers should use them throughout their e-commerce site to encourage customer engagement and increase conversion rates.
8. Augmented reality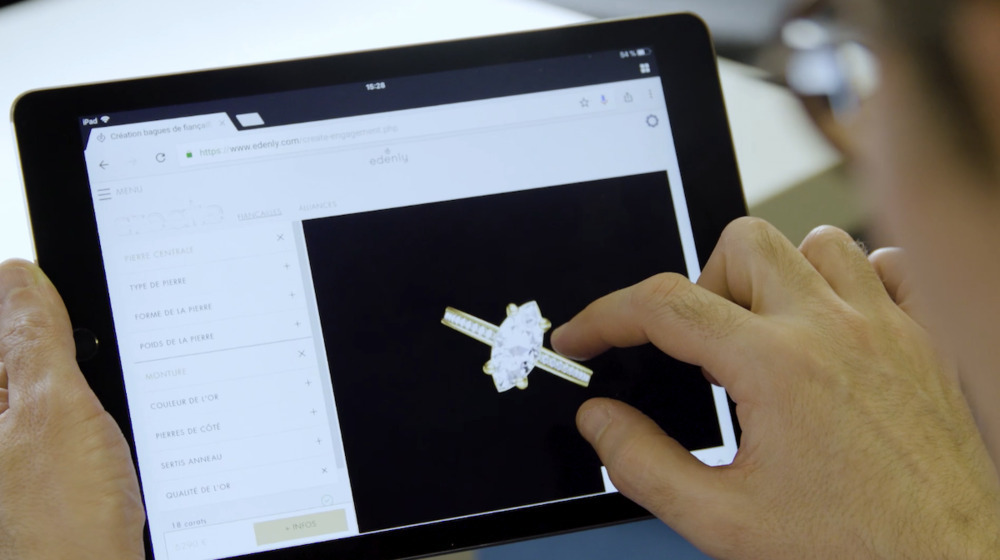 Image credit: Edenly
Augmented reality can give customers a personalized experience and optimize the buying experience. Enabling it on e-commerce websites is easy with plugins and custom backend development that e-commerce industry leaders like Apviz offer.
Luxury e-commerce brands such as Courbet, Edenly, Piaget, and several others are using Apviz's product configurators to enable virtual reality and augmented reality shopping experiences.
9. Machine learning (ML) and artificial intelligence (AI)
Machine learning and artificial intelligence algorithms are on the rise to serve the role of a sales assistant in an online store. These algorithms take the shape of chatbots, product recommendations, and virtual assistants to guide the customer into making a purchase.
Since AI uses the shopper's purchase history, its product recommendations are tailored in synchronization with the browsing behavior of customers to show them products they are more likely to purchase.
10. Headless commerce
Headless commerce is a complete e-commerce solution that does not have a front-end (head) delivery layer but still stores, manages, and delivers content. Therefore, in a headless commerce platform, the front-end, which is typically a theme or a template, is removed, leaving only the backend.
Growcode estimates "four out of five Americans shop online, and more than 50% of them do it on a mobile device." With the headless commerce approach, Venus converted its storefront into a React Progressive Web App and its infrastructure into a Backend For Frontend (BFF).
This way, Venus was able to get 72.75% of its site pages to load in less than a second. Thanks to this increase in site load speed, Venus was able to see a 24% increase in its conversion rate.
By adopting this e-commerce trend, you can make room for personalized customer experiences and rich content, for your developers can create their own user experience from scratch. In addition, e-commerce brands will have more control over the look and feel of their e-commerce platforms without affecting the site loading time.
11. Voice search
The launch of voice assistants and smart speakers such as Apple's Siri, Google's Assistant, and Amazon's Alexa is propelling voice search in online shopping. Research shows that in 2019 alone, a projected 39.3% of millennials used voice-enabled assistants at least once per month.
So, online retailers can use this e-commerce trend to their advantage by optimizing their eCommerce sites for voice search.
12. Sustainability
Even as shoppers are becoming more aware of the role of their purchasing decisions on the planet's limited resources, shoppers and brands alike are redefining their culture. Eco-friendly packaging and love for locally sourced goods are two examples of how sustainability is weaved into current e-commerce trends.
13. Instant messaging
Instant messengers are being used daily for communicating with friends and family. This is making an entry to the e-commerce trends to revolutionize customer service. This way, customers can get guidance while purchasing goods and get answers to their queries 24/7.
14. Omnichannel marketing
The rise of mobile devices is triggering omnichannel shoppers. In its simplest terms, an omnichannel strategy provides shoppers with a seamless and consistent experience across various devices and channels.
The Harvard Business Review reveals that as many as 73% of users take multiple channels, from Google search to Facebook ads to e-commerce stores, while shopping. So, marketers need to level-up their customer engagement game by integrating multi-channel or omnichannel retail CRMs such as Ingage and CleverTap with a 3D configurator tool like Apviz to skyrocket their e-commerce sales.
15. Research online and purchase offline
Research shows that 88% of U.S. consumers do online research before buying a product in a physical store. While this e-commerce trend has existed in the past, it's set to gain momentum even in 2021.
16. Remote services
If the pandemic has taught the world anything, it's the revelation of how many activities people could do from home. Since the coronavirus pandemic has changed the buying behavior of shoppers, some of those habits are here to stay.
This gives rise to the e-commerce trend of remote services. For instance, a cosmetic retailer could conduct webinars on how users could do their eyes or offer other engaging fashion tips.
17. Try before buy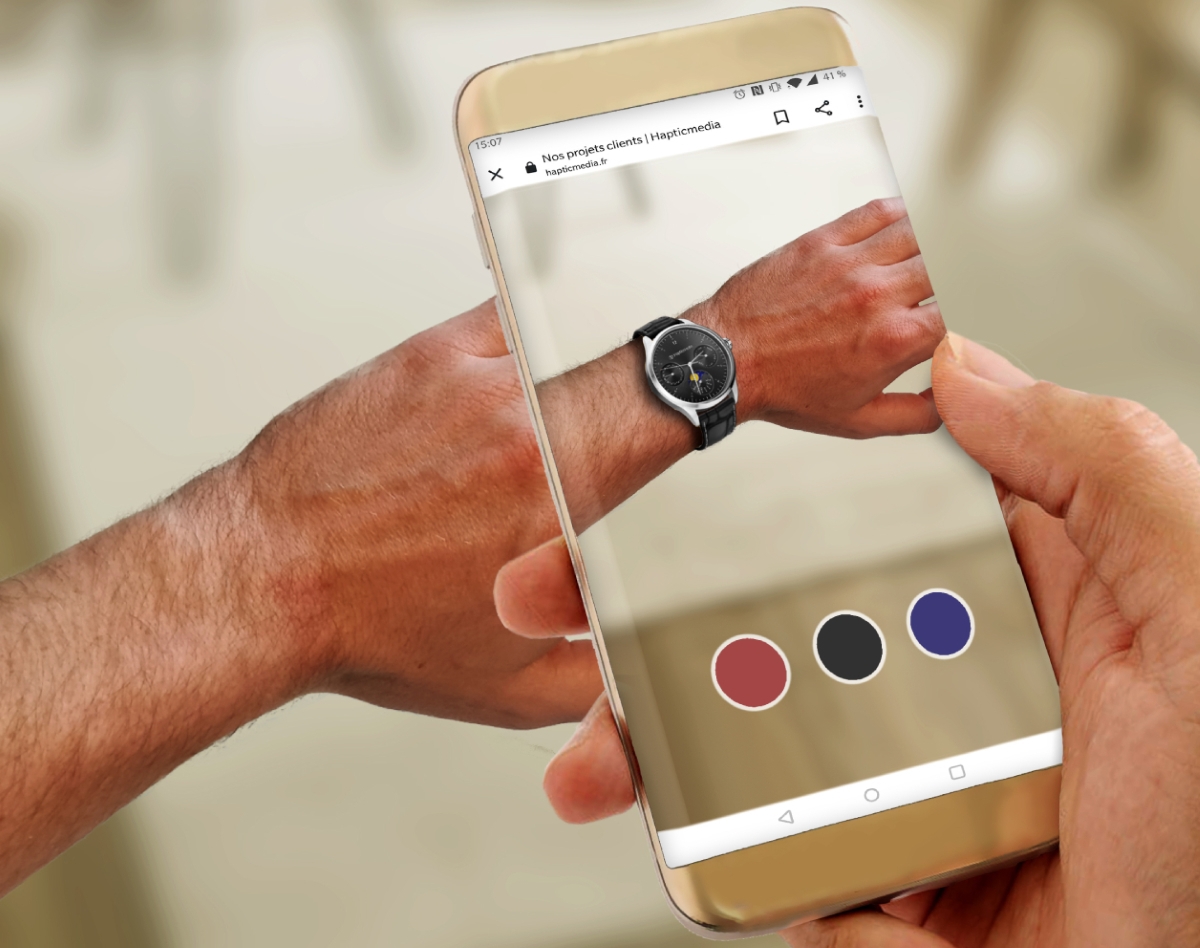 Image credit: Baume and Mercier
More often than not, e-commerce brands suffer product returns due to a size mismatch. With augmented reality, shoppers can try a product before actually buying it. This not only decreases the product returns — it also increases e-commerce sales.
Brands like Baume and Mercier are already leveraging this e-commerce trend by allowing customers to customize their timepieces and use AR to see how it appears on their wrists.
Similarly, Baccarat, a luxury goods retailer, allows customers to be confident while purchasing new products. By embracing this eCommerce trend, Baccarat allows its customers to fix the customized chandeliers in their interiors and see if it suits them.
Use e-commerce trends to grow your sales
Online retailers can neither dictate how and where online shoppers make a purchase nor risk being left behind. More than ever, they have to adapt and keep customer-centricity as the focus.
By using an all-in-one personalization tool such as Apviz, e-commerce retailers can accelerate their sales cycles. With Apviz, e-commerce brands can leverage 3D configurators, packshots, virtual try-on, and others.
Get in touch with Apviz here and start seeing how these e-commerce trends can bring in additional opportunities.