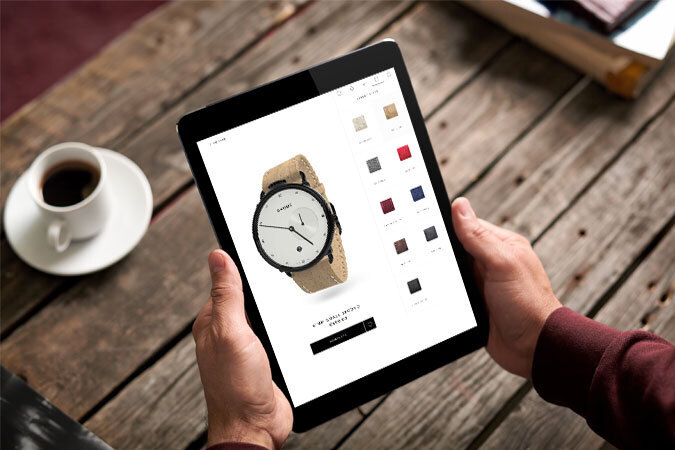 Luxury brands need to deliver impeccable customer experience design to be competitive. Businesses in the U.S. alone have lost an estimated $1.6 trillion by rendering poor user experiences (Accenture Strategy).
Luxury brands must understand that customer's needs are evolving, and so should the customer experience offered in-store or online. Forbes has discovered that 74% of consumers would at least be somewhat likely to buy based on their experiences alone across customer touchpoints. What's more, PwC affirms that customers would pay a 16% prime premium if they could get a great customer experience.
Now more than ever, it's vital for luxury brands to take design thinking seriously. But before we delve into the experience design strategies, let's understand what customer experience design is.
What is a customer experience design?
Customer experience design is the process of UX designers optimizing the user experiences across all the touchpoints of the customer journey, including awareness, consideration, and decision-making.
Here's an example of how Baccarat, a French luxury brand, uses customer experience design to nudge customers towards sales.
Baccarat renders a great digital experience for its customers by allowing them to customize their chandeliers. Customers can change the size, tweak the accessories, increase or decrease the number of lights, and change the color of the crystal in their light fixtures.
What's more, through simulation, customers can view their chandeliers in 3D. If they wish to see how their customized luxury ceiling fixture will look in their houses, they can capture their interior, upload it on Baccarat's site, and see how the chandelier looks in the chosen location.
This immersive customer experience design accelerates the sales cycle because customers can incarnate the luxury piece of their choice and see how it suits their interiors.
Importance of customer experience design in luxury retail
With the internet at their fingertips, customers are empowered. They have sufficient resources to educate themselves on which luxury brand they can turn to if one fails them. That's why it's so important to invest in customer experience design.
Research by Forrester and Adobe shows that businesses that are experience-driven see over 1.5x higher customer reach and impressions.
Further research from Epsilon shows that "80% of customers are more likely to do business with a company if it offers personalized experiences."
How do you create a good customer experience design for luxury retail?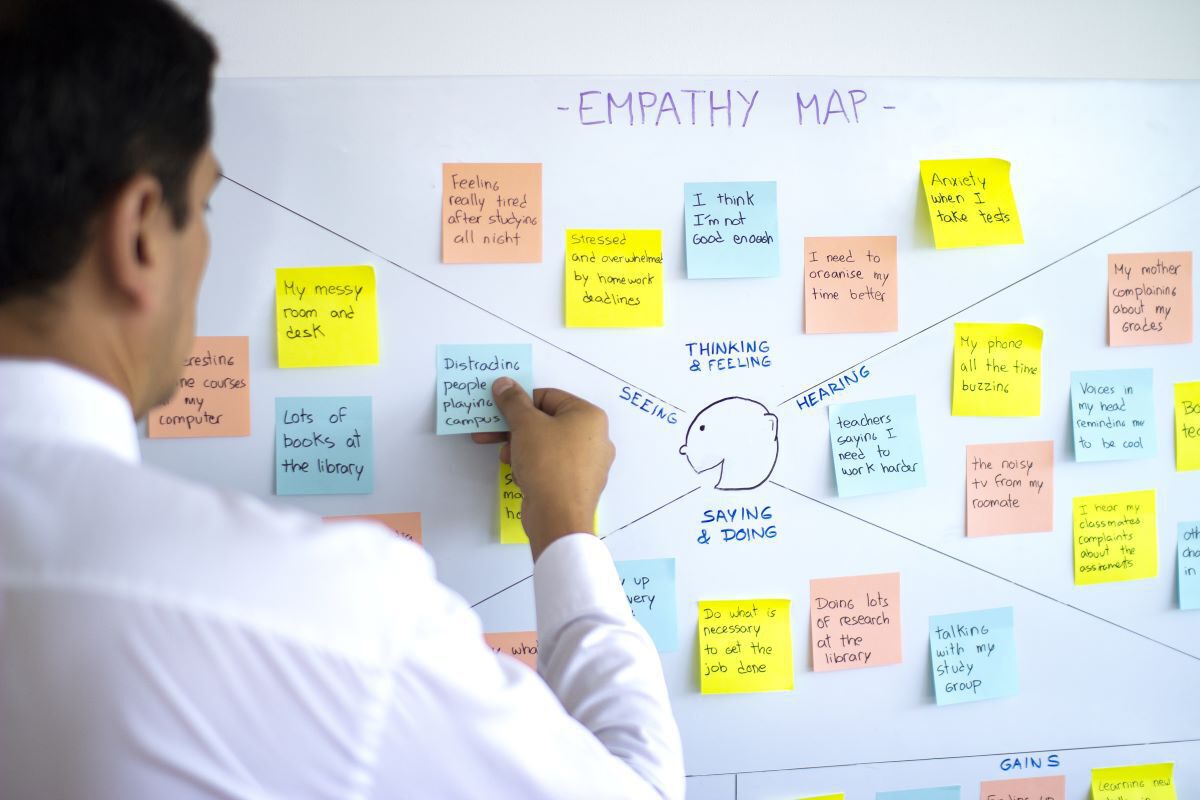 Now that you understand the importance of user experience, let's explore how to define a customer experience strategy for your luxury retail.
1. Empathy mapping
Use an empathy map to understand customer's needs.
An empathy map ideally uses four quadrants labeled as "think," "say," "feel," and "do_._" That will help the customer support team garner a complete picture of the customer and understand what actions they have to include in the service design process to enhance customer experience.
2. Customer journey map
A customer journey map is a UX design tool that gives businesses a 360-degree view of their customers. It serves as a platform for visually illustrating customers' needs and pain points, which, in turn, can be used to relay opportunities for the business.
The design team can create a customer journey map by picking a persona and mapping out the vital steps that a customer would have to take to complete their journey. For instance, if a customer is in the purchase stage, their next important step would be to complete the payment. At this stage, you would have to ensure that the customer has a seamless experience to make the payment — this could be online, or in-store, or via QR codes.
So the key takeaway here is that you need to create interactive experiences across each of the various customer journey phases to better engage each of your target customers.
3. Hyper-personalization
Advanced technology such as artificial intelligence can help improve hyper-personalization in marketing, product recommendations, and shopping experiences. With AI-driven consumer data analysis, both brick-and-mortar and ecommerce stores can deliver personalized end-user experiences on all touchpoints.
For instance, luxury brands like Gucci use AI that enables their salespeople to recognize customers, greet them by their name, and offer personalized product recommendations based on their past purchase history and preferences (ClickZ).
Another appealing example is Guerlain's approach of using 3D configurators to enable hyper-personalized online experiences for its customers.
On Guerlain's ecommerce site, customers can use simulation to visualize the thickness, reflection, and refraction of their perfume bottles. Customers can even see the interactions between the color of the bottle and that of the perfume.
If customers choose to customize their perfume bottles, Guerlain has simulations for that as well. Customers can also get their unique text engraved on their bottles. Once customers have their design ready, they can click a picture and share it on social media.
All this technology put together empowers Guerlain to deliver a hyper-personalized customer experience.
4. Immersive customer experiences
As technology advances rapidly, luxury retail should adapt. And immersive customer experiences, powered by AI and facial recognition, can transform in-store, ecommerce, and omnichannel shopping.
A Ralph-Lauren store in New York gives its in-store customers an immersive user experience. It leverages interactive mirrors with which customers can virtually try different variations of clothing and browse through the real-time store inventory (Business Insider).
Baume, an ecommerce luxury watch retailer, uses a 3D watch configurator to allow customers to customize their timepieces. With photorealism, customers can visualize the best 3D model of their customized wristwatches.
Omnichannel refers to the integration of online shopping with in-store shopping. And the opportunities are endless to create an immersive omnichannel CX design.
For instance, the Nike Innovation Store has a mobile app customization studio and instant check-outs for users to order their shoes online. Then, customers can go to the store where they're able to try it on and then scan a code to complete their purchase (PostFunnel).
This philosophy of reserving products online and trying them out in-store before buying is another way to deliver interactive customer experiences.
5. Customer feedback
Luxury brands must get honest customer feedback regarding products, services, sales assistants' performance, in-store environment, and the overall experience.
If you operate a brick-and-mortar luxury store, consider asking for feedback while customers make their payment. To collect the customer feedback for your ecommerce stores, ask the shopper to record their Net Promoter Score (NPS) with a survey after checkout, or use a follow-up email to ask for feedback.
These tactics create data-back insights that your experience designer can use to measure how successful you are in delighting your customer base.
How are top luxury brands delivering great CX designs?
Keeping in mind the various ways to render substantial customer experiences for your in-store and digital products from the above section, let's take a look at how one high-end brand, Puma, is leveraging CX design.
Irrespective of whether you are a startup or an established luxury brand, this example can inspire you to start your design thinking.
Puma is a luxury merchandising brand that uses Hapticmedia for its CX designs. It revolutionizes customer experiences with real-time shaders, ultra customization, and 3D scanning and optimization.
Customers can head to Puma's eCommerce site and choose the sports merchandise they want to design. They can then personalize it by choosing a color of their choice, positioning the Puma logo wherever they want, and adding custom text.
Get started with customer experience design
Image credit: Guerlain
To create great customer experience design, you need to always be empathetic to your customers and design their experiences based on their buying journeys. Leverage advanced technology to drive innovative experiences, and ask for customer feedback to understand what works and what doesn't.
Like Puma, you can leverage Apviz's customer experience tools — including 3D configurators, product showcasing, virtual try-on, and more — to start creating impeccable CX design.
Stay informed
Discover
more articles