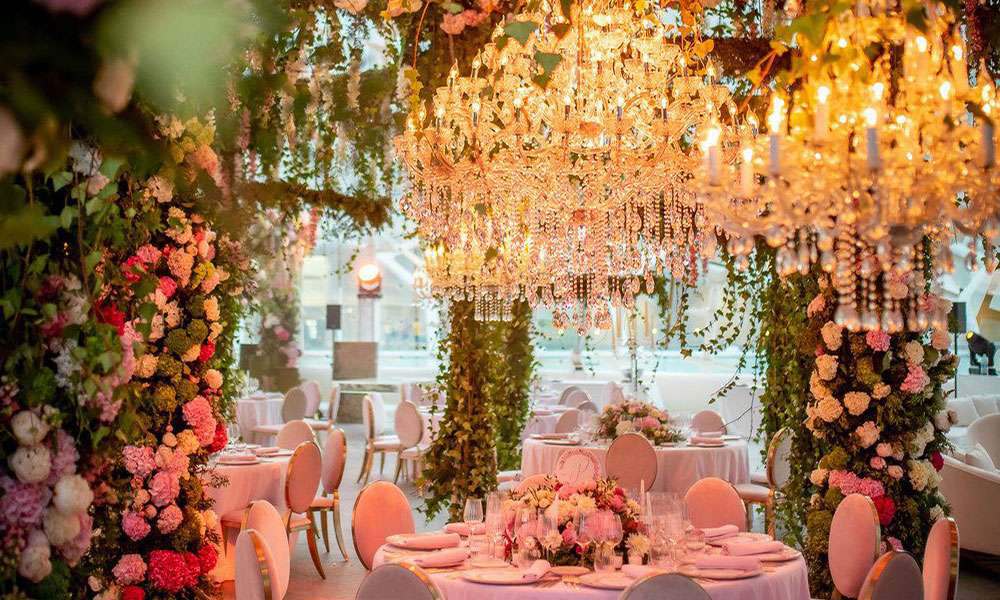 The wedding industry has changed substantially over the past two years, as several factors have impacted it. Consumers of all generations became more inclined to use technology as the overall adoption of mobile apps and e-commerce increased. Lockdowns and restrictions reduced the number of people who would physically visit places and travel, which meant that the couples preparing their wedding events needed to find other ways to discover venues, taste menus, or approach suppliers. All these, without having to give up their involvement in organizing what could be the most important party of their lives.
In 2022, the wedding industry is going through a digital revolution. As COVID-19 restrictions are easing and couples are rescheduling their significant events, the new, digitally-oriented behaviors remain. Now that the pandemic has taught us to be efficient and enjoy the benefits of online planning and research, consumers have understood that they may use their time for areas where they cannot be replaced, like preparing their looks, taking dancing lessons, or spending quality time together.
This article will discuss how consumers' expectations are changing and what brands are doing to ensure that they keep up with these new needs for digitalization and efficiency.
The global wedding market
According to the Allied Market Research report, due to many events getting canceled or restricted in size, the wedding market was assessed at just over $160 billion in 2020. Still, the industry is projected to surpass the $414 billion threshold by 2030.
With an average of 2.5 million weddings per year (in the years that are not affected by COVID-19 lockdowns) and an annual industry turnover of approximately $57.9 billion, in 2022, the U.S. is the worldwide market leader.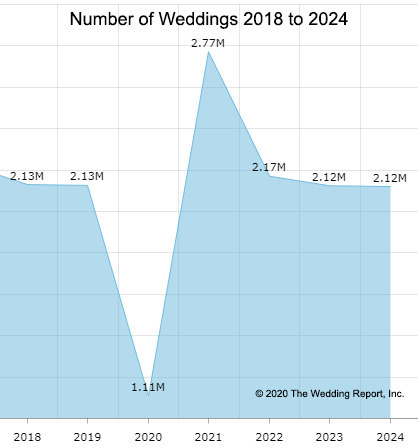 image credit : The wedding Report
U.S. couples spend an average of $29,200 on their weddings, while Spaniards have a budget of $23,200 and Italians $22,500, according to Statista. On the opposite spectrum, couples in Chile, Peru, and Mexico spend $7,400 - $8,600 on their big days. In bigger cities, like NYC, the average cost for weddings is over $70,000.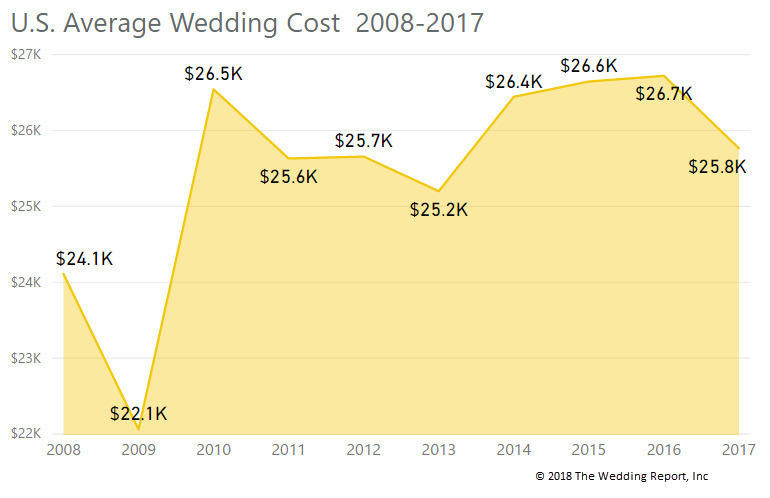 image credit : The wedding Report
To put together a wedding event, Western European couples need between 11 and 12 months, while those from Canada and the U.S. require 14 months, on average. 67% of the wedding is planned by the bride, while only 14% is the groom's responsibility.
Consumer trends
Destination weddings are shifting couples' needs
Destination weddings are a top trend for 2022. In the U.S., the Allied Market Research study shows that 1 in 4 couples chooses to have their party in New York, California, Florida, or Nevada. Outside the U.S., top destinations are Mexico, the Caribbean, and Hawaii.
There are several reasons why couples are fostering this trend. COVID-19 has made people crave traveling, so more people take advantage of opportunities to enjoy a holiday abroad. The pandemic taught us that it's fine to have smaller weddings. Due to restrictions, couples have started curating guest lists and inviting only the closest to the event.
In this context, taking your close circle of friends and family to a ferric place has become an alternative to more formal events. This comes with its share of challenges, as organizing a destination wedding implies significant research and planning.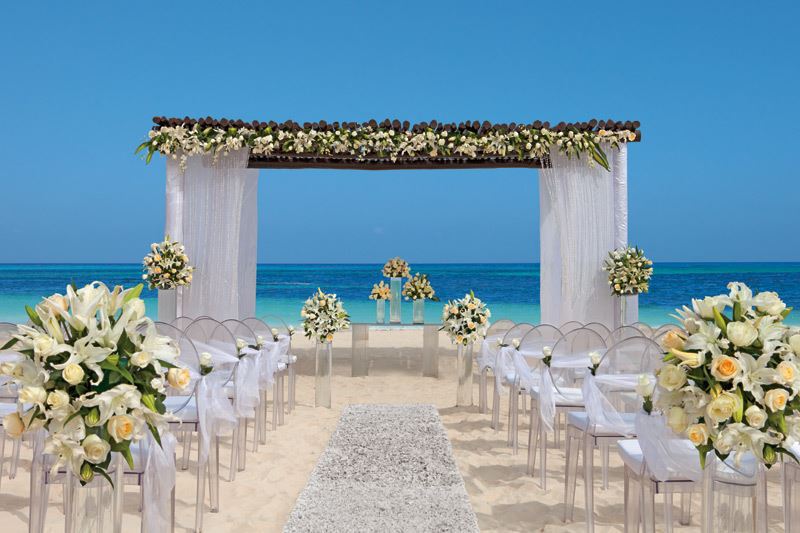 image credit : Travel Market
Couples make the most of online research and booking
Traditionally, organizing a wedding translates into lots of research, recommendations, visits to venues, vendors, and meetings. Choosing the ideal place for the event meant weeks of going from one property to another. It included several stages, from discovery to making a shortlist, from getting validation from those involved (parents, for example) to negotiating commercial terms.
Finding the right photographers and other professionals, such as musicians, also involve serious efforts. You need to get recommendations, meet with them to discuss the event and availability, see their work, show them the venue, walk them through the event details, etc.
Digitalization has changed how couples approach wedding planning and the time spent on things. Research shows that 75% of engaged couples use social media and search engines to research and follow vendors.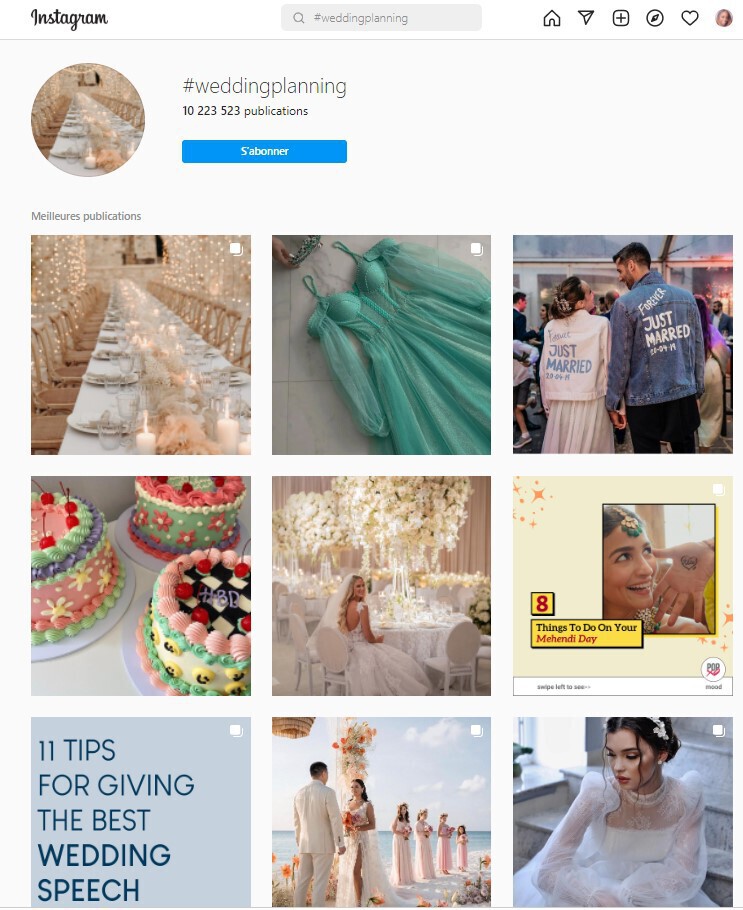 Image credit : Instagram screenshot of the 10 223 523 results available on the hastag #weddingplanning
Venue operators nowadays offer netizens the chance to see videos of the properties and even take Zoom online tours, where they may study them more in-depth. For some couples, visiting venues from the comfort of their laptops or phones is enough to make a decision, while, for others, this is an excellent way of making a shortlist of places they want to visit in person. In both cases, technologies enable users to optimize their schedules, reducing the time spent in traffic or on the road.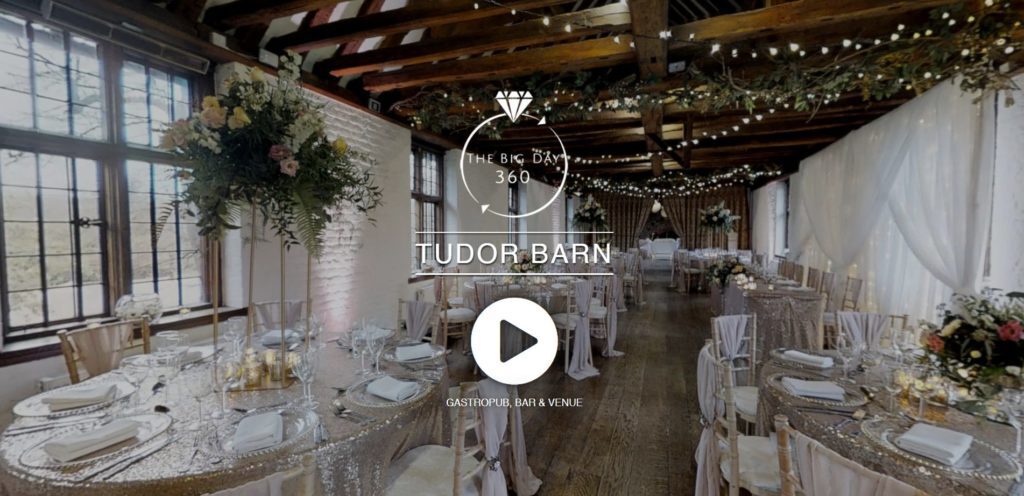 image credit: Virtual tour of wedding venue Guide for Brides
Booking a musician, a photographer, or an entertainer is also easier when consumers make the most of technology. The research process is smoother when you browse for options on the Internet, especially since you may see reels and examples of previous work and reviews from previous clients. By discussing the main things online, on dedicated platforms, or by email, deciding who will photograph you or sing to you on your big day becomes significantly smoother.
Couples use websites like Wedding Wire to identify wedding venues and vendors, see actual photos and videos, and read reviews. This is an excellent way of gathering important information, which shortens the decision-making process.
Shopping online improves the couple's and the guests' experience
Like many others, the wedding industry also embraces e-commerce because it enables brands and consumers to get even closer, offering comfort, convenience, significantly more options, and price transparency.
Let's take the example of the wedding dress, one of the critical elements of the wedding, to which the bride pays much attention.
Shopping for the perfect gown involved many visits to different shops and ateliers. Some were to merely get a sense of the offer, while others were to experiment with styles and get closer to the final decisions. When brides would have a shortlist, they would invite their dear ones - friends and mothers - to give them the final feedback and validate their choices. Once the dress was chosen, one or two fittings were required to make it perfect for them. This involves weeks of research, visits, and trying on.
Nowadays, though, shopping for wedding gowns is changing due to technology. Future brides are browsing social media for inspiration. They visit e-commerce shops to identify the models available and see what they want to try on. Moreover, they make their shortlists at home and ensure that the shops have them ready when they visit.
A similar approach works wonders for other essential items, like wedding bands, bridesmaid dresses, grooms' outfits, etc. Still, couples don't use e-commerce only for themselves. They also take advantage of it to ensure guests have a more efficient journey in identifying and shopping for the perfect wedding gifts.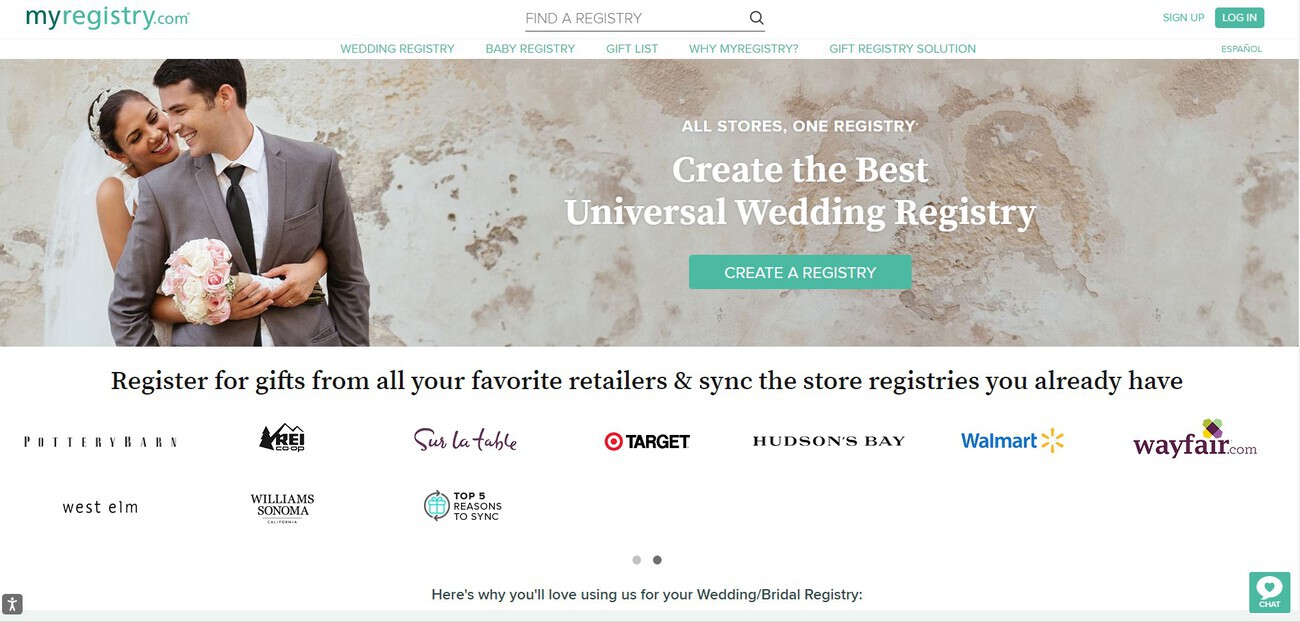 image credit: Myregistry.com website screenshot
According to The Knot's 2019 report, 80% of couples create a registry up to 7 months before their wedding day, while almost 30% also have a honeymoon registry that focuses on experiences. 60% of surveyed respondents begin their process online, while most (97%) manage it exclusively online.
Digital wedding registries like MyRegistry.comor SimpleRegistry enable couples to curate items from different brands and e-commerce providers. These platforms also offer them gift-tracking features, showcasing who purchased what and contact details, enabling couples to send thank-you notes.
Digital stationery adds personality to wedding invitations
As the wedding industry is digitalizing, more and more couples are giving up printed save-the-date cards and invitations while opting for online versions. This is because events have lost some of their formality and because the past years have taught us that even digital experiences can be personal and warm.
Graphic designers are now putting together creative, highly visual invitations which are not limited by printing possibilities. Couples use photography, gifs, and even video to create inspiring ways of inviting their dear ones to the special event.
By saving on paper and on physical visits to each guest, the bride and groom-to-be save money that they may later invest in the wedding experience to ensure a memorable, remarkable event.
Company trends
Wedding planners are using digital tools
Good planning is the backbone of every wedding because many elements need to be coordinated and scheduled for success. This means that couples getting married need to focus on both the timeline of the event and the whole retro planning and the financial resources, contracts, and paperwork.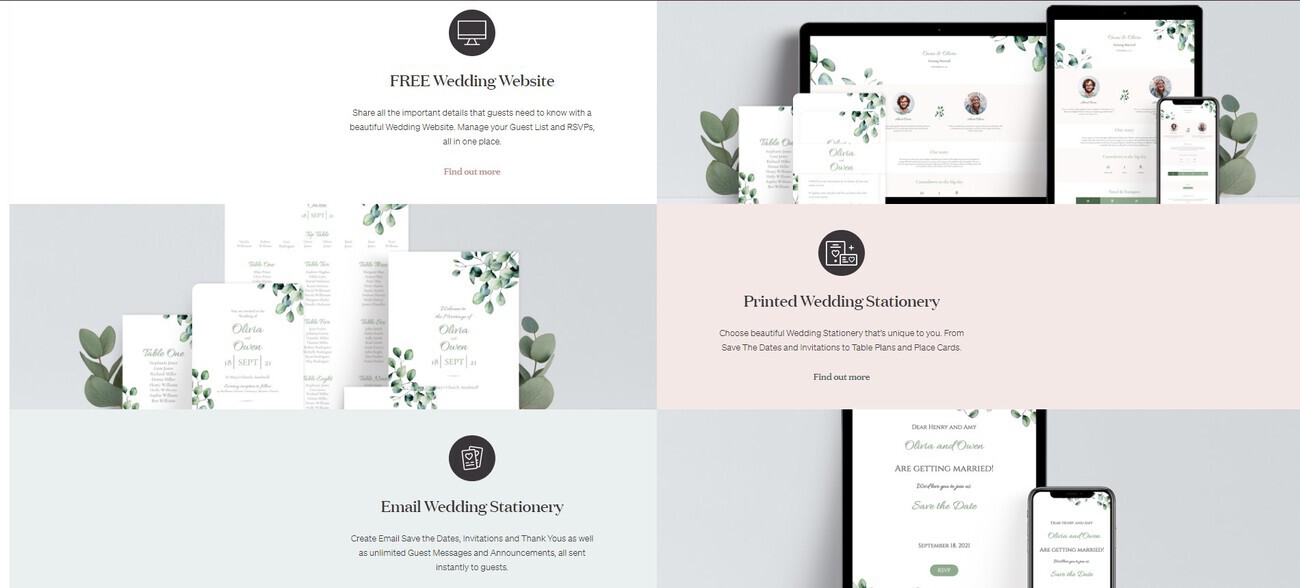 image credit : gettingmarried.uk website
Understanding that digitalization adds more security to the overall process, reducing to the minimum the chances that things will go out of sight, wedding planners have started using apps for contract signing, invoicing, and payments. By employing these, they ensure that they are always aware of what is happening between the client and vendor and that they may, thus, perform their responsibilities.
Wedding websites want to become the ultimate wedding stop
Wedding websites have existed for over a decade, enabling couples to share information on their weddings in a creative, friendly way. Nowadays, providers enhance their features, making it possible for users to create their apps, keep track of RSVPs, and allow connections with registry partners.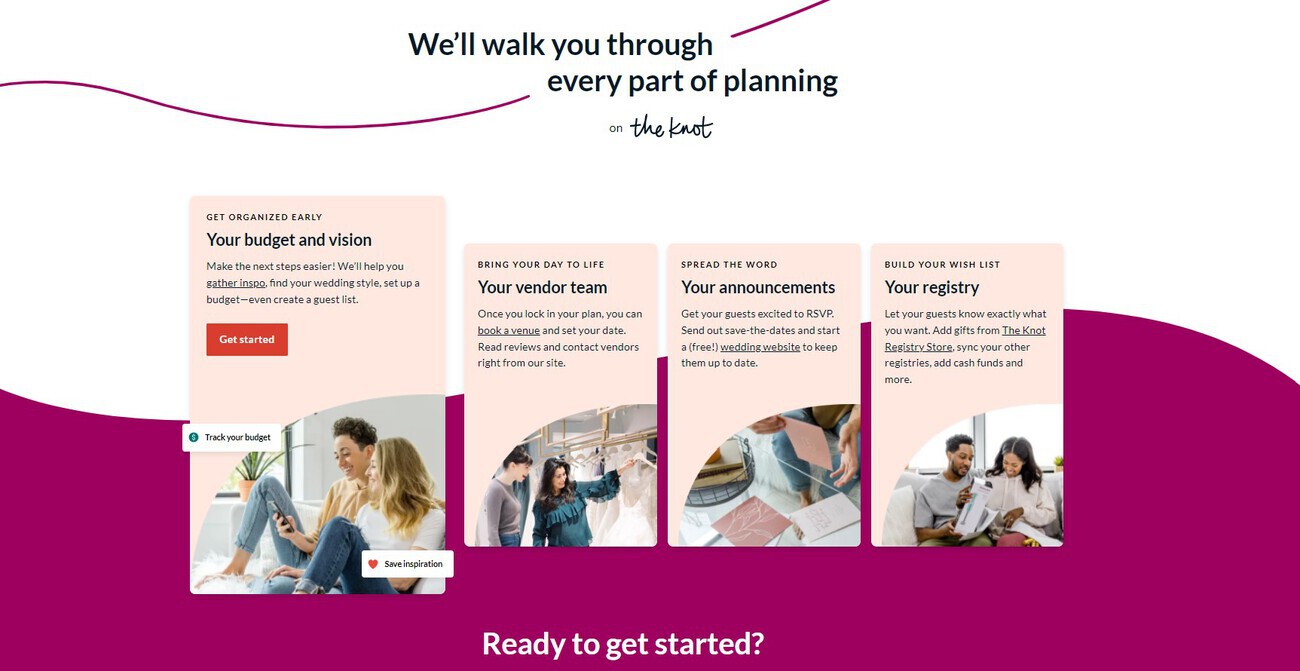 image credit : The knot website-homepage
The Knot, for example, one of the leading names in the U.S. wedding industry, offers access to a free website builder with over 100 mobile-friendly designs. Users will generate their URL. Each website may be used to collect guest photos from social media networks like Facebook and Instagram.
UK's Getting Married offers similar benefits while also enabling users to connect their wedding registry Perzola accounts.
Digitalized experiences are changing the way brides shop dresses
Brands know that shopping for wedding dresses from home is a must in today's ecosystem, so they are trying to offer appealing, innovative, personalized experiences.
Internationally renowned brand, Pronovias, which is present in over 100 countries through more than 4,000 points of sale, is offering consumers the possibility to book a one-on-one virtual consultation with one of the company's expert stylists and visit the fully digital showroom. The shopper benefits from 45 minutes of online shopping, during which the brand representative presents options in real-time. As in the case of physical visits, friends and family may join in on the call.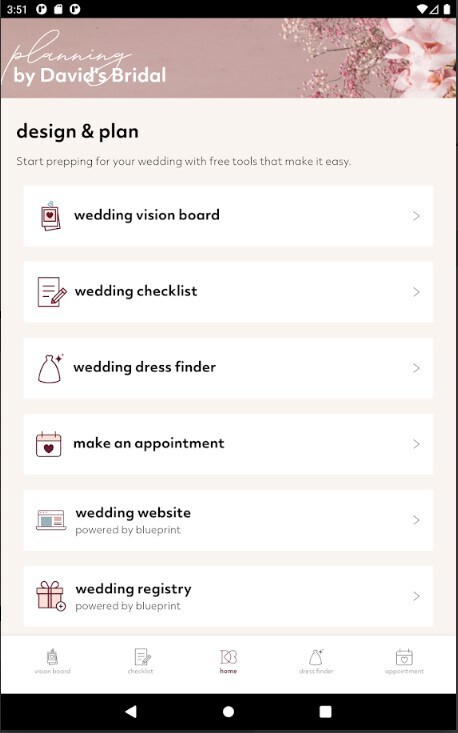 image credit : David's Bridal App
Moreover, worldwide, names like Suzanne Harward and David's Bridal use augmented reality to help shoppers choose wedding dresses. App users may view, from the comfort of their homes, how gowns look on real-size models, inspect details and how the fabrics flow. Moreover, they may also book appointments directly from the app to try on the dress in the company's showroom. The Suzanne Harward app also offers customization features, as it enables users to change sleeves and bows with just one click.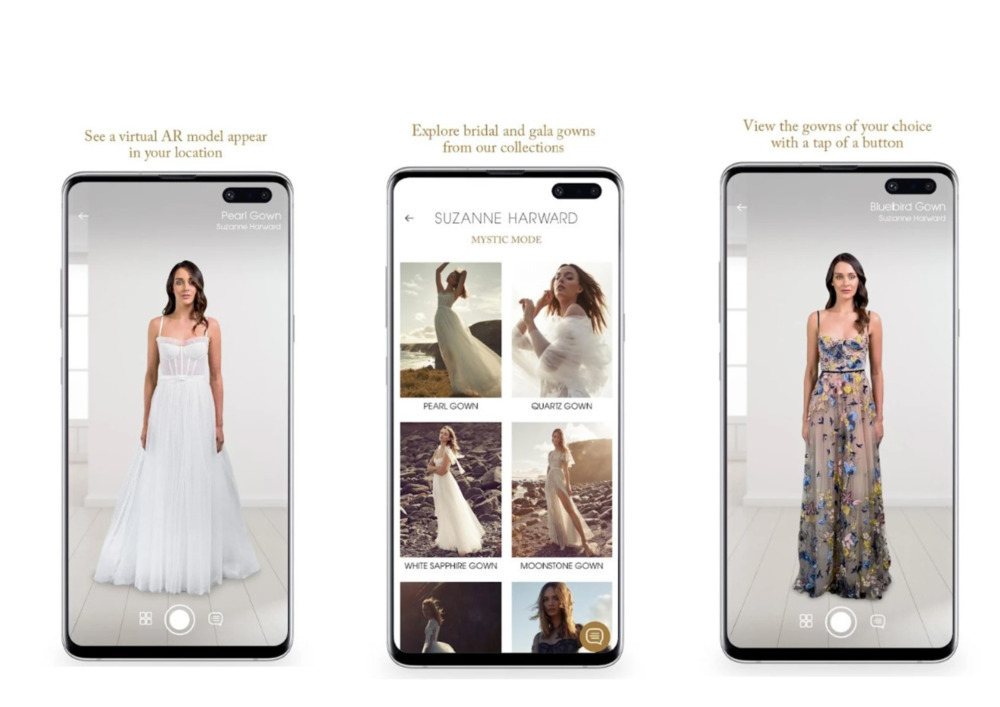 image credit : Suzanne Harward app
3D configuration help couples personalize their wedding bands
Shoppers nowadays want to save time and money by making essential purchases online. Still, they don't want to give up on quality and personal experiences. Wedding bands make no exception.
To come to consumers' help, build trust and attract sales, companies invest in 3D technologies which enable audiences to visualize each product and pay attention to details without having them in their hands. Moreover, buyers may also make real-time changes to each piece and personalize the renderings so that they preview the custom rings before making the purchase decision.
French brand Courbet enables couples to create their own rings by offering access to the real-time, 3D configurator. Those visiting the website may choose the precious metal used for each piece, the shape, the width, and the finish.
Conclusions
As online adoption increases, consumers' appetite for e-commerce is getting bigger. To accommodate it, brands are going out of their way to innovate and offer full shopping experiences that may be enjoyed from the comfort of their homes.
Try our 3D product configurator and discover how to add value to online shopping to secure consumers and offer them personalized products.