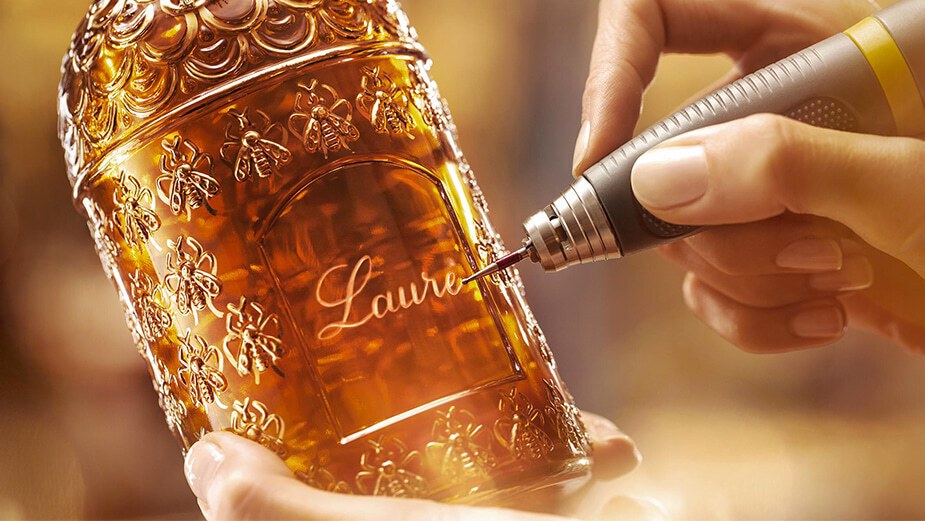 Customization of goods (also known as personalization) has existed since 5000 BC Mesopotamia, as people from different cultures used engraving to put their marks on objects. The technique was adopted in Germany in the XVth century when goldsmiths would place their initials or pseudonyms on metalwork. It later expanded to Italy and, step by step, to the whole world.
Engraving has become widely used to add a personal touch to fashion and beauty items, jewelry, and watches. Although the technique was once limited to offline experiences, things took a turn when e-commerce developed, and brands realized they needed to transform the digital experience, adding elements of exclusivity and engagement.
This is how they started offering customization through online engraving on their websites, enabling users to see accurately how their personalized items would look, thus ensuring they have all the necessary information to make the right choice.
This article will discuss how beauty, jewelry, watch, and fashion brands use product customization by engraving in their online strategies, what consumers expect from the technique, the benefits for shoppers and companies, and some best practices examples.
Customization in the XXIst century fashion industry
The jewelry, watches, and fashion industry is known for mastering the use of "positional goods," a term coined by economist Fred Hirsch. The concept defines commodities or services with a higher value because of their scarcity and of offering owners a higher standing in society. These items might refer to exclusive products that have a touch of uniqueness.
This is where personalization through engraving comes in. The tool helps brands connect to consumers on an emotional level. What this approach does is that it enables shoppers to transform the brand experience into a very personal one, adding sentiment and value to the item itself.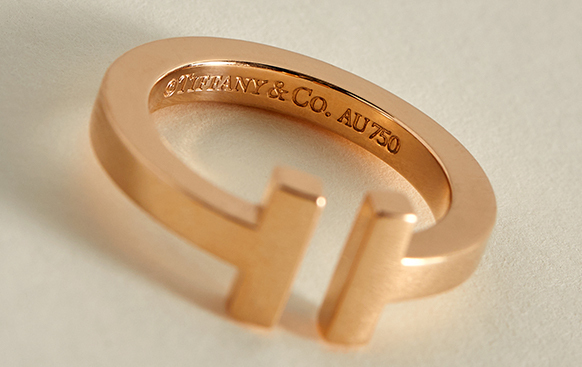 image credit : The Real Real : Tiffany&Co. engravable ring
By engraving messages, initials, dates, images, or numbers, jewelry, watches, and fashion companies offer consumers products that are entirely theirs and part of their life narrative. This is why personalization through engraving is something that luxury companies have been mastering for decades.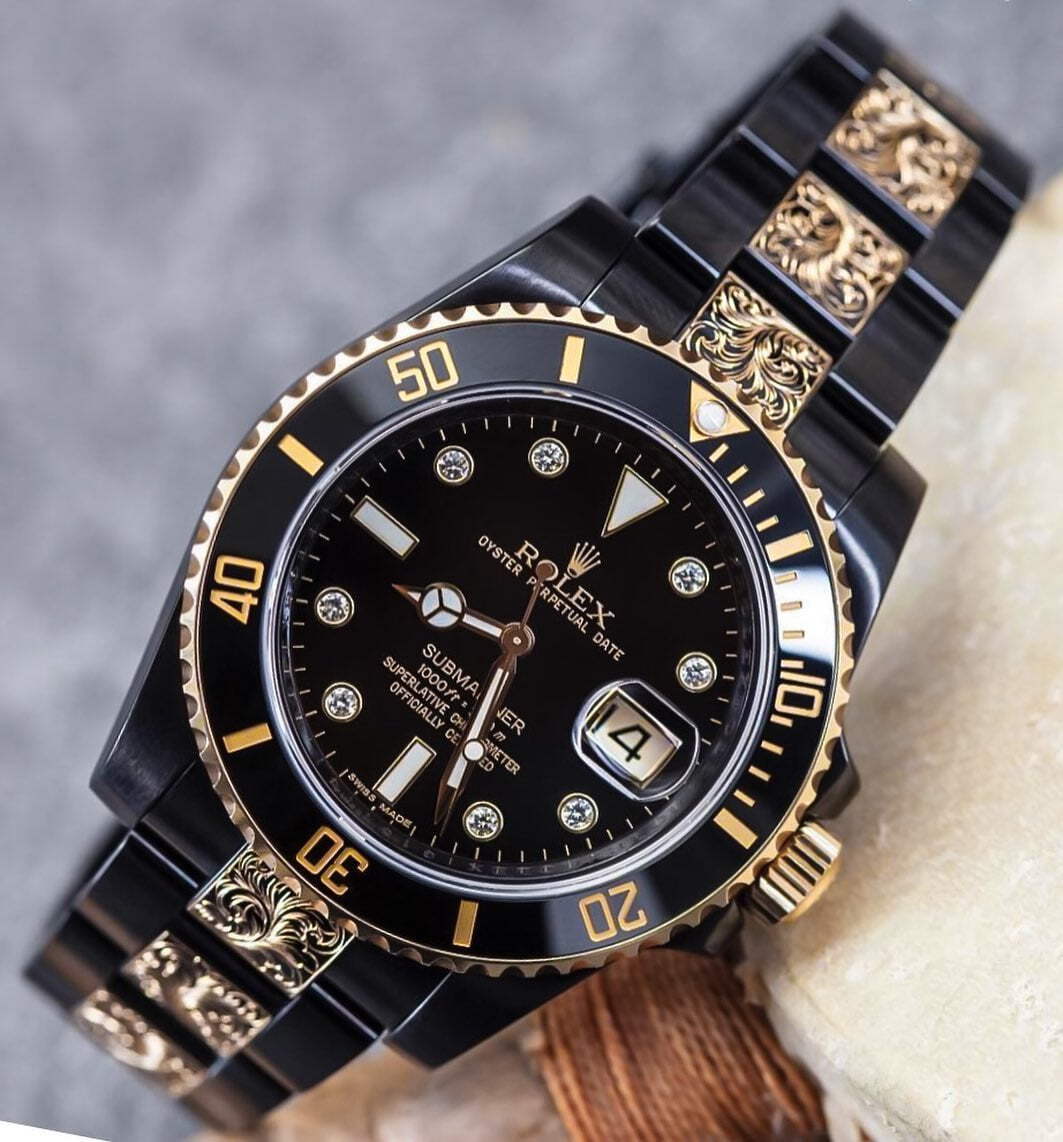 Image credit : Black Hand engraved Rolex watch, Superwatchman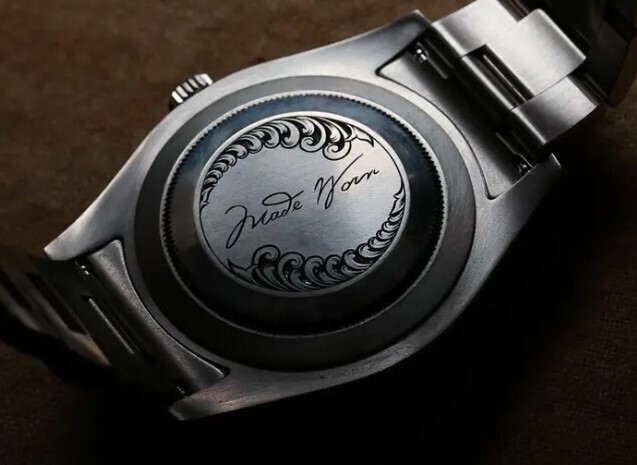 Image credit: Hand engraved Rolex, Business Insider
Exclusive shoppers have been adding initials and messages inside Tiffany & CO. rings ever since the brand's early days. Rolex customers love the watches for their sterile case backs, perfect for engraving. The timeless Cartier Tank or the iconic Jaeger-LeCoultre Reverso also make fantastic playgrounds for customization.
Still, nowadays, this sort of emotional personalization isn't limited to heritage fashion houses. More and more brands are taking advantage of technology and innovation to answer consumers' needs for unique products that spark emotion.
Engraving as a sign of exclusivity: from luxury to mainstream consumers
Luxury items like watches and jewelry have long been considered status symbols among groups of people and communities. Even from their early days, those who benefited from exceptional items enjoyed the feeling of exclusivity and, sometimes, uniqueness since not everyone or anyone could access a particular piece.
It wasn't only about the money. The price barrier existed, but it was more about craftsmanship, and scarce resources made it impossible to serve the whole market.
Nowadays, though, things are hardly the same. As sources showcase, in 2019, Rolex, Omega, and Cartier, Switzerland's largest watchmakers, produced almost 2 million watches, while Tiffany & CO. registered global sales of $4.38 billion.
The high number of products and their global footprints enable brands to serve worldwide consumers of different classes and age groups, making it more difficult for these products to be considered rare or create a sense of belonging.
A solution would, of course, be overall product customization, but having an iconic brand make a bespoke watch or jewelry piece is extremely expensive, as prices may reach millions of dollars.
In this context, personalization through engraving has become a popular trend, adopted by those who buy products as emotional investments to mark special moments, treat themselves, and offer memorable gifts. While these shoppers know that customization through engraving dramatically decreases the market value of a particular item, they appreciate the exclusive and unique feeling they offer them.
Taking a cue from high-end consumers, mainstream audiences have also started to crave differentiation and adding emotional value to their items. Personalization through engraving is now famous for different shoppers, from those with medium incomes to the highest earners. Mass market products from brands like Swatch or Timex go hand in hand with engraving, as they are preferred by consumers worldwide.
Engraved pieces that made history
As mentioned, in most cases, an item that has been engraved is less valuable to the secondary market consumer since it bears an emotional connection to someone else. Still, there are cases when this particular engraving increases its financial value several times folds, generating news-worthy figures.
This happens when the actual good is connected to a personality or is part of history and a more complex narrative.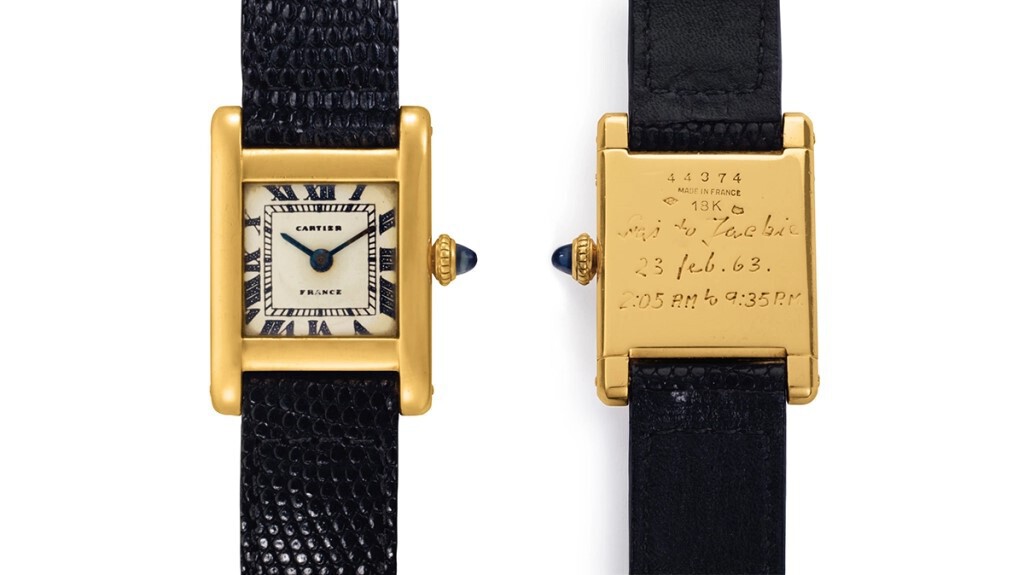 Image credit : Jackie Kennedy engraved Cartier Tank watch was at auction in 2017, Rob Report
Examples of pieces that have been sold at auctions for impressive sums include:
Marlon Brando's DIY customized Rolex watch
On the set of Apocalypse Now, actor Marlon Brando was asked to take off his watch, as the film crew considered it didn't match the style of his character, Colonel Kurtz. Brando refused, saying, "If they're looking at my watch, I'm not doing my job as an actor."
Instead, the actor removed its bezel and carved his name on the case back to make it look rougher, engraving "M. Brando." In 2019, the timepiece sold for $1.95 million at the Phillips' Game Changers auction.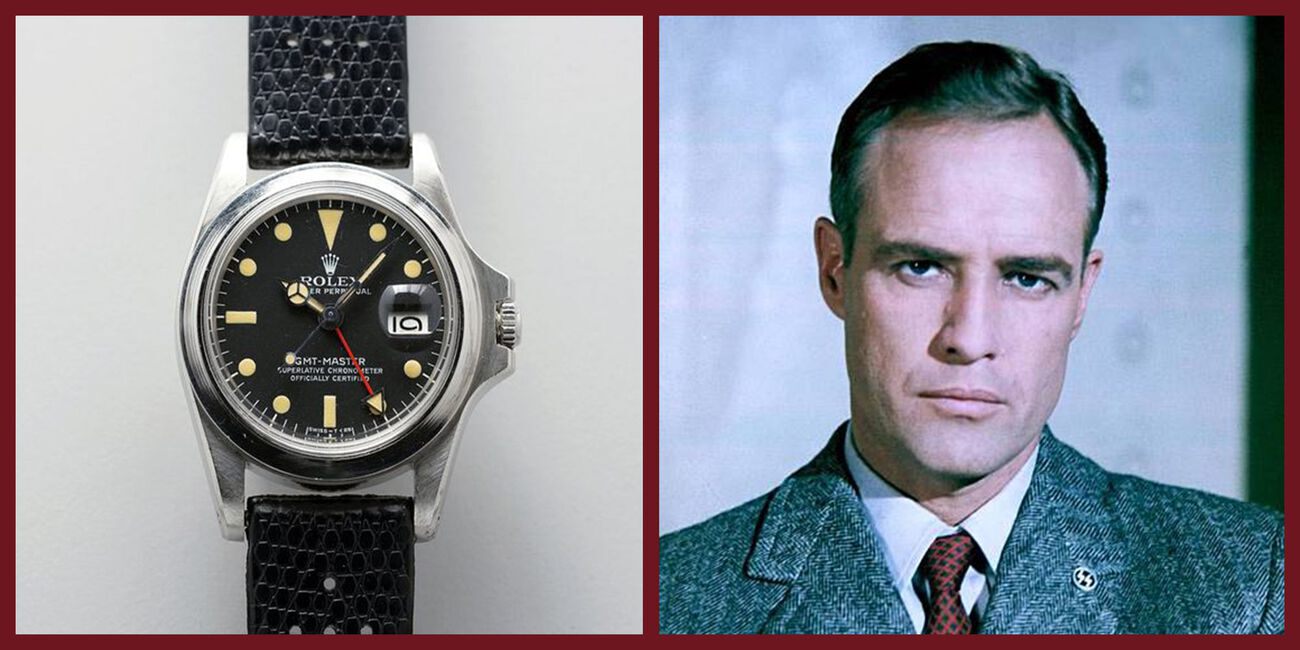 Image credit : Town & Country
Paul Newman's engraved Rolex Daytona
Due to its role in the 1969 film Winning, American actor Paul Newman took up stock-up racing. What started as a hobby turned into a profession that worried his wife, actress Joanne Woodward.
When she gifted him a Rolex Daytona, she took advantage of the opportunity to engrave him a message, writing in capital letters "DRIVE CAREFULLY" and signing it "ME." This precious memory sold in 2017 for $17.8 million.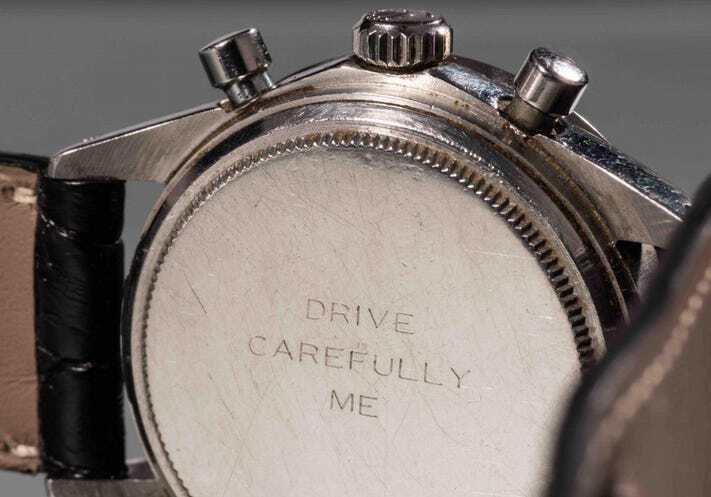 Image credit : Forbes
A collection of engraved gemstones from ​​George Spencer, the 4th Duke of Marlborough
In 2019, Christie's made headlines with its auction that included many engraved gemstones from the collection of George Spencer, the 4th Duke of Marlborough and ancestor of Winston Churchill.
One of the most impressive pieces was the Roman carnelian ring with a portrait of Octavian, wearing a mourning beard, after the assassination of Julius Caesar, in 44 CE. Only 1.4 cm long, the piece was sold for $37,500 in 2020.
The benefits of customization through engraving for shoppers
There are several reasons why consumers who shop online appreciate customization through engraving, such as:
Customization through engraving enables shoppers to have rare items
Customization through engraving democratizes the luxury component of e-commerce. It enables shoppers to access rare, even unique items without going to brick-and-mortar stores.
Consumers may choose how their products will look, what will get engraved on them, and see accurate, photorealistic renditions of the goods. By removing several barriers, such as distance and the need to approve the final result or being in a specific physical location during working hours, more shoppers can benefit from the exclusivity that fashion brands want to convey.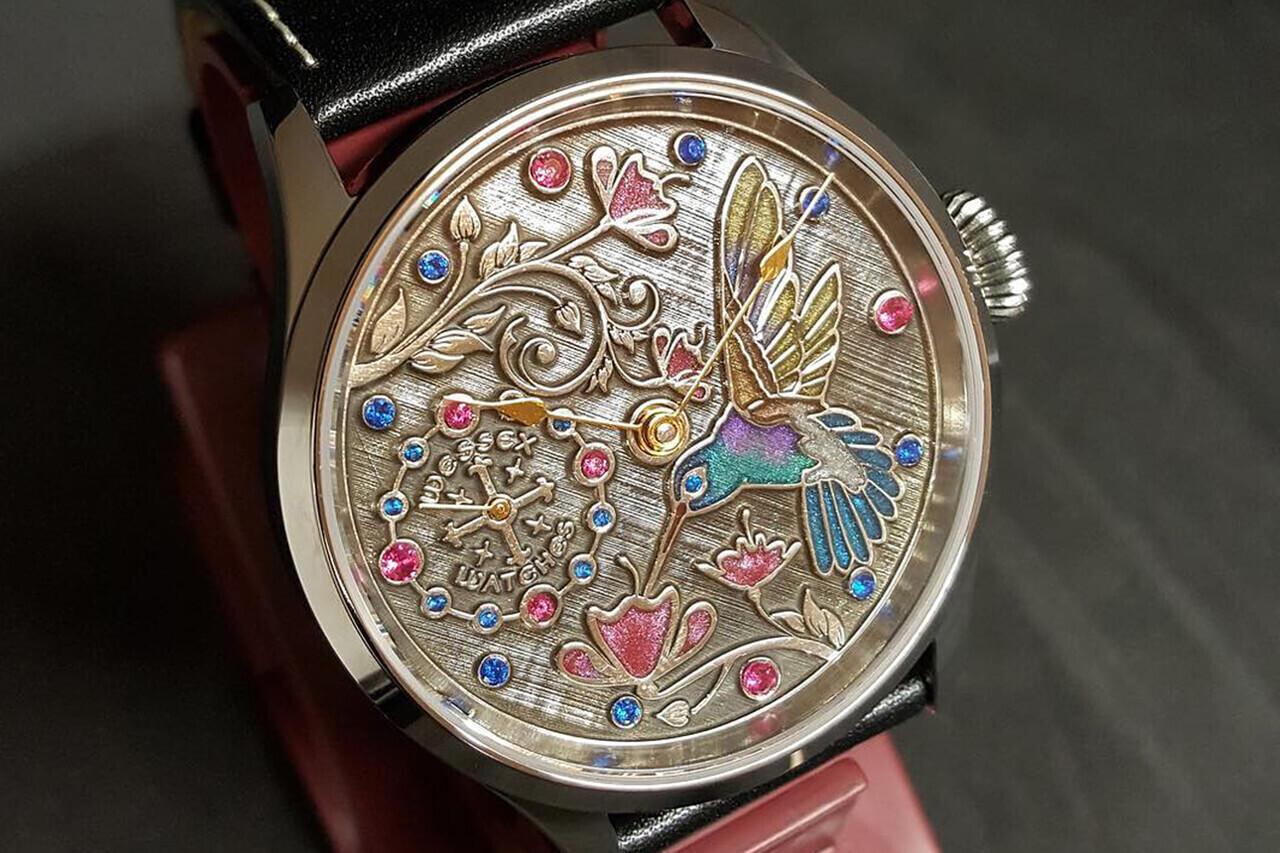 Image credit : Hand paint Wessex watch, Oracle
It adds emotions to the gifting experience
Specific categories of goods, such as fashion items, jewelry, and watches, are excellent to mark special occasions and successful events. Consumers choose to personalize these items through engraving in their quest for gifts and purchases that are truly meaningful and don't go unnoticed.
This enables them to add value to the gifting experience, thus contaminating the product with an intense feeling.
In this context, personalization through engraving increases the emotional value of goods.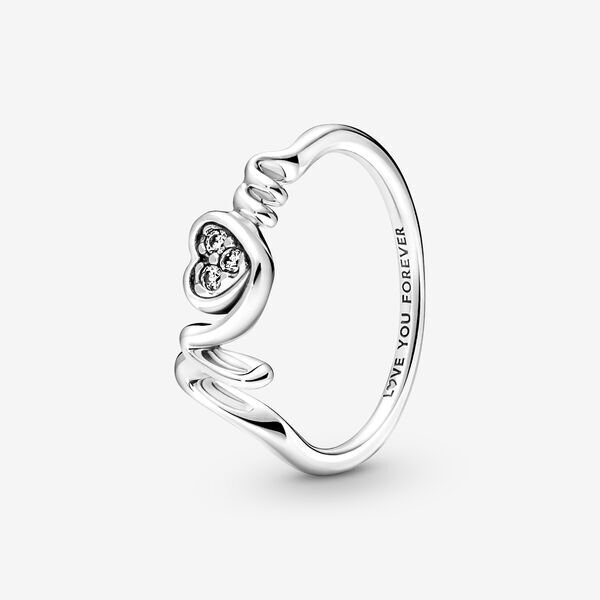 Image credit : Pandora ring Mother's Day campaign
For years, high-end consumers have felt that e-commerce experiences don't suit them because they lack personal appeal and touch. By mixing customization through engraving with 3D visualization, companies enable shoppers to participate in the co-creation of their goods, which revolutionizes the e-commerce experience, making it significantly more customer-oriented.
With tools like virtual assistance, 3D configurators, and visualization, consumers can feel they benefit from everything offline shopping offers.
Customization through engraving - the company perspective
The benefits of combining customization and 3D configuration
Product customization goes hand in hand with 3D configuration and visualization because shoppers need to see what they order. When successfully connected, the two generate the following benefits:
More conversions,fewers returns
Convenient, digital shopping experiences make it easier for consumers to purchase goods and return them. Still, sending a product back is a practice that generates direct and indirect costs for companies.
When they create their products and personalize them through engraving, shoppers have the information needed to make decisions. They see representations of their designs, focusing on the elements they want to engrave. They may zoom in and see items in 3D, playing with the dimensions, positioning, and fonts of the engraved messages. By creating experiences that reassure shoppers, brands increase the "Add to cart" conversions and make the ordering process smooth and reliable.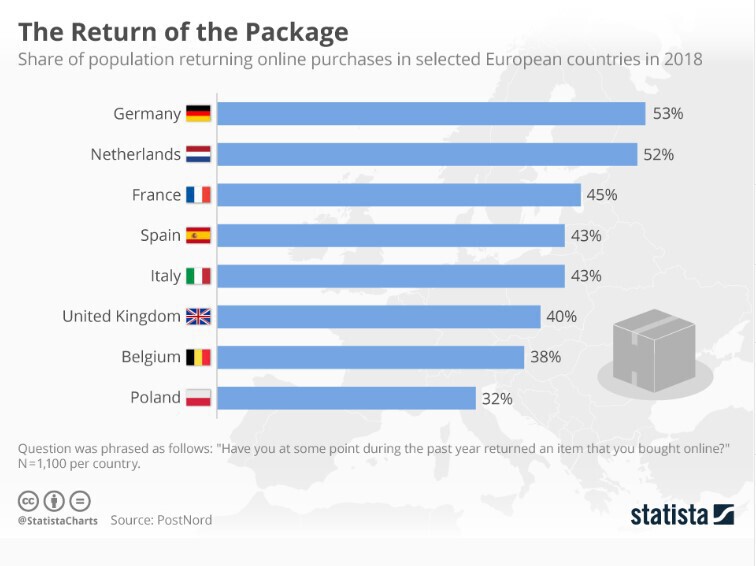 Image credit : Population' share that are retunring online bought products, Statista
User-generated content
Consumers' ability to participate in the design, control its aesthetics, and create something unique to them benefits the relationship between shoppers and brands. An important aspect is that it generates enthusiasm about a particular product, transforming it into a source of user-generated content. The fact that digitally-native Generation Z members take their likes and dislikes to social media is a significant opportunity for brands that manage to attract them.
Image credit : example of user-generated content, here they participate in a Valentine's day campaign for @myjewellery on Instagram showing how they like to wear their jewelry from Equal collection as a couple.
By using 3D visualization tools for product personalization, companies give users sources of content from the start, enabling them to share photorealistic renditions of their customized goods with friends and followers. Once the product is delivered, there are even more opportunities to showcase their engraved creations online and offline.
Fosters a whole strategy around engraving
If twenty years ago, customization was mainly an add-on, a nice-to-have component that companies would use to attract consumers, it is now a pillar in itself. Fashion brands create strategies around shoppers' desires to truly own something that is theirs and that represents them.
Sarah Chloe is one of the disrupting jewelry brands that has based its business on personalization through engraving. Consumers may customize their jewelry with their initials, letters, words, symbols, numbers, Roman numerals, etc. The company even has a particular category of initial rings that have drawn the attention of celebrities and consumers alike.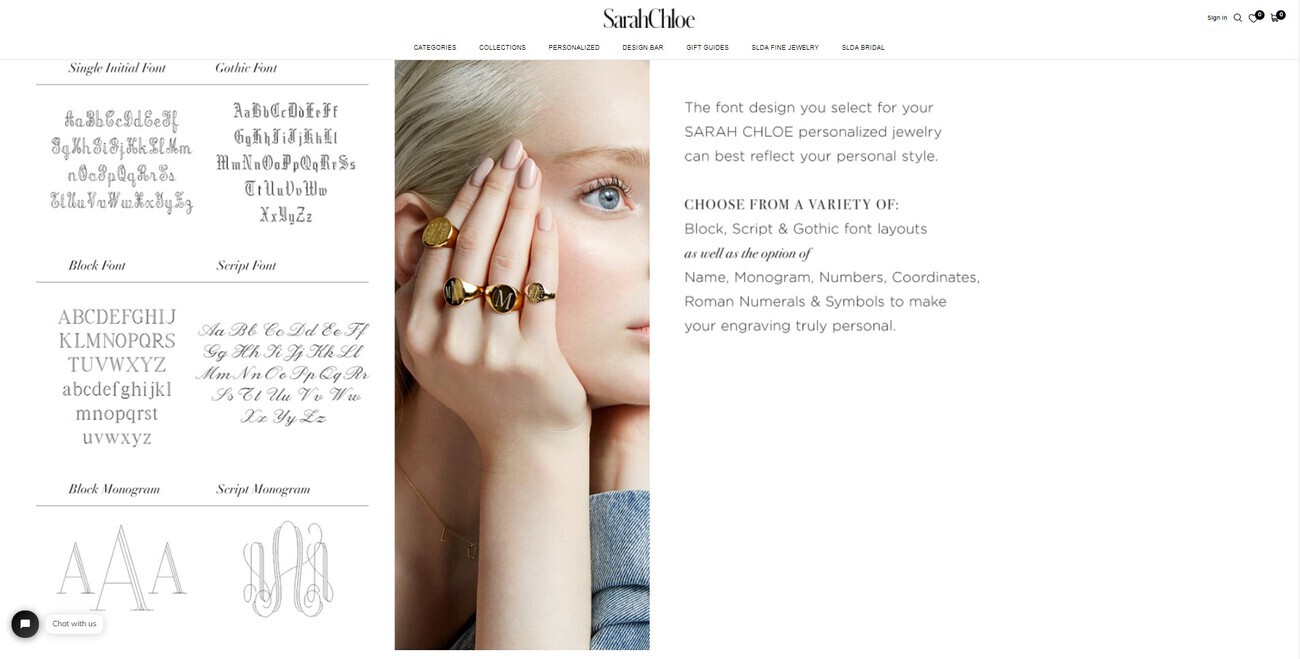 Image credit : Sarah Chloe home page, Jewelry customization experience
Increases emotional connection and makes purchases meaningful
Personalization of items makes the shopping process more complex, as it spans beyond the quick add-to-cart approach. In this case, consumers need to think of how they want to customize their item, what they should engrave, where, and the font and styles.
Especially nowadays, when shoppers have options, the purchase of personalized products is less of a compulsive experience and a more meaningful one that connects brands and their audience pool. Brands that offer customization through engraving are top-of-mind names for consumers who need to buy gifts for a particular person or want to celebrate an event.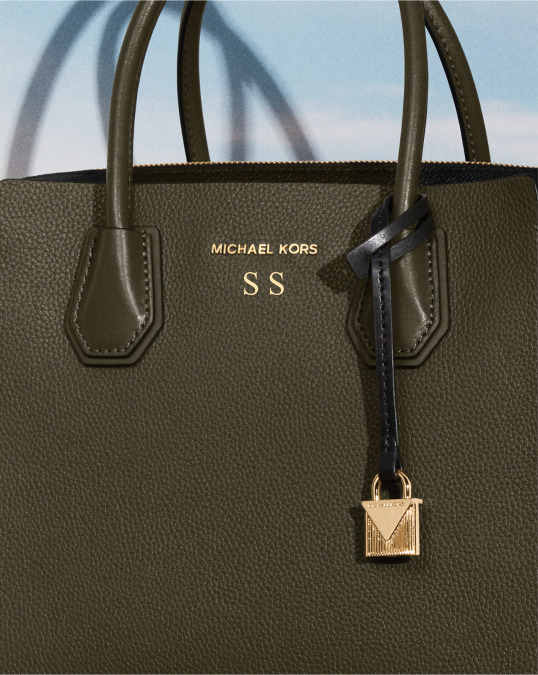 Image credit : engraved intials on Mickael Kors handbag
New technologies enable rapid factory production while optimizing resources
3D engraving and other new industrial technologies allow fashion and jewelry companies to get creative and offer their audiences the most valued commodity: exclusivity.
By using engraving, the fashion, watches, and jewelry industries are taking customization to the next level by using engraving. They are doing so in a way that doesn't affect costs, margins, and overall processes.
Still, things don't stop there. To improve the shopping and user experience, fashion brands add 3D configurators and visualization tools to their websites. This way, it doesn't matter if shoppers want to personalize a ring, cufflinks, a necklace, a watch, etc. They will get the same degree of visual accuracy and detail.
Getting consumers to place an order is a win, but things don't end here. A crucial aspect for companies is to ensure that the shopper receives a product that is 100% identical to what they ordered online in terms of design and customization. The internal production process is as essential as the UX in this context. To ensure that their internal documentation is correct and that the customer's requests and designs are respected, companies must have a very well put in place procedure.
The APVIZ SaaS solution is an intuitive, easy-to-use, embeddable tool that fosters personalization through engraving online visualization. By connecting it with their e-commerce platforms, brands offer consumers the chance to play with typography and size, try different messages, symbols, and images, and see how they look on the desired good in real-time. Moreover, since APVIZ may be integrated with internal ERP, CRM, DAM, and PIM tools, companies may ensure that it will insert itself seemlessly in their existing process and allow them to be ready for production. This web-to-factory approach is what ensures consistency in design and helps brands take advantage of personalization.
Engraving best practices from some of the world's top brands
Guerlain
Guerlain is no stranger to engraving. The beauty brand enables its consumers to place their texts or favourite patterns on some of the maison's iconic products - the Rouge lipstick and the house's perfume.
Guerlain shoppers may customize the "Flacon aux Abeilles", choosing the size, the color, and the ribbon that will adorn it. Moreover, users can also add their texts to the glass bottle through engraving. Real Time 3D visualization enables them to decide on the best font and message.
Baume
Part of the Richemont group, Baume takes pride in its highly customizable watches that enable shoppers to choose everything, from the hands, straps, dials, cases, and engraving.
By using the brand's 3D configurator, which is fully embedded in the e-commerce site, consumers may create a 3D rendition of their watch and, thus, choose one of the 10,000 combinations available. This may later be made unique through the engraving, which comes on the back of the casing.
Moreover, from a technical perspective, things are highly efficient. The digital tool which enables shoppers to simulate their engraving is also connected to the actual engraving device, which means that the end result will be identical to what the shopper chose.