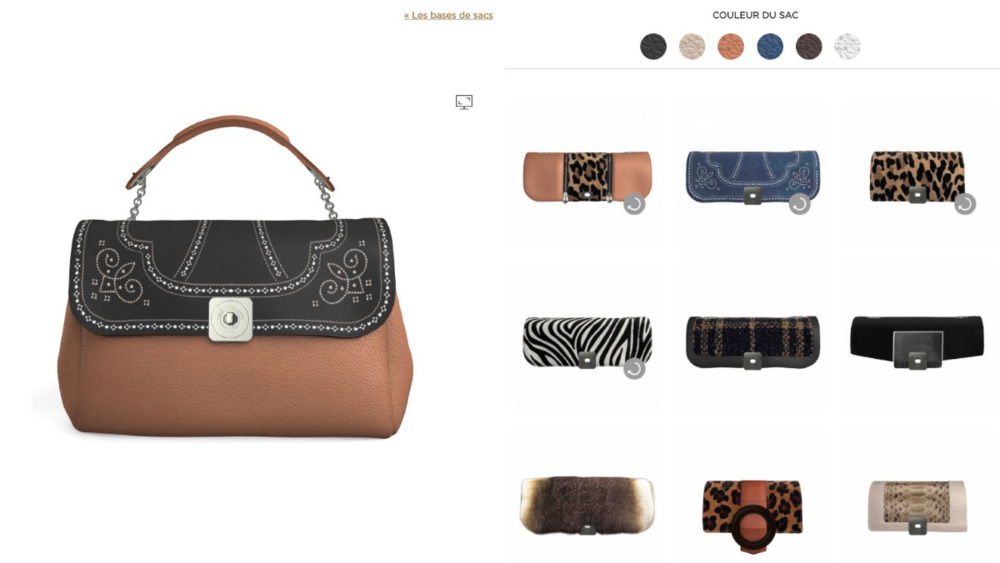 The Salesforce CPQ solution (Configure, Price, Quote) integration has brought a revolution in the product configuration market by developing a system that creates accurate visual representations of products. Following suit, industry-specific product configurator software is on the rise — notably, 3D product configurators in the luxury goods, merchandising, jewelry, and cosmetics space.
But why are companies investing in product configurators?
The stats reveal it all:
According to the Harris Poll, 60% of online shoppers "are more likely to buy a product if it is shown in 3D or AR" (The Harris Poll).
Brands are finding conversion rates as high as 40% when they replace product photography with a 3D product configurator (Forbes).
Product configurators can reduce photography costs by 90% and product returns by 80% (Threekit).
Read on as we explore what a product configurator is and how it benefits eCommerce businesses.
What is a product configurator?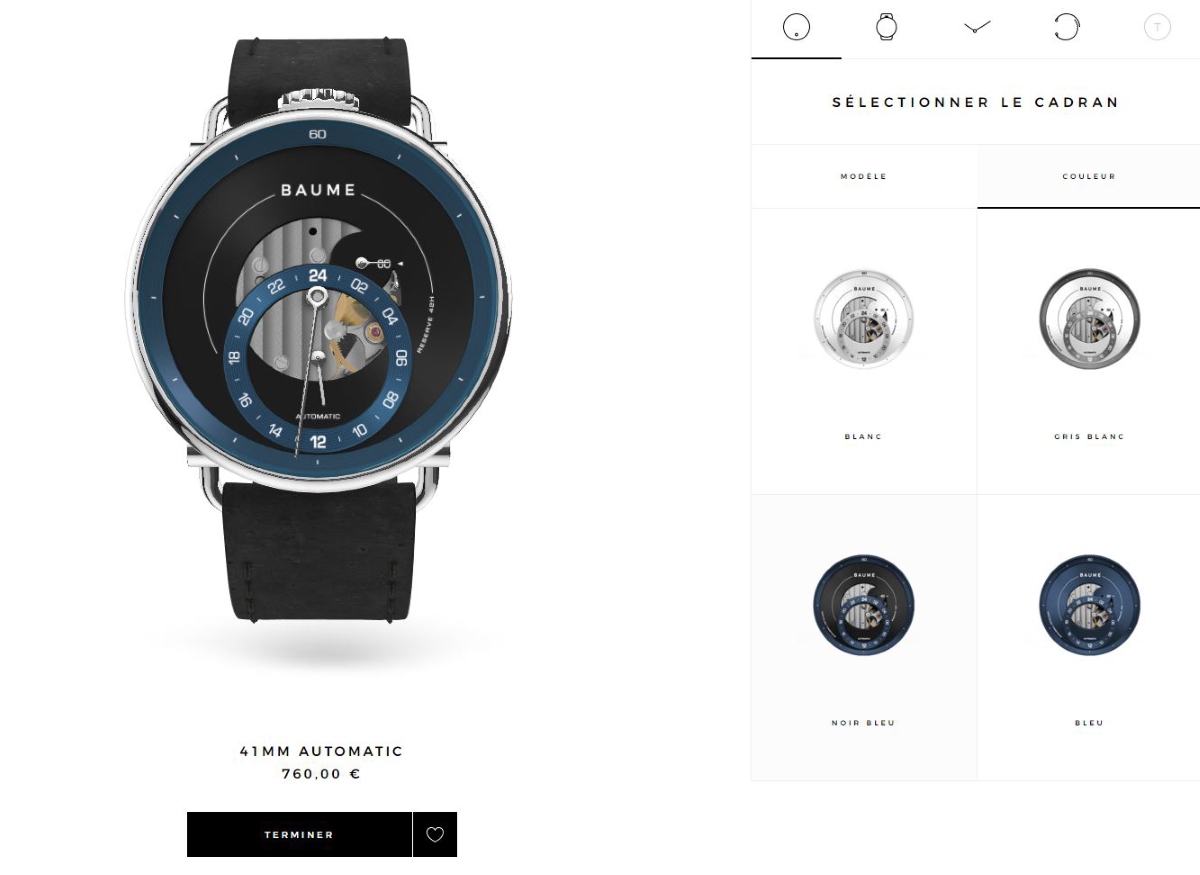 Image credit: Baume
Have you ever landed on an e-commerce site that allowed you to customize a product — changing its color, size, finish, and other factors to suit your needs? That's a 3D product configurator in action.
If you answered no, a product configurator is a software technology solution that can be used in your e-commerce platform or digital app, allowing visitors to buy configurable products. This way, shoppers can rotate a 3D product rendering to see the product from different angles. In addition, it gives shoppers a better view of complex products with more detail (such as fine jewelry) and gives them the ability to change and customize parts.
Note that a product configurator can integrate with CPQ, Customer Relationship Management (CRM), and Enterprise Resource Planning (ERP) to help with the sales processes.
What are the benefits of product configurations?
Established luxury brands such as Baume & Mercier, Courbet, Baccarat, Lolo Chatenay, and others are leveraging product configuration for its proven benefits. Let's look at what those benefits are and help you understand why you should also use a 3D product configurator in your e-commerce platform — be it Woocommerce, Shopify, Ecwid, or others.
1. Configurable products render greater satisfaction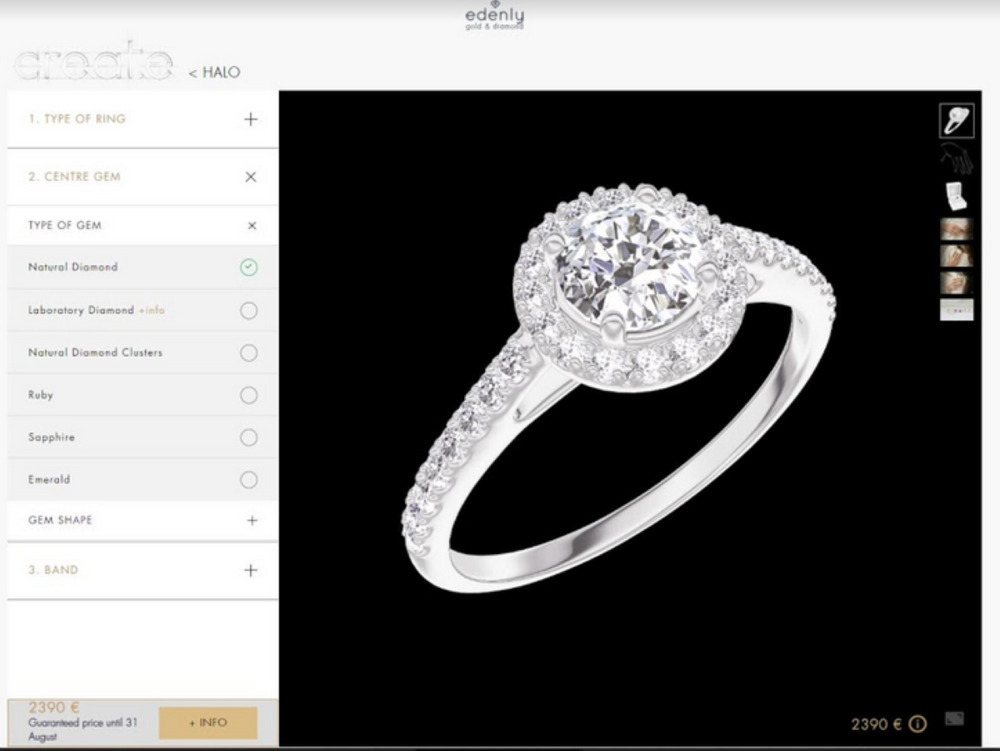 Image credit: Edenly
When customers configure products, they see them at their most premium quality, making them more desirable. And when shoppers are directly responsible for the appearance and design of the final product, they feel a greater sense of ownership and are more likely to be satisfied with the product.
In fact, research by Bain & Co. has discovered that when customers designed their own shoes, brands received a 50% increase in their Net Promoter Score (NPS), which indicates a high level of user recommendations. This finding corroborates the idea that configuring products elevates the buying experience and therefore, the loyalty as well.
For instance, Puma uses the Apviz merchandise configurator to allow shoppers to customize their sportswear. This e-commerce trend extends even into jewelry retailing. Brands such as Edenly and Courbet allow shoppers to customize their jewelry pieces.
2. Low customer acquisition costs and maximized purchase value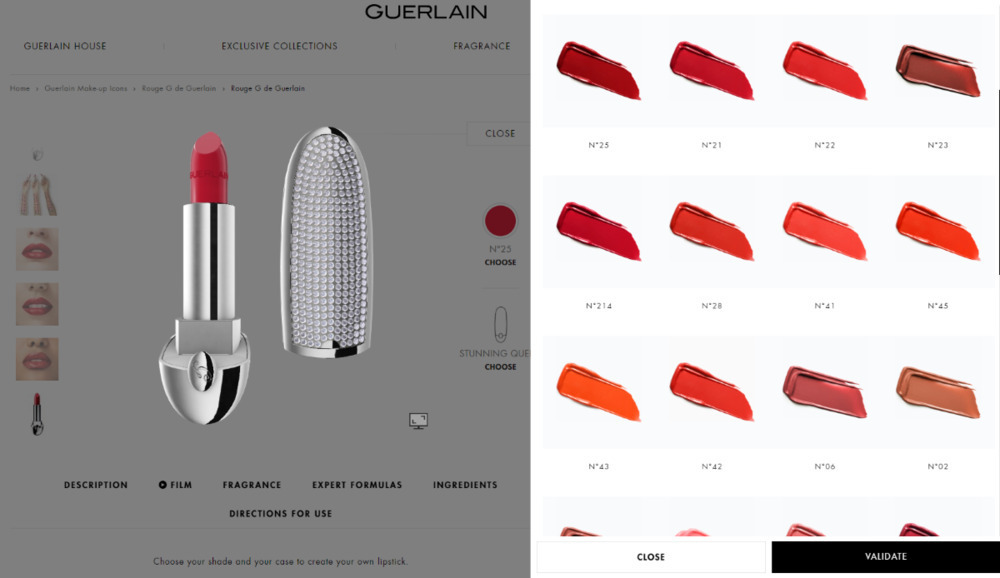 Image credit: Guerlain
Research shows that customers are willing to pay more for products they can configure. In fact, a Deloitte survey reveals that one-fifth of surveyed consumers who expressed interest in the 3D model personalization were willing to pay 20% more for customized products.
Quantifying these numbers into business intelligence, one can affirm that the customer acquisition costs can be lowered, since the real-time 3D configurator functionality allows brands to fetch higher engagement rates, more qualified leads, and therefore, as we relayed in the research above, higher conversion rates.
A case in point is Guerlain, a cosmetic retailer that leveraged the Apviz 3D cosmetic configurator to increase its sales by up to 50%. This success is attributed to the fact that the Apviz configurator offered customers the quality and fluidity expected in a buying experience. Thus, the lipstick rendering on the screen is identical in every way to the physical product that is shipped to the customers.
3. 3D model accuracy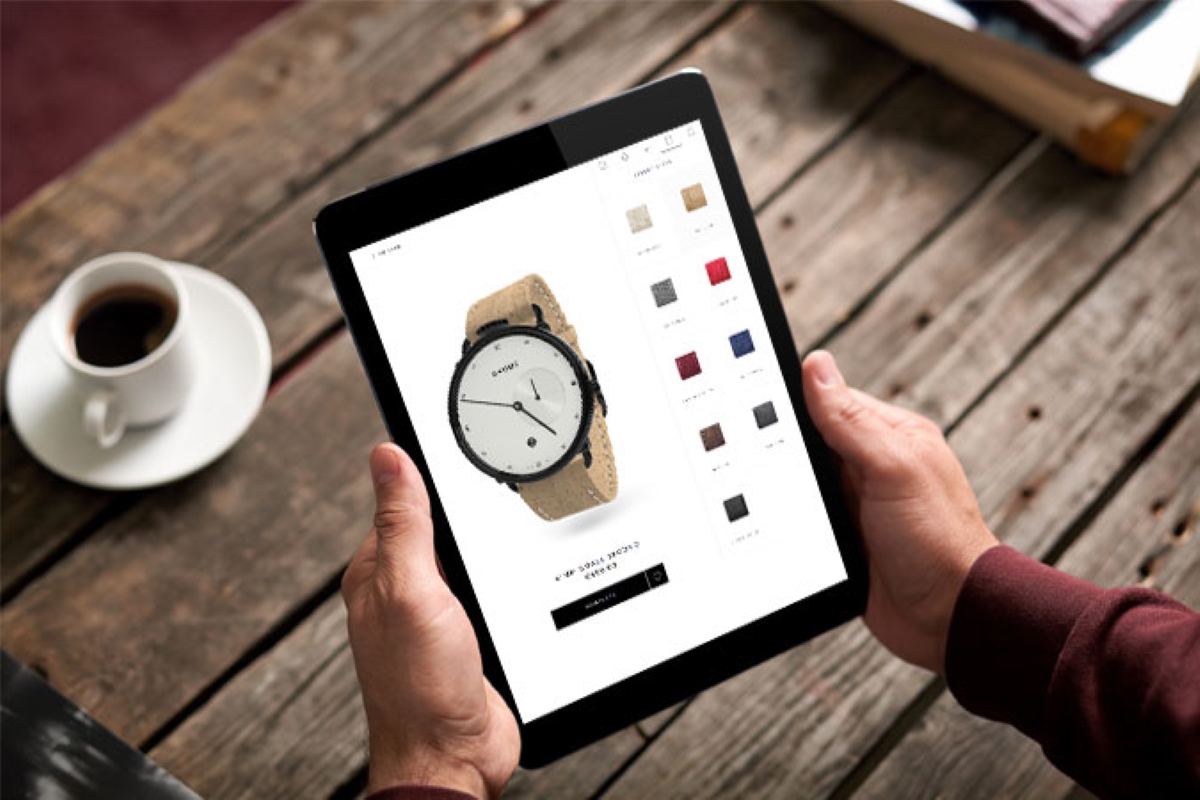 Image credit: Baume
In contrast to video playbacks, 95% of customers favor 3D, interactive product visualization.
A premade video might not be able to showcase all the parts and features of the product that customers are looking for. However, 3D product configurators allow customers to accurately view all the parts and completely customize a product.
What's more, by integrating product configurations with augmented reality (AR) and virtual reality (VR) technologies, shoppers can visualize how the customized products suit them (in the case of cosmetics and clothing) or their interior (in the case of luxury goods). This not only enhances the omnichannel customer experience but also translates into dollars for brands.
For instance, Baume, the latest-born luxury brand in the Richemont Group, used Apviz 3D watch configurator supported by augmented reality technology to increase its conversions.
Thus, customers first personalize their timepieces using the online 3D product configuration software to change attributes such as colors, hand types, needles, frame types, and materials of bracelets, leading to over two thousand possible customizations.
While shoppers can share the image of the customized watch on social media, they can also connect their smartphones to a wristband to see how their custom design watch suits their wrists.
4. Simplifies the manufacturing process
Product configurators work well with the print-on-demand manufacturing process. For, the configurators capture all the information that the customer inputs on the website and streamlines the production phase. Your ERP or Salesforce CPQ or CRM secures the product options available in synchronization with the customer preferences.
This information can be pushed to the supply chain once the order has been placed.
5. Integration with third-party tools
As mentioned in the previous discussions, a product configurator software can be integrated with third-party tools to accelerate the sales process. For instance, the configuration rules engine mechanism can be triggered by real-time product customizations, revealing the pricing and bill of materials with a configure price quote automation module. This keeps a transparent sales cycle, which helps the customer to trust brands more and reduce their anxieties about hidden costs.
Besides assisting salespeople, integrating the product configurator into your e-commerce solution can aid in managing the stock lines and the inventory. This way, your sales reps needn't worry about products in the warehouse. Instead, products can be manufactured once the order is placed.
Schmidt, the leading manufacturer of custom-made furniture in France, leverages the Apviz configurator, integrated with its Information System (I.S). And since the launch of the 3D configurator, Schmidt has seen a double increase in their in-store appointments, with a 66% increase in its eCommerce conversion rates (Hapticmedia).
How do you choose the best product configurator software?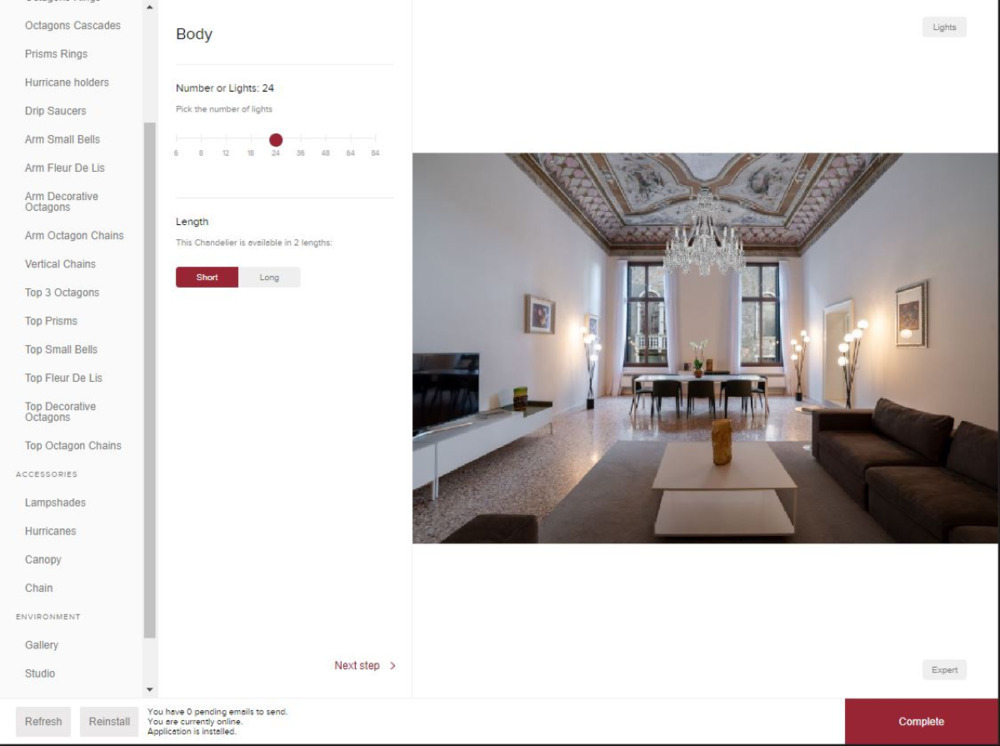 Image Credit: Baccarat
Now that you know how brands are leveraging product configurator software for their success, let us help you choose the best in this section by revealing the must-haves of a product configurator.
1. Features
Though a product configurator allows for personalized customizations, it's more than that. Besides rendering those 360-degree product visualizations and real-time customizations, the software must be able to:
Deduce pricing and cost calculations
Run configuration rules with the rules engine
Support augmented reality and virtual reality experiences
2. Usability
It's valuable when your sales reps can modify products based on client input. But bringing automation to the mix and allowing customers to take over this activity is greater still. So, customers can make their customized designs from all the combinations available. This input can be transferred to the manufacturing department to incarnate the digital design.
Apviz has this autonomous usability feature and enables the salespeople to shift their time and attention to activities that better contribute to the bottom line.
3. Integrations
Ask your potential vendor about their product configurator's ability to integrate with e-commerce platforms, CRM, CMS, ERP, CPQ, and others. Sometimes, you might have a pre-built integration, but in other cases, the connections could be built via Application Programming Interfaces (APIs).
Get started with an Apviz product configurator
Leading luxury brands are leveraging Apviz product configurator to drive sales to their e-commerce stores. Apviz has more than 15 years of experience in this industry and can surely help you in the product configuration journey, from start to massive sales.
Get in contact with the sales team here to understand how Apviz can revolutionize your business with product configurations.