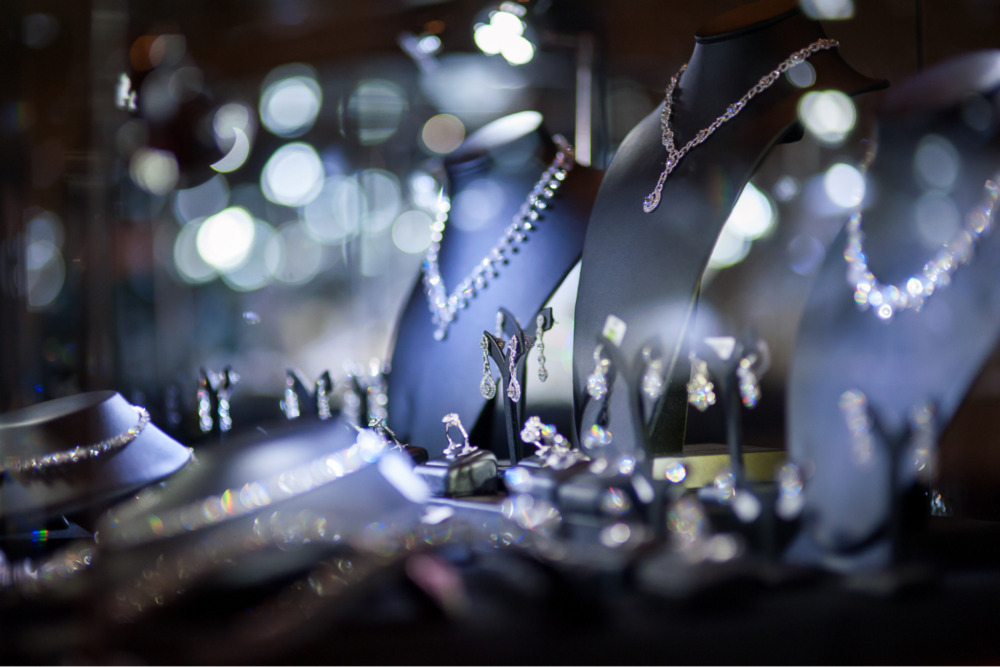 Customization and personalization were customers' dreams. Today, it has become a reality with print-on-demand jewelry products. Print on demand has opened the door to deliver products in sync with customers' needs and desires while only having to invest when there is a demand.
Research by Facts and Factors forecasts the global 3D printed jewelry market to reach $5,650 million by 2026 while growing at a 13% Compound annual growth rate (CAGR). This demonstrates the growing demand for print-on-demand (POD) jewelry products. The research further suggests that this rapid growth of the POD jewelry market is chiefly attributed to the expedited growth of the 3D printing industry that is anticipated to reach $21 billion by the end of 2021.
Here's how this projected growth might benefit you:
Cost-effective production
Ease of designing
Prototyping of custom jewelry
So, dear reader, the market is bright, and the benefits are substantial! Let's help you understand how to get started with selling print-on-demand products in this blog.
What is print-on-demand jewelry, and how does it work?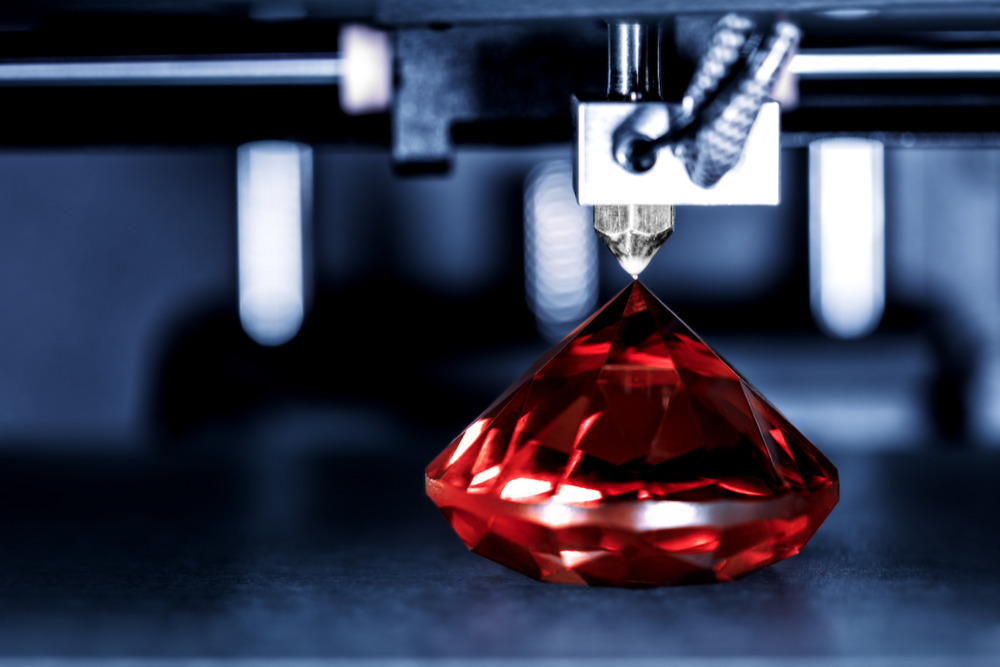 In print on demand, you customize a supplier's white-label products and sell them under your brand as customers order them (Shopify).
This model, therefore, works on a simple principle – print after ordering. So, the product is created only after the customer places an order. Any jewelry that's produced using the print-on-demand process is referred to as print-on-demand jewelry.
With this, you needn't pay your supplier for the jewelry until after you've sold it. That helps you rule out the intricacies involved in buying bulk products or holding any inventory. What's more, your supplier can handle everything from printing to shipping, and you would be the safe middleman with whom customers order their custom jewelry.
You can use the print-on-demand services to either step into the custom jewelry industry or upgrade your jewelry retailing. For instance, you might already be selling standard jewelry pieces. But you could level up your jewelry business by allowing customers to order their custom jewelry with a tool like Apviz.
This way, you give your customers the option to customize products from your existing collections by changing the metal type (rose gold, sterling silver, platinum, or others), carat weight, stone color, gem cut, and more. Once your customers place the order, you can have the jewelry made and sold.
How is print-on-demand different from dropshipping?
Here we go: In dropshipping, the products are produced in bulk, and the manufacturer's drop shippers directly ship them to the customer. However, in POD services, the product is produced after an order has been placed while the manufacturer ships it to the customer.
However, if you have a brick-and-mortar retail store and can have customers place their custom orders online and pick them up in your store, the manufacturer would send you the finished jewelry product. You could then deliver to your customers when they come in.
Now that you understand POD service, let's look into some of its benefits.
What are the benefits of print-on-demand jewelry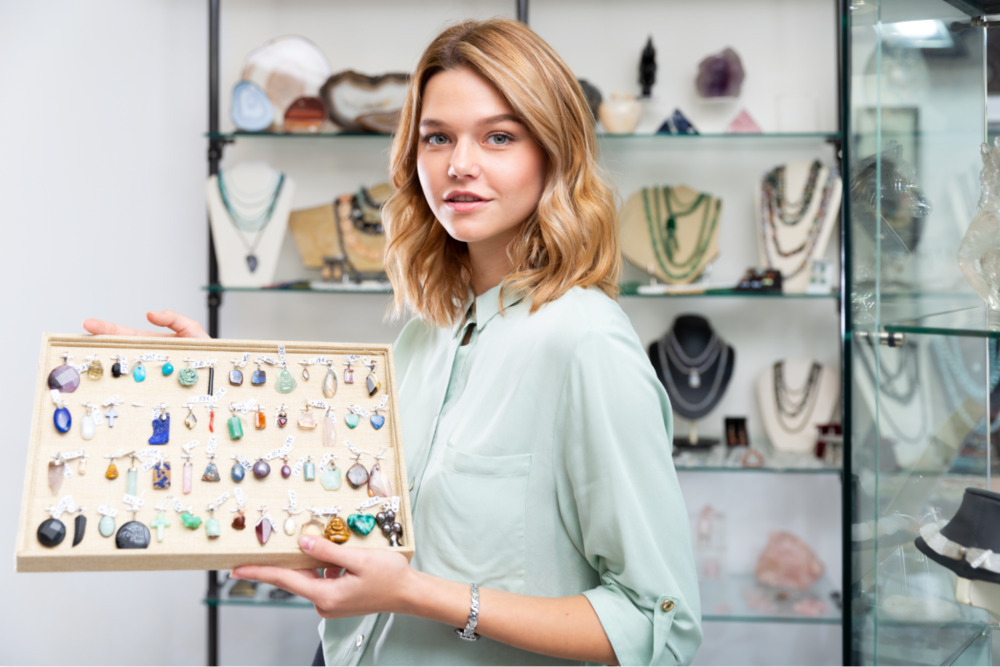 The concept of POD jewelry brings boons for sellers and shoppers. Let's, therefore, look at it from both lenses.
Print-on-demand jewelry benefits for sellers
Print-on-demand jewelry offers sellers a few advantages:
1. Eliminate inventory issues
As mentioned earlier, POD jewelry solves the problem of a high-value and high-quality inventory that fails to get sold completely. Since you produce only small batches, the product lifecycle can be accelerated without investing millions in the inventory.
Besides, print-on-demand jewelry paves the way to start an online store too. Even new jewelry sellers can enter the game and sell jewelry based on demand.
2. Accelerated time to market
Manually crafting jewelry molds involves a lot of time and expense. But since POD jewelry is manufactured by the 3D printing technique, you could easily change the design of the digital jewelry model and get it manufactured quickly. What's more, the cost to reach the market is also lowered (All The Research).
3. Complex jewelry designs
As you might be aware, a traditional approach to jewelry involves joining multiple pieces of jewelry together to create a complex jewelry design. But in 3D printing, you can get a highly intricate jewelry design in one single piece.
For instance, say you want to produce a rose gold ring with a complicated design. In the traditional approach, you would have to use separate pieces of the metal and then do the wax casting. With 3D printing, the entire design would be fabricated with a single piece of metal.
That not only renders a high-quality ornament but also saves the designer time by eliminating the joining process.
Print-on-demand jewelry benefits for shoppers
Sellers aren't alone in finding benefits to POD jewelry. Here's what shoppers also gain from this method:
1. Customization
Customers can request a unique and one-of-a-kind piece with jewelry printing. They have more control over the jewelry they are creating — from changing the metal type to changing the size of the jewelry and the color of the gems. Customers can turn their statement jewelry dreams into reality.
2. Try before buy
Another benefit that POD jewelry offers shoppers is the ability to virtually try on their customized bijoux. This can be achieved with augmented reality. For instance, consider that a customer has designed a ring. Now, they can see how it fits in their finger using their smartphone camera when you have an AR app integrated with your online store.
This way, customers can try the customized jewelry products before placing an order. If they are unsatisfied with a design, they can always rework it.
Tools and technology needed to start a print-on-demand jewelry business
You need four technologies to make POD jewelry happen for your online store. While two of them are needed to make the end-product, the other two are vital to delivering an impeccable customer experience.
Let's now look at each of them in detail.
1. 3D modeling
The 3D modeling is nothing but a three-dimensional CAD model of the customized jewelry. Without this, you cannot print your jewelry.
2. 3D printer
The 3D printer is the hardware you need to print your jewelry. Here, you take the digital custom design of the jewelry from your CAD software and export it to a high-resolution 3D printer to produce the 3D printed patterns that can be cast in the mold.
How do you get started with 3D modeling and 3D printing?
There are various jewelry printing platforms such as ShineOn Jewelry, Printful, and Printify. Such platforms can be integrated with your Etsy, Amazon, and Shopify stores (Shopify). This way, once a customer places an order, these printing platforms take on the creation, completion, and shipping processes.
3. 3D configurator
You need a 3D configurator to allow your customers to display the jewelry pieces in 360 degrees and customize them interactively and instantaneously. Edenly, a fine jewelry retailer, leverages Hapticmedia to render greater levels of personalization and customization to its customers.
4. Augmented reality
While you need to allow your customers to look at the jewelry from every angle, it's better still if you could let them virtually try it on before placing the order. For this, you need an AR app that's integrated with your online store. This way, when a customer customizes a ring, they can see how it appears on their finger using their smartphone camera.
Another way to do this is by asking your customers to take a picture of their finger and upload it to your 3D configurator online store. Your customer can perch the ring on their finger and see if it looks good.
Apviz helps you render this augmented reality experience. This way, if customers are dissatisfied with the outcome of their design, they could change it right away, and you could do-away with the product return hassles.
How do you get started with a 3D configurator and augmented reality?
Apviz is a holistic tool that luxury goods suppliers can use to render personalized customer experiences while shopping online. It accelerates the sales decision cycle through its advanced features such as 3D configurators, product showcasing, dynamic 3D overlay, virtual try-on, packshots, and more
Are you ready to start your print-on-demand jewelry business?
POD jewelry is revolutionizing the jewelry industry. If you review the stats, there's a promising business in this niche. What's more, it offers tangible benefits for you and your customers.
And remember, you need only four technologies to make it happen. But to even start and be successful, you need to give your customers a platform wherein they could customize jewelry products and personalize them. Without this, there is no way for customers to order their statement jewelry. And, therefore, zero business opportunity for you!
But as we've discussed in this blog, there is a great business opportunity for you when you use tools like Apviz.
If you want to try right away, you can get started for free with Apviz. It will help you integrate the 3D configurator and augmented reality customer experiences in your website and eCommerce platforms. Then, you could allow customers to design their custom jewelry. When using Apviz with 3D jewelry printers, you can scale your business handsomely.
Stay informed
Discover
more articles