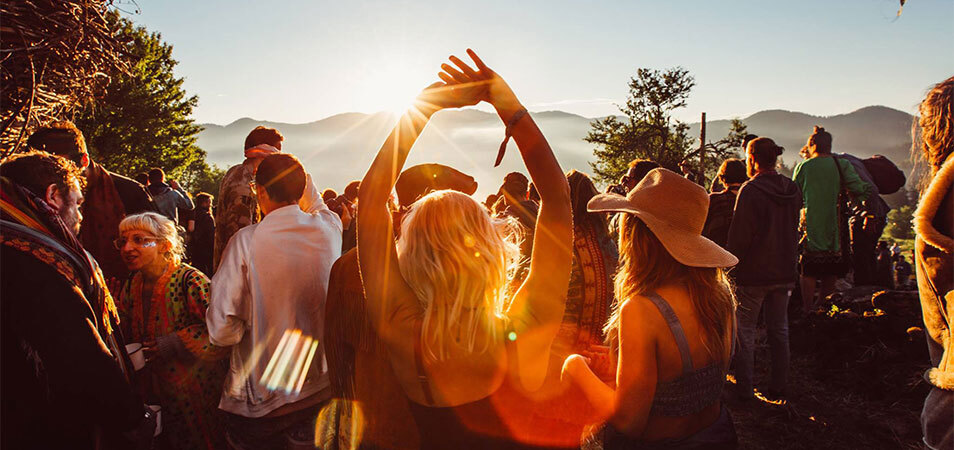 Top 6 e-commerce strategies to generate sales and make the most of the summer season!
When having to choose whether to spend their money on experiences or retail goods, many consumers are more attracted to the first. As research supports, people are happier when they choose experiential purchases over physical items, and this feeling spans across multiple periods, before, during, and after consumption. Even if they use material possessions longer than they enjoy their adventures, the overall satisfaction level they receive is significantly higher, when buying immaterial things.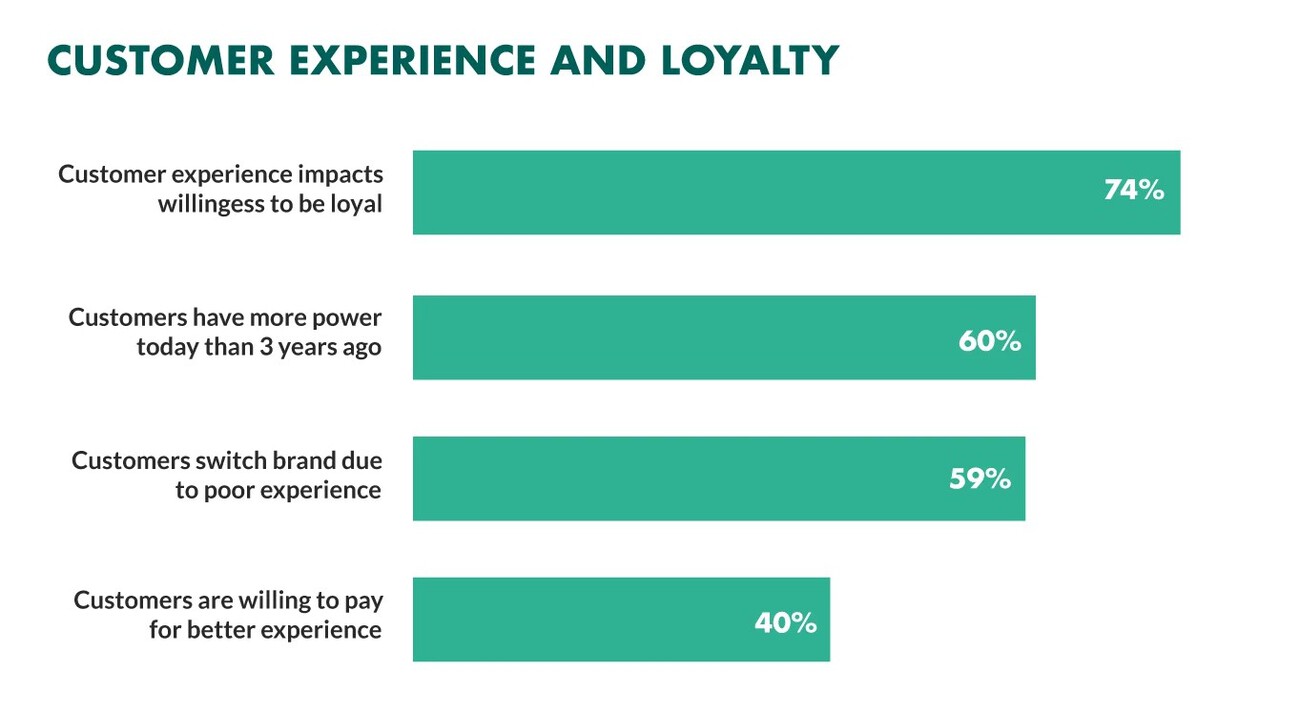 This explains why, when summer starts, retail sales plunge. The choice between music festivals, outdoor parties, holidays, weekend getaways, and physical items is won by the fun events that bring people together and create memories. This is why the year's hottest months are quite challenging for retailers who often get used to the idea of a lower turnover.
Still, things don't have to look that bad. While shoppers might make fewer purchases or pay more attention to what they are buying, they will, however, still enjoy some shopping during their travels or at home, as they get ready for their escapes. This is why, as a retail brand, you need to be where they are, one click away when the need or shopping impulse comes.
Moreover, whether you manage to make a sale or not, you can still make the most of the summer season to grow your brand. Here are our top 6 tips on how to do that.
1/ Inspire and sell with shoppable content
Social media is an excellent inspiration source, no matter the season, but summer makes it even easier for brands to create visuals that attract hedonists. Utilizing user-generated content from Instagramable places or beautiful shootings to share ideas of trends, outfits, beauty recommendations, and any other summer essentials is a sure win for today's brands.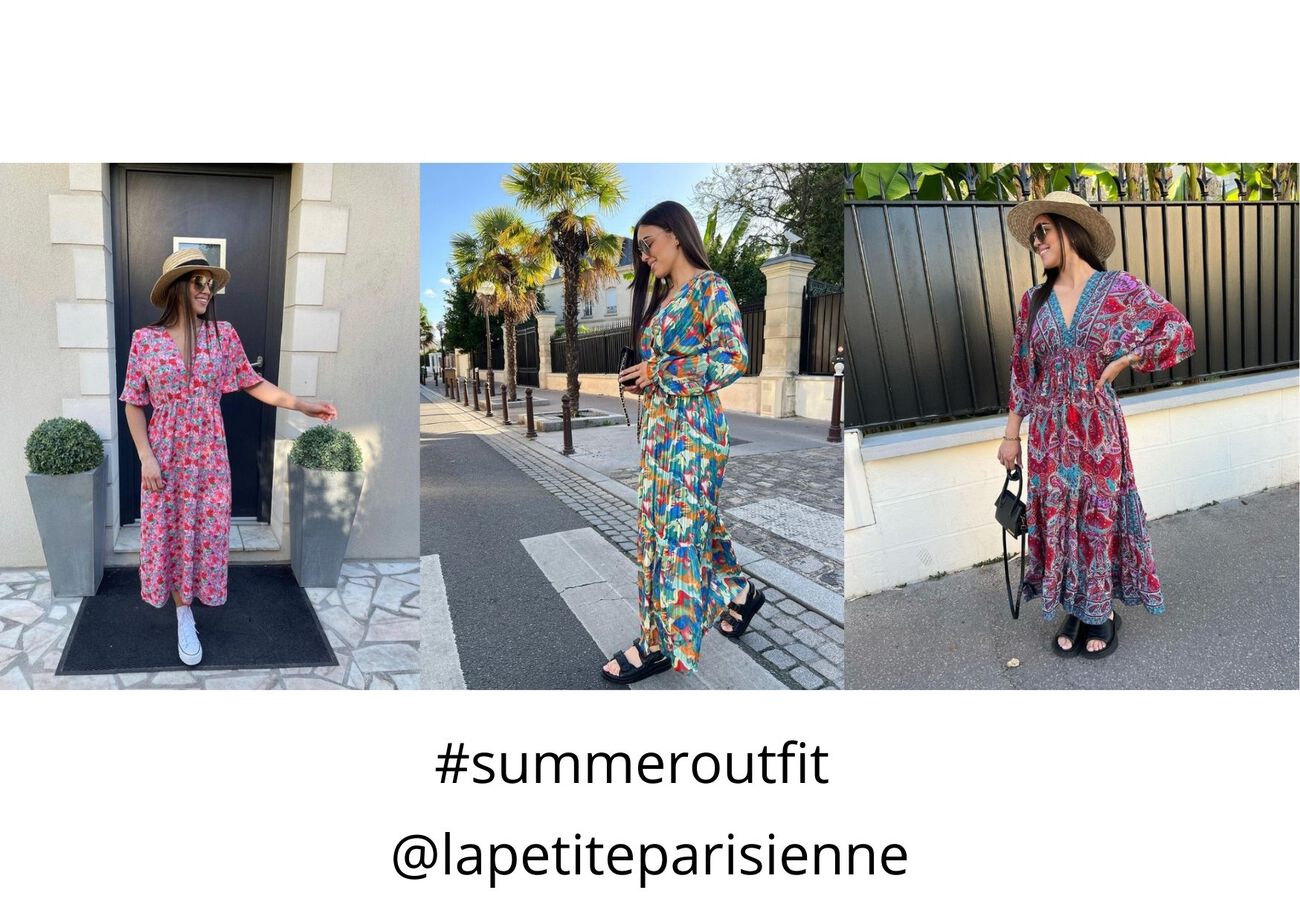 This is where shoppable social media content comes in. The technique combines several ingredients that convince consumers: a product page with key information on the product, attractive imagery that converts, and social proof in the form of comments and likes. Add a catchy call-to-action and a functional add-to-cart button and you have all it takes to drive a sale.
In summer, a good social media strategy enables brands to take advantage of consumers' urge for impulse buying.
A company that is mastering shoppable social media content is Anthropologie, which attracts users with its beautifully made shoppable reels and videos, making it easier for audiences to shop the full looks the brand puts together.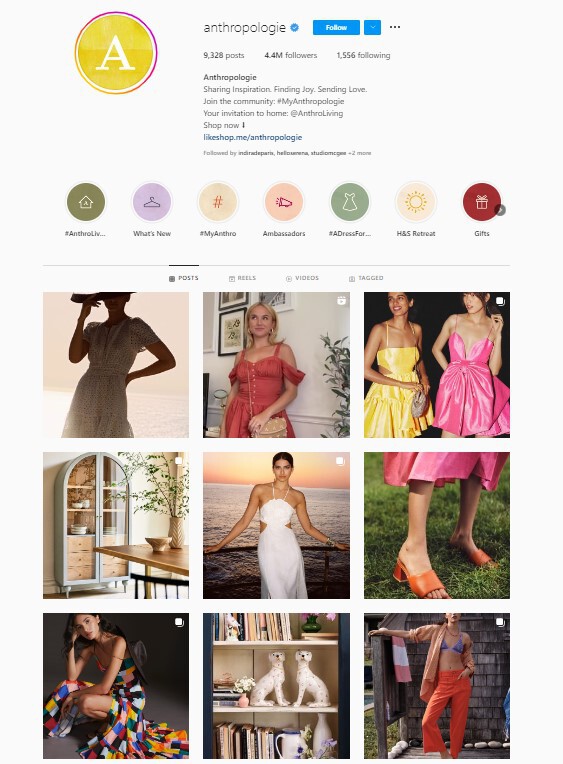 Victoria's Secret goes beyond shoppable content and organizes its posts under collections, to ensure users always find what interests them. The brand boasts a Swimwear selection that inspires shoppers, enabling them to buy what charms them.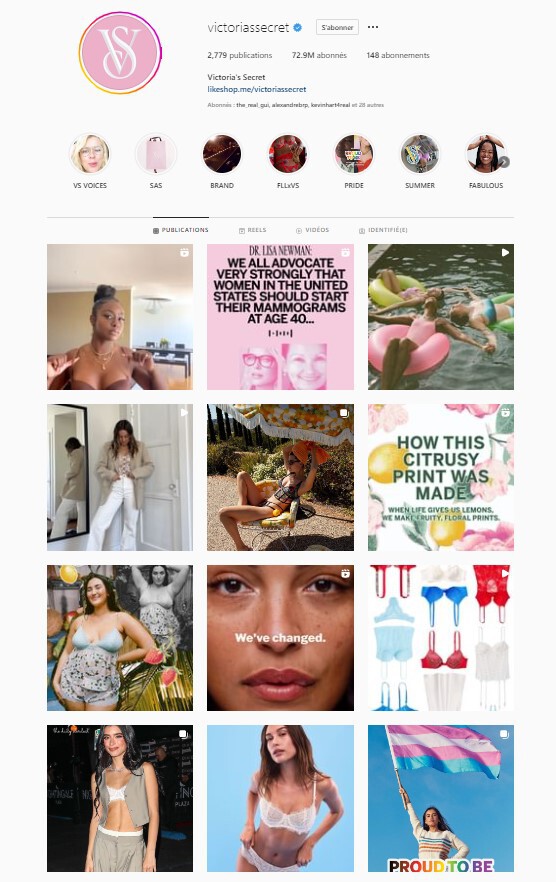 2/ Drive UGC and shareable content
An important objective you have to have for your brand this summer is to generate awareness and reach more people. They might buy or not, but expanding your community with relevant consumers will surely help you support your business goals throughout the year.
This is why you can take advantage of the summer season to launch a community challenge and have people create content for you. Invite them to share a photo of their summer essentials or put together a festival outfit using one item from your brand and you will surely generate attention. Add feed recognition or a prize and you are all set.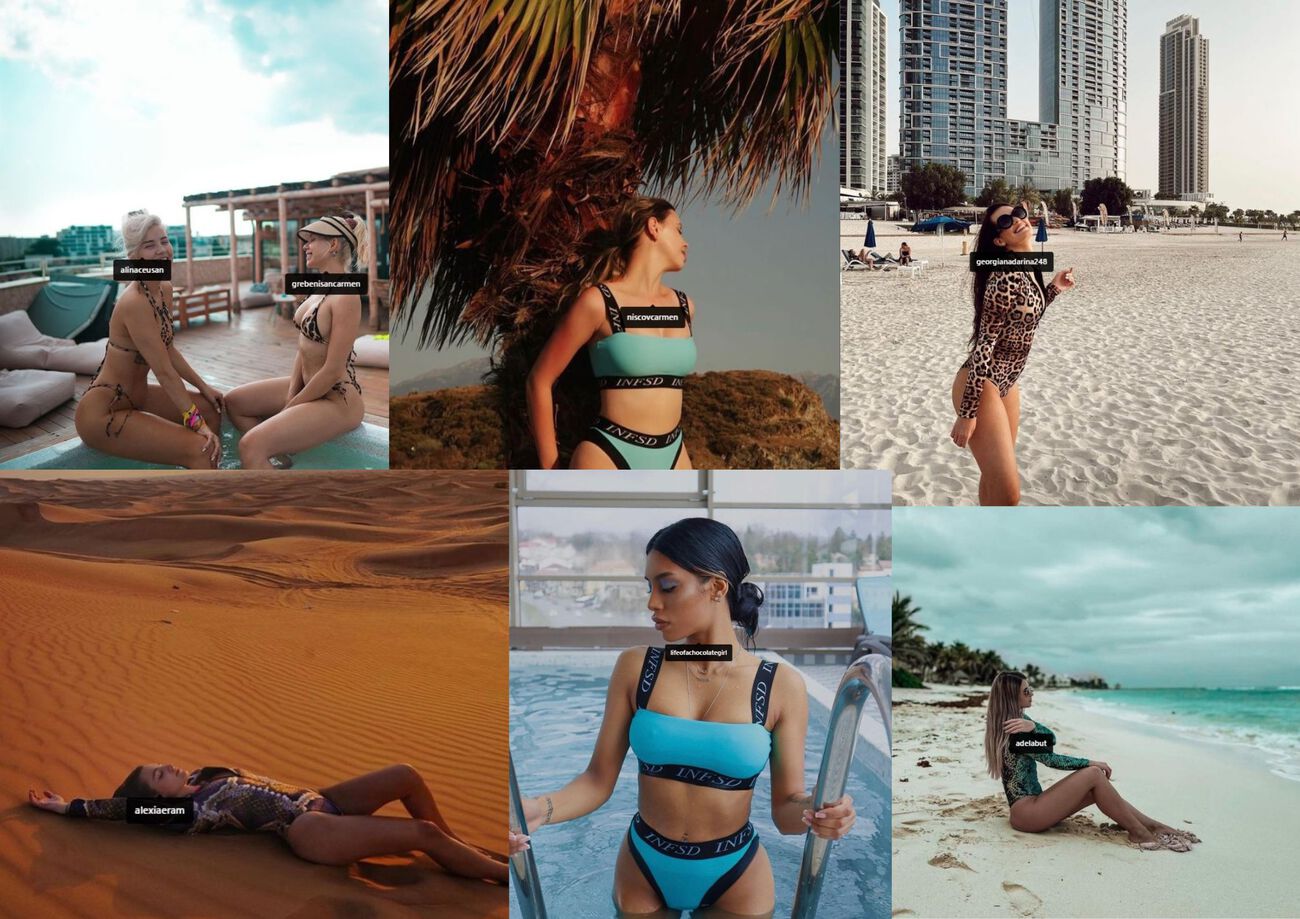 image credit : INFSD instagram, user generated pics
INFSD Swimwear is a digitally-native brand that is enjoying the rewards of its user-oriented campaigns, which encouraged shoppers to showcase how they use the brand's products. Now, women everywhere are proud to share snaps of their luxury swimsuits in beautiful destinations across the world.
3/ Engage people through gamification
In summer, consumers want engagement and fun. This is why the season is an excellent time for organizing competitions that challenge them to do exciting, memorable things. By creating gamification experiences, brands break through the media landscape, catching consumers' attention.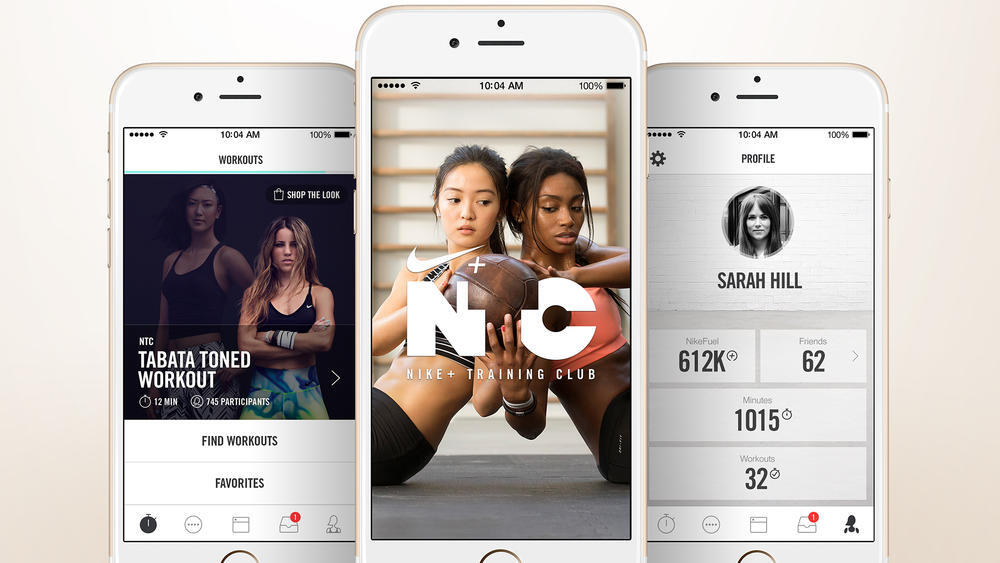 Nike is a great example of a company that constantly engages and entertains its communities, and the NikeFuel program is a great example of this. The digital initiative allowed users to post their best running times, track their progress, and compare results with their peers. In return for sharing their experiences with the company, users received early access to products, offers, and events, free shipping, and customized workouts.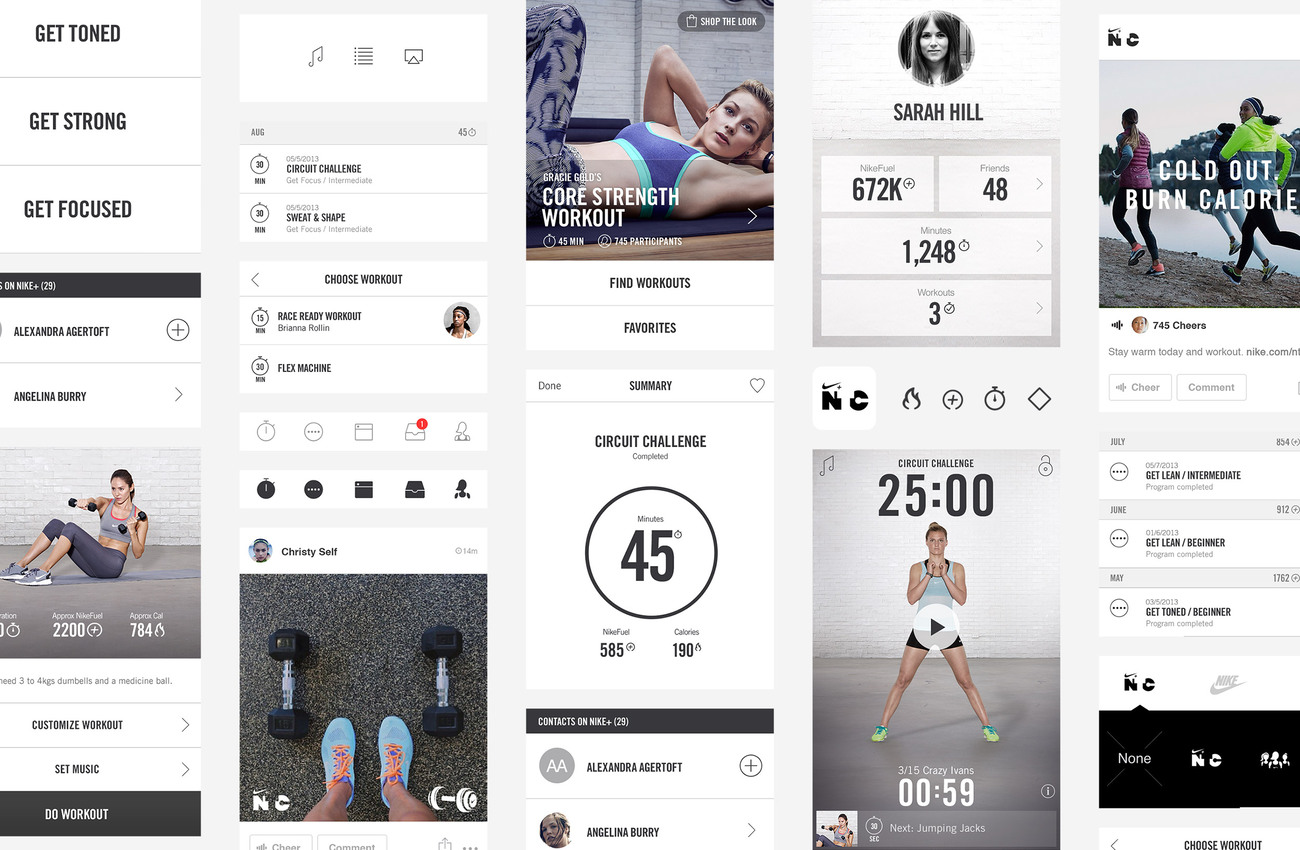 image credit : Nike Fuel Program Overview, Oscar W
Mastering the benefits of gamification, Gucci went a different way and populated its app with digital games that keep users entertained. This is an excellent tool during the summer season, when the brand's fans may access its direct-to-consumer app, to play a game while lounging in the sun and get inspired to look at new product launches and campaigns.
4/ Mobile is a must
A traditional marketing rule says that you need to be where your consumers are, and, in summer, that mainly means on their phones. The hot and sunny months are an excellent opportunity to travel, so audiences everywhere take advantage of every chance they get to go out of town and visit places. This trend comes with a side note: people need their phones for recommendations, directions, or ideas of things to do.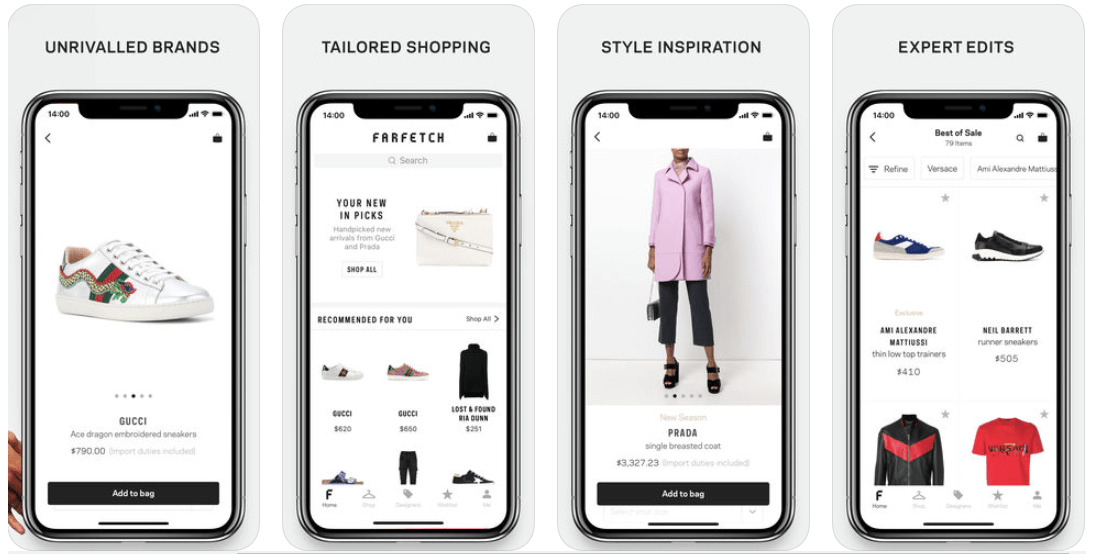 image credit : Farfetch App screens
This is why, as a brand, it's mandatory to have a mobile-friendly platform that may be easily accessible by shoppers, no matter where they are. Since direct-to-consumer websites are already a must for them, brands like Gucci, Balenciaga, or Farfetch have gone that extra mile and created dedicated apps where shoppers may enjoy information on new collections, campaign videos, and more.
5/ Offer customized products
Since summer is a time of events, festivals, and going out, even more consumers want to ensure their outfits are up to the challenge and manage to make them feel and look unique. Music events are an excellent way to show off your style, so many Generation Z-ers and Millennials place much importance on carefully curating what to wear.
The season is an excellent time to empower consumers to express their personalities and co-create their fashion pieces, by adding fun or inspiring messages to them and playing with colors and design features. This is why your e-commerce summer strategy benefits from using an intuitive, user-friendly 3D configurator that helps shoppers see in real-time how each change makes their products look while enjoying visibility from different angles.
If you want to get started with 3D configuration and embed an intuitive, attractive tool on your website, our Apviz product configurator has everything it takes. You can use it to allow consumers to personalize their products, as well as to create better product displays that offer an excellent visual experience to clients, while also accelerating your time-to-market allowing you to be reactive to summer trends.
6/ Take advantage of summer to get your fall strategies ready
Even though e-commerce sales may decrease during the summer season, you needn't worry. You can take advantage of the available time to prepare for fall, and plan product releases, and campaigns.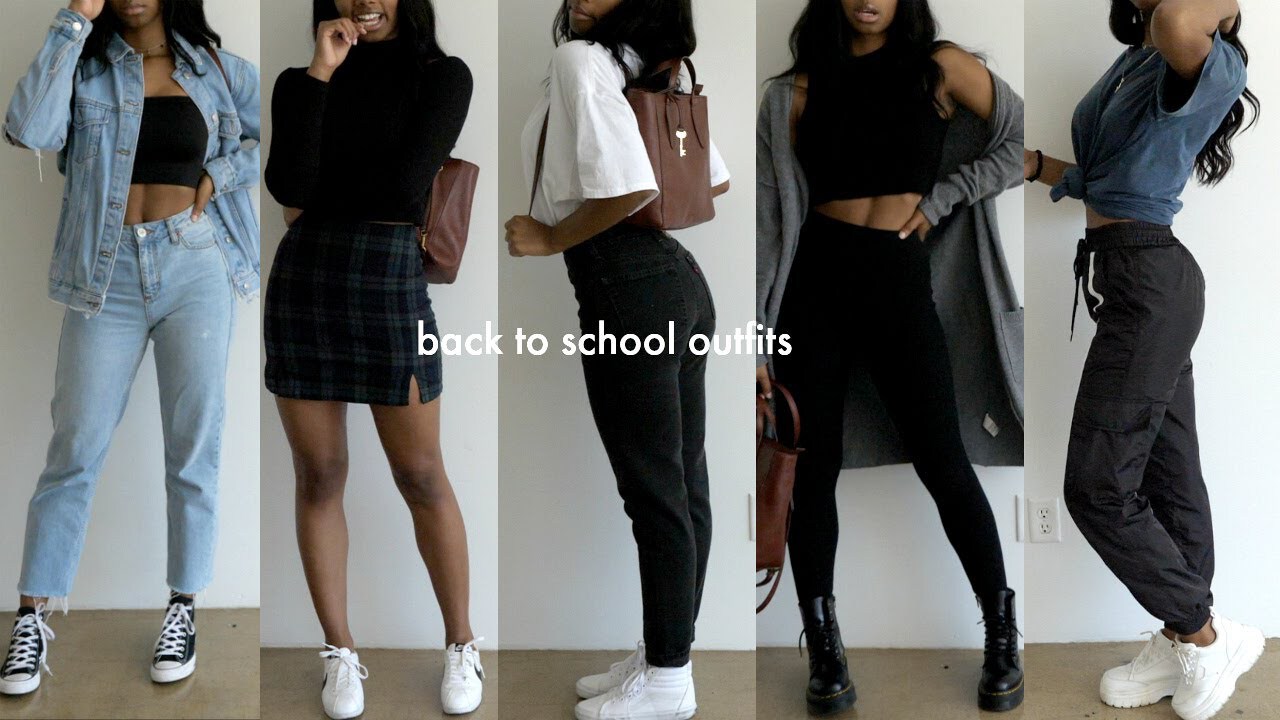 image credit : Influencer Rojgar Aur Nirman back-to-shool outfits
Moreover, you can get a head start on your back-to-school campaigns, and launch your visuals and offers to start in early or mid-July. According to 2018 data from the National Retail Federation, 77% of category shoppers start shopping 3 weeks before school starts, but the decision-making process may begin even earlier.
Upgrade your summer e-commerce strategy Apviz
From a sales perspective, summer is a challenging season for e-commerce players, as more consumers choose experiences over physical goods. Still, if you develop the right strategies that take into account your audiences' needs, you might still benefit from an increase in numbers and awareness.
Using the hot months to bring your consumers closer, loyalize them and engage with a more diversified pool of customers is an excellent way of making the most of your time.
Overall, what we want to point out here is that the most essential thing in summer is experiences. So turn product purchases into experiences. Build a community, drive awarness and loyalty and focus on experience !
By using our Apviz product configurator, you may help your shoppers create custom products, enabling them to feel acknowledged, and appreciated and creating opportunities for them to generate content and word-of-mouth around your brand. Also it completly reinvent the product purchase experience by involving the client in it and developing a customer centric approach!
Contact us and let's discuss your project and what we can do to turn 3D product configurator into a top sales tactic.