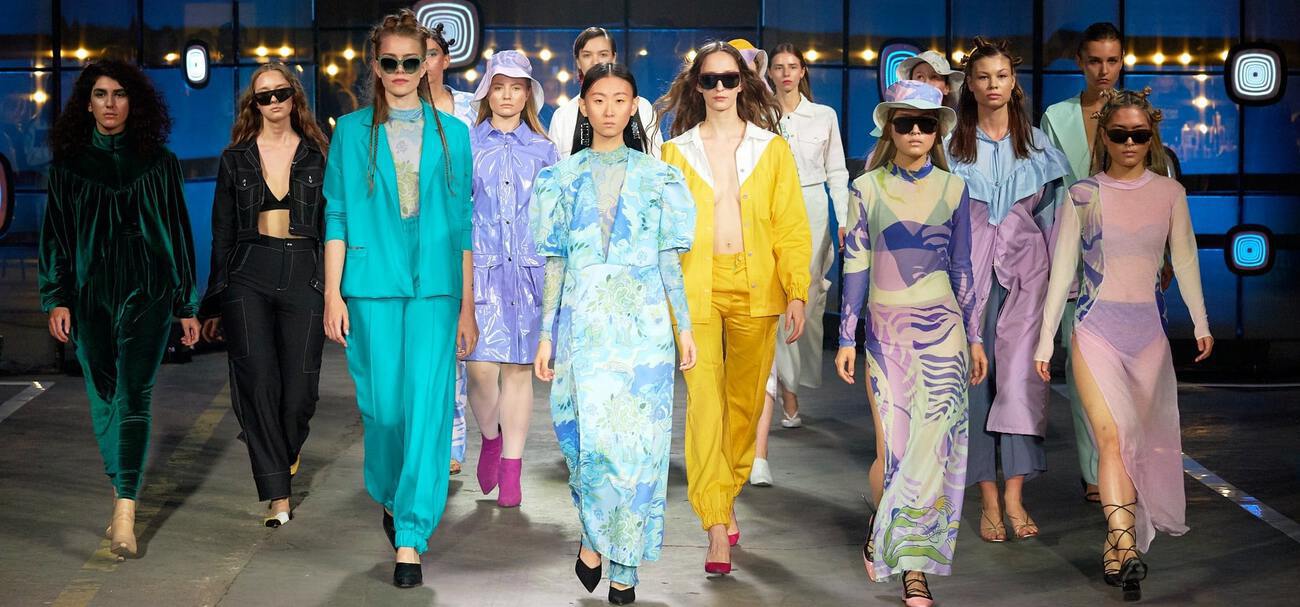 COVID 19 has affected luxury businesses worldwide, and the jewelry industry is no exception. With brick-and-mortar stores closed, brands from different continents are trying to digitalize their business and boost online presences, with new technologies and techniques, while struggling to offer the same white-glove service to which luxury consumers are accustomed.
Jewelry: a billion dollar industry
According to Grand View Research, the worldwide jewelry market was expected to grow at a high compound annual rate of 8.1% and, thus, to reach $480.5 billion in value by 2025,
When it comes to regions, Asia Pacific is a clear leader, with an annual revenue of $40 billion in 2020, over 40% of which coming from China alone; while, in the USA, the industry's turnover was expected to be $16 billion. Moreover, in Middle East and Africa jewelry spending is increasing at a 0.8 CAGR yearly.
Major markets also include Japan ($3.2 billion), India ($2.8 billion), France ($3 billion) and Italy ($3.3 billion).
What is fine jewelry? Compared to costume jewelry.
There exist two main categories in the jewelry business: fine jewelry and costume jewelry.
Fine jewelry was once associated with mature audiences, which enjoyed good, high-end lifestyles and could, thus, invest in expensive diamonds and other precious stones and metals. Still, this is no longer a premise, nowadays, as audiences have become broader and more and more people are investing.
Costume jewelry, on the other hand, is made with decorative elements that are less expensive and are mainly aimed to complement a fashion outfit, without being an investment per se. Unlike costume jewelry, when fine jewelry gets broken, it can be repaired.
According to figures provided by Pandora, fine jewelry represents 85% of the industry's overall turnover, even though the costume jewelry market is also growing at an impressive rate.
Still, in recent years, demi-fine jewelry has emerged, a category that uses precious and semi-precious stones and metals and is very much appreciated for its accessible prices and contemporary, fashion-oriented designs. Demi-fine jewelry has become such an attractive income source that even high end brands like Cartier and Boucheron are creating signature pieces.
Who is buying jewelry?
Demographics from all classes and age groups are buying
According to Edahn Golan, the average American household spent $332 on diamond jewelry, while consumers aged between 55 and 64 years' old spent $1,231 per household on jewelry in general. Younger adults spent about $900 on average, and 45-54 year olds spent more than $750 per household.
Wealthier consumers making more than $200,000 annually had the biggest expenditure on jewelry and watches with $1,657 per household, while those with an only $15,000 income still manage to get close to the national average, proving that this practice isn't solely dedicated to the rich.
Women are the primary buyers of jewelry
The CEO and co-founder of fine jewelry brand Mejuri, Noura Sakkijha mentioned in a 2019 Glamour interview that 75% of the company's purchases are made by women.
This is also supported by research, as MVI Marketing found that 51% of millennial women that registered a household income of $75,000 or more had purchased jewelry in 2018.
The reasons were diverse, with some mentioning the desire to reward themselves, to mark a certain milestone, to get exactly what they want, to commemorate a certain moment or for no particular reason.
In China, Generation Z is buying jewelry as a personal statement
Young Chinese shoppers don't see jewelry as a token of love or commitment, but as a way to express themselves and spice up their looks. This is why, unlike Millennials who favor names like Swarovski and Pandora, Generation Z fosters the development of local designer brands.
It is in this context that the Chinese mid-end jewelry market is filled with niche brands, which reach consumers through Tmall, Little Red Book, Weibo and are contributing to an e-commerce boom.
On our blog, we have been discussing profoundly how luxury brands are adjusting to the pandemic by developing D2C channels and, thus, appealing to consumers directly.
Jewelry shopping is going digital
In the past years, even before the pandemic, jewelry producers started seeing an increase in online acquisitions and developing their own websites and apps.
According to a report, online jewelry sales reached $5 billion in 2018, which represented 15.4% of total retail sales, compared to 14.6% in 2017.
To support this affirmation, the Mastercard Spending Pulse report shows that, during the 2019-2020 holiday season, the online jewelry sector experienced a 8.8% growth, which was higher than the 1.8% overall category growth.
For jewelry brands, developing direct-to-consumer platforms and omnichannel strategies have become a must, as many consumers have started browsing the internet for what they like and adjusting their buying habits to a more digital environment.
Jewelry marketing in the time of coronavirus: Omnichannel
As jewelry stores closed worldwide due to restrictions applied to nonessential businesses, consumers turned to the online environment, where they continue to search for high quality pieces and spend hundreds of thousands of dollars.
According to Stephen Lussier, executive vice president of De Beers, the world's largest diamond mining firm, the spend on diamond jewelry increased. "In every market in the world, the number one competition to our industry is travel," he said. "If you have a wedding, a 10th or 25th wedding anniversary, a significant birthday, the romantic thing to do is travel." Thus, when people cannot travel, they purchase jewelry, especially online.
In this context, while physical stores are facing financial difficulties, their digitally-savvy competitors are benefiting from investments in direct-to-consumer channels.
The pandemic confirmed what jewelry professionals already knew but upon which they had failed to act: diversifying sales channels is extremely important, even for precious goods which require client interaction.
Realizing this, brands that didn't have online presence rushed to develop e-shops, and those who had D2C platforms invested resources in optimizing and searching for new ways to reach consumers, such as Zoom presentations, social commerce and clickable ads.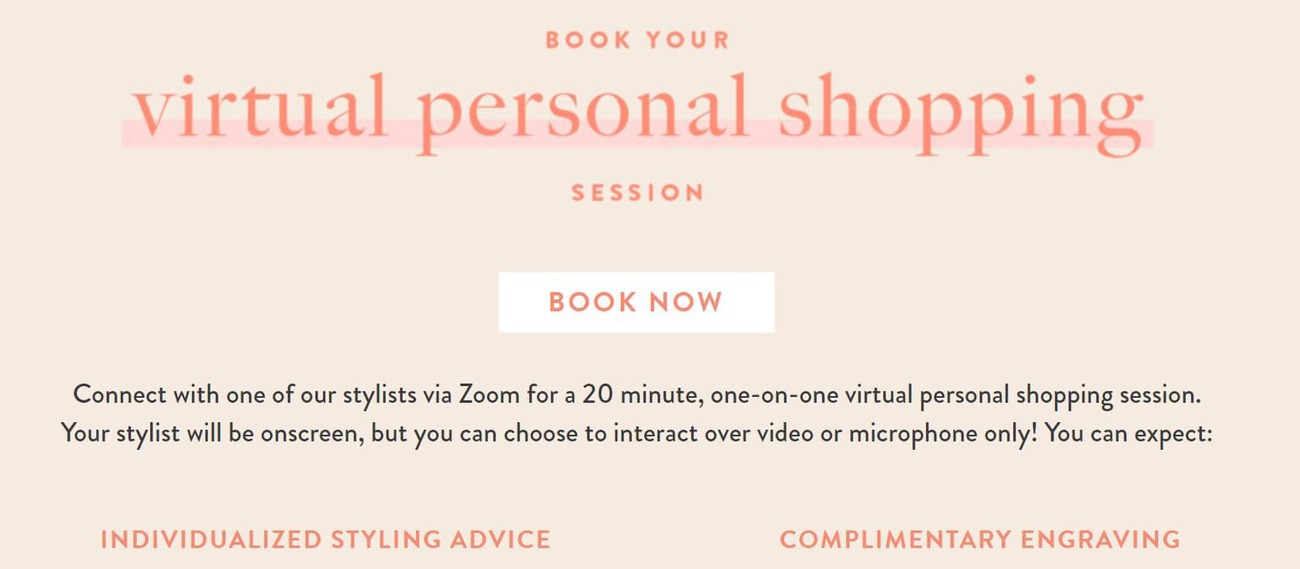 A relevant example that adjusted to the pandemic context is Kendra Scott. The company implemented an omnichannel strategy to reboot sales, techniques including curbside pick-up, buy-online-pick-up-in-store (BOPIS), and ship from store options. Moreover, the brand also offered a virtual try-on feature on its website, enabling consumers to see how jewelry looks on them.
Supporting the claim that the pandemic has increased online jewelry sales, some of the most reputable fine jewelry brands in the USA reported year-on-year e-commerce growth, with Signet mentioning a staggering +72.1% in its second-quarter earnings report from September.
While the majority of players are digitalizing their jewelry brands, others are reticent
There are several reasons why jewelers are reticent to embrace digital business models:
1. Jewelry, and particularly fine jewelry, are considered special purchases that are not only costly, but also extremely personal. This is why consumers want to see the piece in detail before acquisition and turn the shopping session into a memorable experience.
2. Gemstones, diamonds and metals are seen as more complicated investments, which means that clients often feel the need to talk to a sales representative, which may advise them on quality, best choices and budgets.
3. Many jewelry shops across the world are independent and small businesses that don't usually keep up with digital trends and can't develop an omnichannel approach. Moreover, this sort of shops relies heavily on human interaction as part of the sales process.
4. The quality of jewelry resides in its appearance; thus consumers have strong demands to analyze in depth each piece.
5. As McKinsey research points out, the market is dominated by local jewelry stores, which provide unbranded and made-to-order jewelry that is difficult to sell online. When everything is custom-made, jewelry sellers don't know what and how to add online.
However, with new technologies like 3D visualization and 3D configuration, custom made jewelry can be successfully sold online, presenting every detail of the product to consumers and even making the customization process more convenient.
5 marketing techniques to digitalize your jewelry business
Creating a digital experience that is as satisfying and engaging as the brick-and-mortar store does might be easier than it appears at a first glance. Taking advantage of new technologies and tools like 3D product visualization and configuration, engraving, CPQ, and adding that personal touch as well as customer centricity, high ROI becomes attainable.
1. Use live chat to handle requests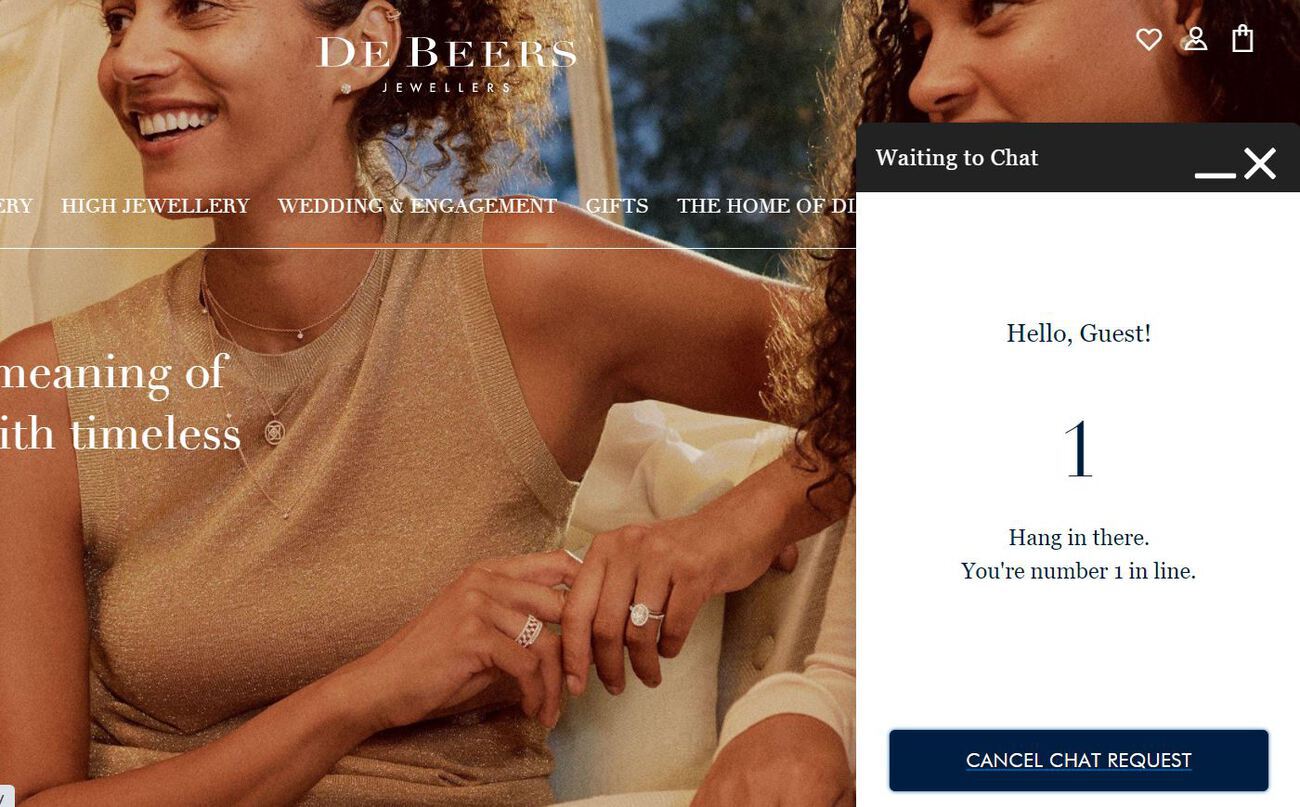 Source: De Beers.
Describing each piece in detail, presenting the qualities of each stone and metal, explaining the clarity and colors of diamonds. Such services are extremely important when building an ecommerce platform for selling jewelry, as customers need to talk to a professional and ensure they are making the best choice.
This is why using chatbots or offering real-time customer care is extremely important for providing that extra support and answering questions on the spot. These tools increase conversions and make it easy for consumers to trust your brand with their fine jewelry purchases.
Understanding this, the De Beers website offers a list of contact options for consumers looking to make the best choice, like live agents, email or requesting a call back, all visible starting with the homepage.
2. Use configuration to incite about custom-made jewelry
Edenly 3D jewelry configurator created by Hapticmedia, read more about this client project.
Custom-made jewelry is a strong income source especially for fine jewelry brands, whose clients are always seeking for personalization.
A product configurator is the solution to this issue, as it enables consumers to create their own jewelry piece digitally, without generating extra costs. Options are unlimited. Consumers may have fun and play with different stones, metals and designs online, when deciding how their ideal jewelry looks like.
This level of flexibility is extremely important for shoppers and is an attractive feature for brands.
3. Stay true to details with 3D product visualization
A simplified 3D CPQ demonstration provided by luxury brand Lolo Chatenay. Read more about this client project here.
Visualization is important when it comes to fine jewelry, as quality is reflected in detail. Knowing that purchases are made after items are being carefully inspected, jewelry sellers have started using the best technology to showcase jewelry in a convincing manner.
A reliable 3D visualization tool may offer shoppers such precise details that it increases appreciation and trust and drives conversions. In order to differentiate your brand from competitors and to remain in consumers' minds, it is important to use the best-in-class technology and ensure that your products are faithfully represented online.
4. Help consumers with budgets using CPQ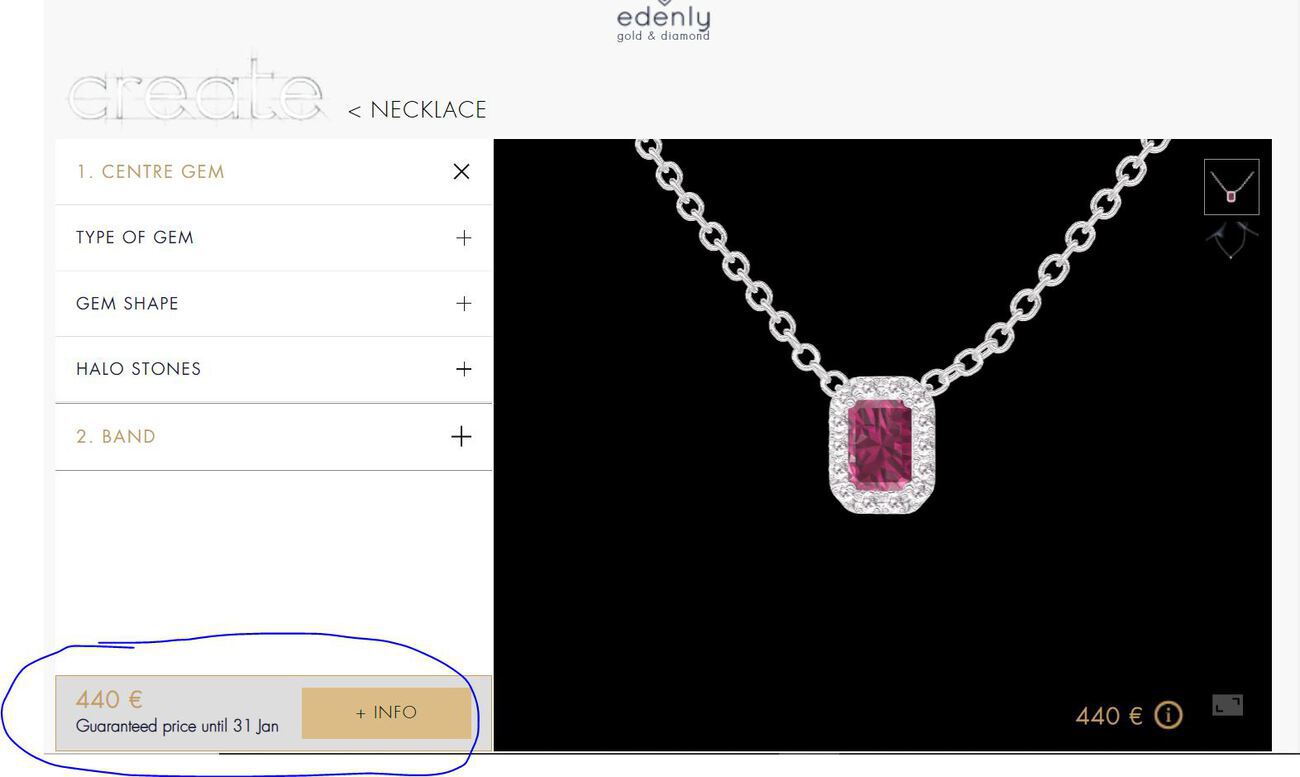 Edenly CPQ created by Hapticmedia, read more about this client project.
When it comes to jewelry, each change made is translated into a price modification. In order to enable consumers to play with designs and choose the one that best satisfies their needs and budgets, configure-price-quote features are necessary.
Edenly, for example, allows users to make different combinations, choosing styles and designs, stones and metals, colors, sizes, and clarity. With each shift, the price is changed and clearly presented to the client, making it possible for users to find the piece that fits their style and budget with minimal efforts.
5. Offer engraving for a personal note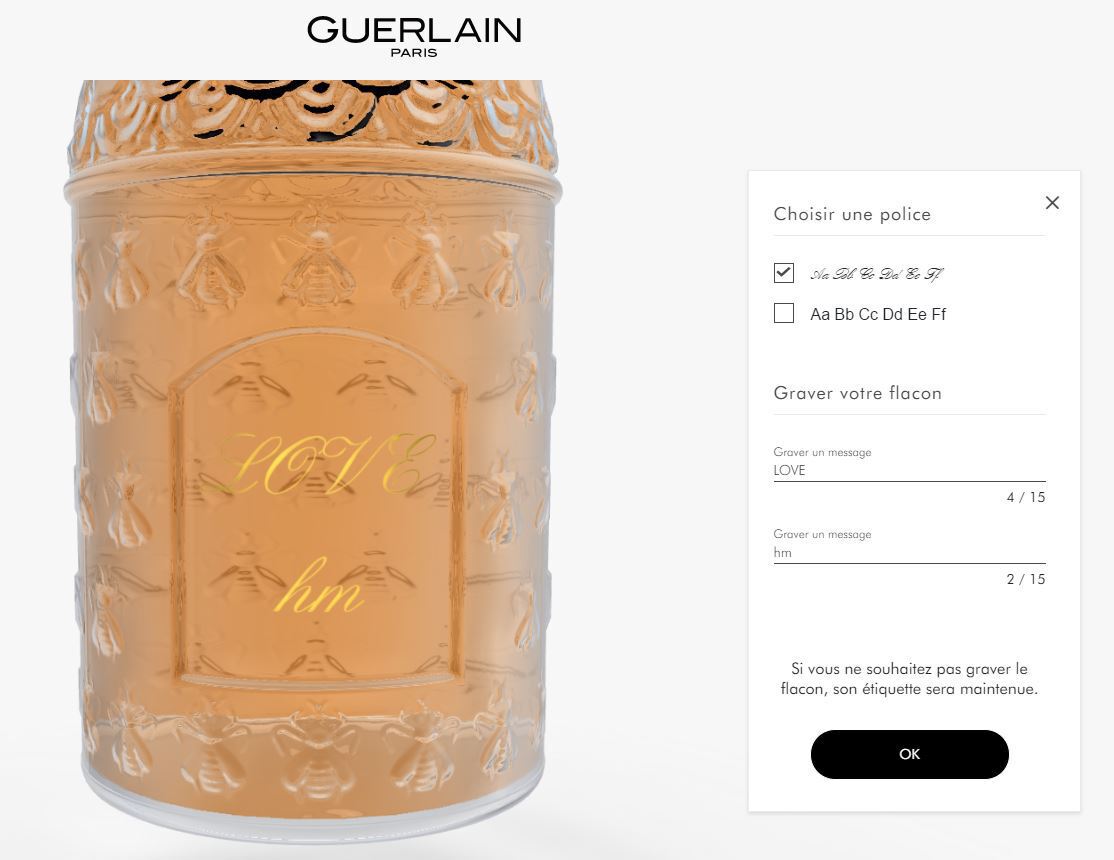 Guerlain offers engraving to clients online, read more about this client project here.
Fine jewelry marks moments and occasions. In order to add meanings to the piece, shoppers often choose to engrave it either with dates or initials.
In fact, engraving is one of the oldest and simplest technique for personalization and it is still gaining popularity with the increasing demands. That is why the practice keeps evolving and new technologies are added constantly to ensure high precision and quick results.
The opportunity to engrave and personalize a product generates a sort of "must-have" feeling, which in the end motivates consumers to make a purchase. This is partially because nowadays shoppers especially Millennials and Generation Z have a strong desire to express uniqueness through belongings and personal styles.
Contact us: visualization, configuration, engraving, AR, VR
We have over 15 years of expertise in immersive technologies including 3D visualization, customization and configuration, including engraving, Augmented Reality, Virtual Try On, supported and covered by LVMH, Forbes, Les Echos, Le Point, BFMTV. Check here to see our client projects with Gerlain, Kenzo, Baume & Mercier, Baccarat, Edenly or contact us now to see the visible improvement we will bring to you.
Feature image: Unsplash.
Stay informed
Discover
more articles