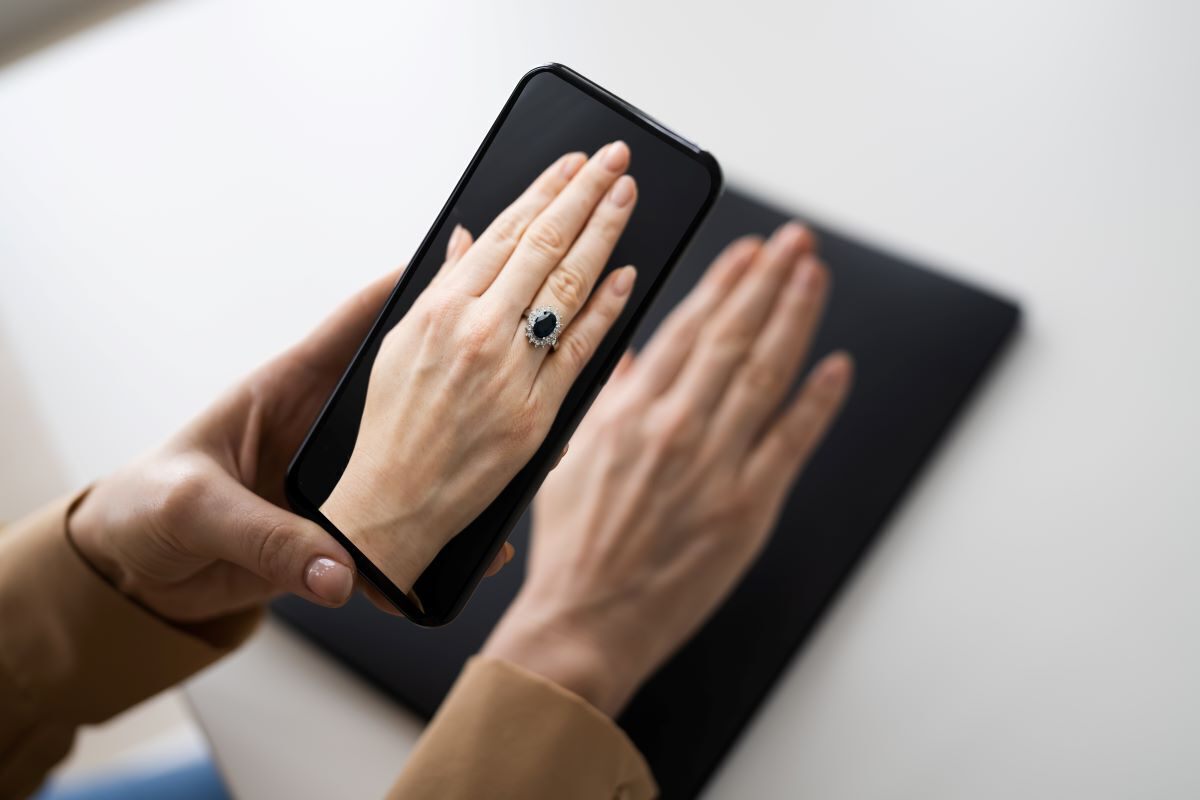 Jewelry retailing has changed drastically with the onset of the pandemic. Jewelry retail sales declined by 18.5% last year (IBIS World).
However, this also created an opportunity for increased online sales and augmented reality marketing. Let's take a look at what's in store for retail jewelers in 2021 so you can make the most of your purchasing and marketing strategies.
In this article, we'll show you what's trending and how to stay competitive in the jewelry retailing space.
Global jewelry industry stats: Worth and growth
The jewelry industry continues to grow, and there are a few specific trends to be aware of.
According to an article in Statista, "The value of the jewelry market is expected to increase from about 230 billion U.S. dollars in 2020 to about 292 billion dollars by 2025." However, it can also be hampered by strict regulations on the export and import of jewelry goods.
Rings garner the lion's share of popularity in the jewelry market, followed by necklaces, bracelets, earrings, and others. It's interesting to note that diamond jewelry is emerging as an iconic gemstone. Diamond jewelry is predicted to hold the highest market share as opposed to gold, platinum, and others.
Technological innovations are helping jewelry retailing rebound from the impact of COVID-19. Research forecasts the online jewelry industry will reach $21.5 billion worldwide by 2027.
As things now stand, the leading jewelry brands are Signet Jewelers, LVMH Group, Tiffany & Co, and Richemont Group. Signet Jewelers drives its profits from fashion jewelry and bridal ornaments. On the other hand, Tiffany & Co generates most of its store sales through fine jewelry collections, and engagement jewelry takes relatively a small share of its net sales.
Emerging trends for retail jewelry in 2021
Both in-store jewelry retailing and online shopping are witnessing rapid transformations. Both aim to render the best customer experience possible in both physical and digital retail stores. Here are some trends to watch.
1. Transparent information on fashion jewelry
The issues of transparency and sustainability are still concerns in the gold and diamond industry. If you own a diamond jewelry business, be careful about the impacts of natural diamonds and lab-grown diamonds on your jewelry sales. The same goes for gold jewelry retailing.
While it's true that millennials still purchase natural diamonds, they are more willing to invest in lab-grown diamonds than previous generations. They think this is one way to protect the earth and advocate for just diamond-sourcing working conditions (MVI Marketing).
To satiate this rising trend, adopt practices that promote transparency and traceability. For instance, a blockchain system working with strict supply chain cooperation is a solution for transparency in gold jewelry.
Being transparent with your customers about how you source gold and diamonds can win their trust and make them confident about investing in your jewelry.
2. eCommerce and mobile commerce
Mobile commerce is expected to record 54% of eCommerce transactions in 2021. That said, just because your jewelry store might be accessible on mobile devices doesn't mean it's yet ready for mobile commerce.
To stay competitive, embrace SMS and eCommerce channel messaging. That is because within three minutes of sending, 90% of texts are opened and read (Shopify).
Also, work to make your retail jewelry retailing site mobile-responsive. This will create a better customer experience by ensuring the proper placement of all the elements on your online store as it appears on a desktop.
3. Immersive customer experiences
Jewelry retailers are moving from physical locations to online platforms. But the issue with online stores is the difficulty of trying on jewels before making a decision. Merely browsing rings, necklaces, and other luxury goods online doesn't guarantee they'll be flattering in real life.
Here is where augmented reality can help. Customers can virtually try on pieces of jewelry before actually buying them. That makes the customer more confident and excited about purchasing a product, which can raise jewelry retail sales.
In addition to rendering augmented reality experiences online, you can also offer immersive experiences in your brick-and-mortar stores. Smart mirrors are great ways to impress customers and give them a smooth and interactive experience while shopping luxury brands.
4. Omnichannel customer journey
Allowing customers to seamlessly go from offline to online brand experiences (and vice versa) is a trend set by the pandemic (IBIS World).
Retail Dive says by 2023, 58% of sales in America "will be influenced by digital technologies," though some of those sales will still take place in physical stores.
To adapt to this trend, use virtual reality, 3D configurators, and product simulations to attract and nudge visitors to order custom-made jewelry. Once the order is ready for pick up, they can drop by your store and collect the jewelry, or you can ship it to their doorstep.
5. Less spending on diamond engagement rings
You should be familiar with the rule of diamond engagement ring budgeting — invest three months' salary. But this trend is changing these days as shown in research by The Knot. In their survey, one-fourth of those polled spent only up to $3,000 on an engagement ring. It's surprising to see that 11% of those surveyed spent less than $1,000 on a ring.
Since customers are spending less on engagement rings, first be transparent about your pricing. Consider rethinking your inventory by studying consumer spending habits regarding engagement rings, especially with luxury brands.
How jewelry retailer Edenly is adapting to industry trends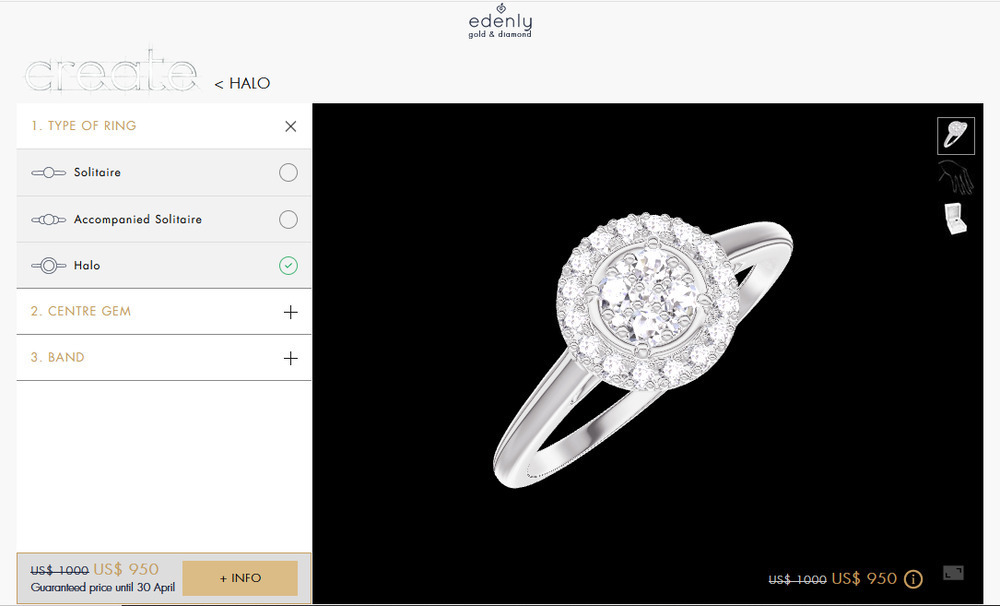 Image credit: Edenly
Let's look at how a high-end luxury brand is revolutionizing fashion jewelry retailing and increasing its profitability.
Edenly is an online jewelry retailer that leverages a 3D jewelry configurator to encourage hyper-personalization and customer engagement. With this feature, users can explore rings, necklaces, earrings, and other fine jewelry.
When a customer visits Edenly's online store to purchase a ring, they can select their ring type, customize the gem type and size, and fix the carat weight. Thanks to the 3D configurator embedded in their online store, customers can visualize their customized jewelry in 3D and see how it looks from a 360-degree perspective.
As the ring is customized, the pricing automatically updates. Once satisfied, customers can place the order. Or, they can also capture the 3D jewelry image and share it on social media to get feedback from friends and loved ones.
However, if they need further assistance, they can book an in-person appointment with a salesperson.
How can you enhance your jewelry retailing customer experience?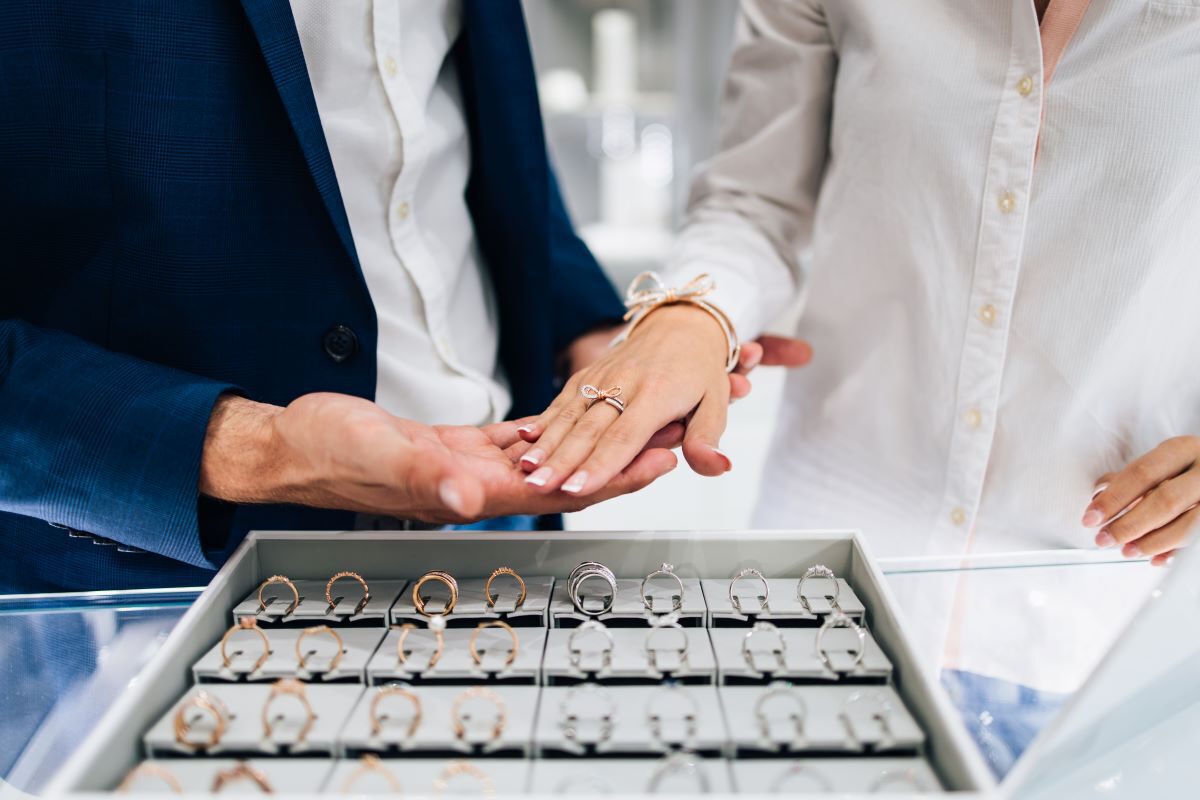 Now that you understand how leading luxury brands are adapting to jewelry retailing industry trends, let's look at other innovative ideas to increase your profitability and market share.
1. Digital jewelry catalogs
Digital catalogs are not for online stores alone. They can improve customer experiences in your brick-and-mortar stores as well. A case in point is how MagicBook combines both printed and digital browsing experiences.
As your customer turns the page, the videos, images, and animated 3D models appear for specific jewelry on the accompanying digital device. That can help you close purchases for customized orders.
2. AR kiosk experiences
An augmented reality kiosk is a specialized technology that acts as an interactive product gallery. Unlike the digital product catalogs, the AR kiosks allow customers to scroll through hundreds of jewelry items and virtually try them on.
3. Virtual try-on jewelry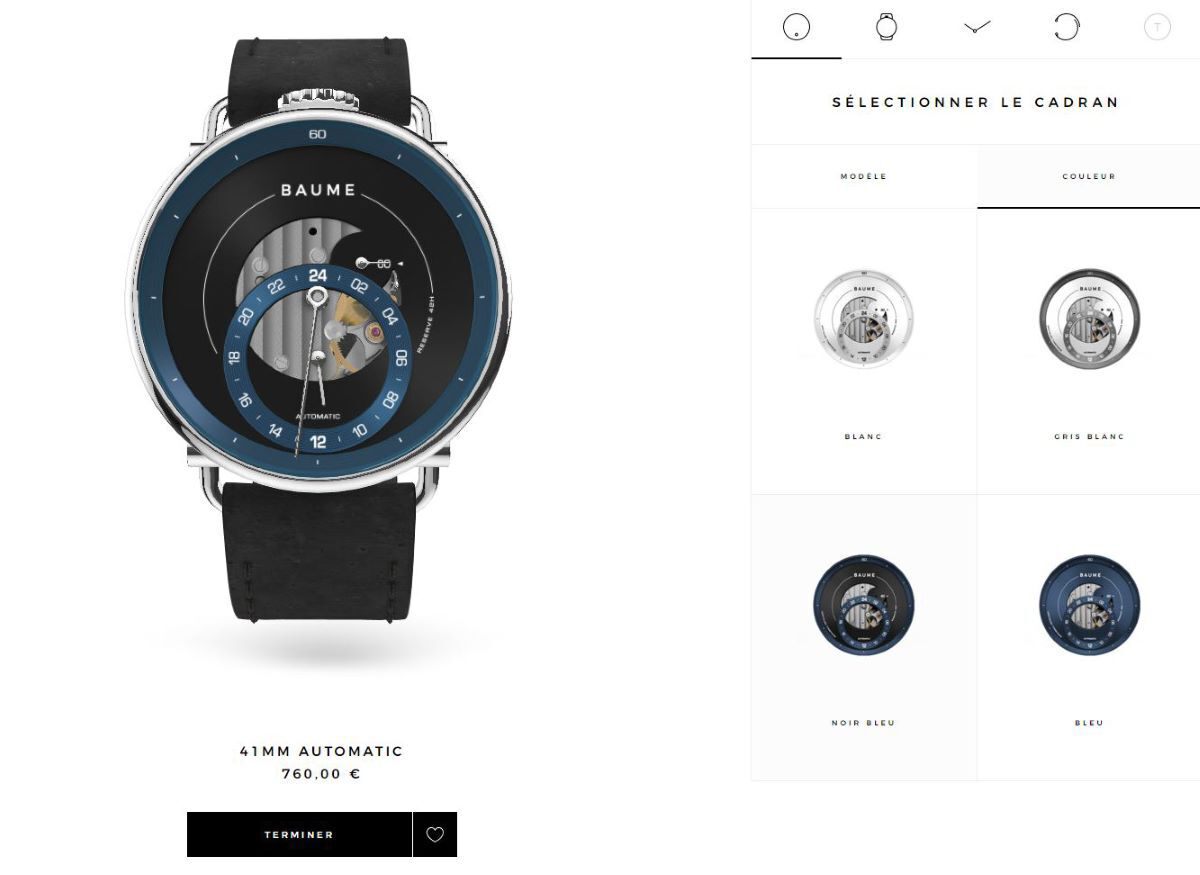 Image credit: Baume
The "try before buy" culture is a great boon for online jewelry stores. For instance, Baume uses virtual reality to enable its customers to try its watches before buying them.
The best part is that customers can order their customized watches and see how they look in 3D. Also, they can see how the custom design looks on their wrists. Such an initiative can reduce decision-making dilemmas and shortens sales cycles.
Embrace jewelry retailing trends with Apviz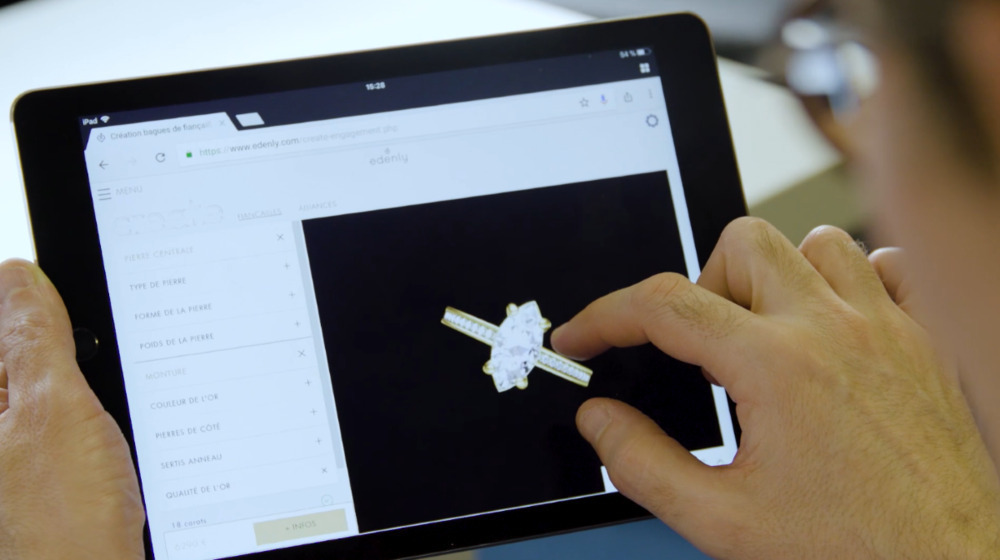 Image credit: Edenly
Jewelry retailing is changing, especially post-COVID.
Emerging trends call for you to be transparent about jewelry origin and pricing. They also ask you to go omnichannel and deliver enticing customer experiences with virtual reality and augmented reality.
Connect with Hapticmedia to take this step. Our specialized tool, Apviz, can help you get started with 3D configurators, virtual try-on, packshots, and more.
Stay informed
Discover
more articles