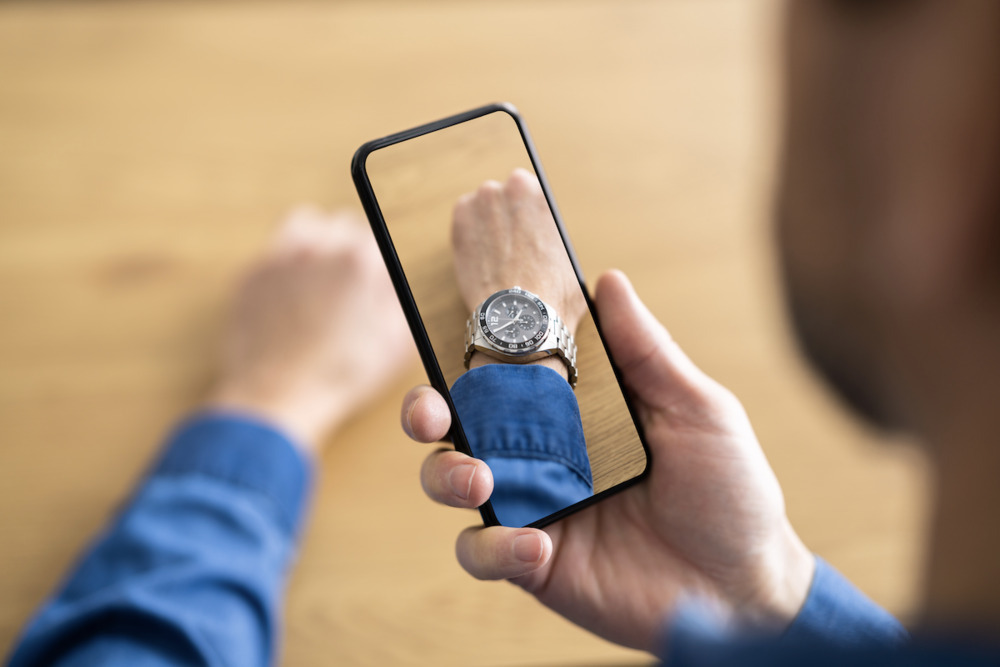 Sight. Sound. Motion. Touch.
The emotional connections that brands weave with these senses are undeniable — we've all seen it in heartwarming adverts. But as the technological landscape evolves, immersive experiences rendered by augmented reality and virtual reality are triggering people to welcome the marketing campaign of their favorite brands.
And the pandemic has only intensified the use of augmented reality apps (Harvard Business Review). From the automotive industry to healthcare and luxury goods, the use of AR is on the rise. If you don't invest in AR applications now, your competition can overtake you.
In this blog, therefore, let's look at how luxury brands are revolutionizing their marketing strategies with AR experiences. These augmented reality examples will shed light on the use cases that you could use for your brand as well.
But before we dive into the augmented reality examples, let's review the basics as to what augmented reality is, how it is different from virtual reality, and how it can help your marketing strategy.
What is augmented reality?
The Oxford Dictionary defines augmented reality as a technology that overlays a computer-generated image on a user's view of the real world, thus rendering a composite view.
A little hard to grasp, right? We'll look into an augmented reality example to understand this better.
Consider Pokémon Go. This game uses emerging technology to deliver gaming augmented reality experiences. It integrates with AR app technology so players can see what's on the virtual screen in the real world.
The Pokémon are all pinpointed on the real-world map. When players reach the location of the Pokémon, they can use their smartphone cameras to see them in the real world and catch them. That is augmented reality in action.
In the luxury realm, augmented reality can help buyers virtually try on products (in cases of an engagement ring, other jewelry, cosmetics, and merchandise) or in their interiors (in cases of furniture and decorative pieces).
What is the difference between AR, VR, and MR?
A thin line separates augmented reality, virtual reality, and mixed reality. Understanding the differences will help you successfully implement an AR marketing campaign.
Augmented reality
In augmented reality, digital elements and virtual objects are overlaid in the real-life environment in real-time, with the help of AR glasses and smartphone cameras. Pokémon Go and Snapchat lenses are popular everyday life examples of augmented reality.
Virtual reality
In virtual reality, the tools such as headsets and glasses help the user enter an immersive digital experience (The Franklin Institute).
Mixed reality
The combination of augmented reality and virtual reality gives rise to mixed reality. This makes real-life and virtual object interaction possible. This emerging technology is taking off with Microsoft's HoloLens.
So, the users could wear the holographic computer around their heads, with lenses over their eyes. The device would project holograms that users can manipulate and interact with as if they existed right before their eyes for real.
Top augmented reality examples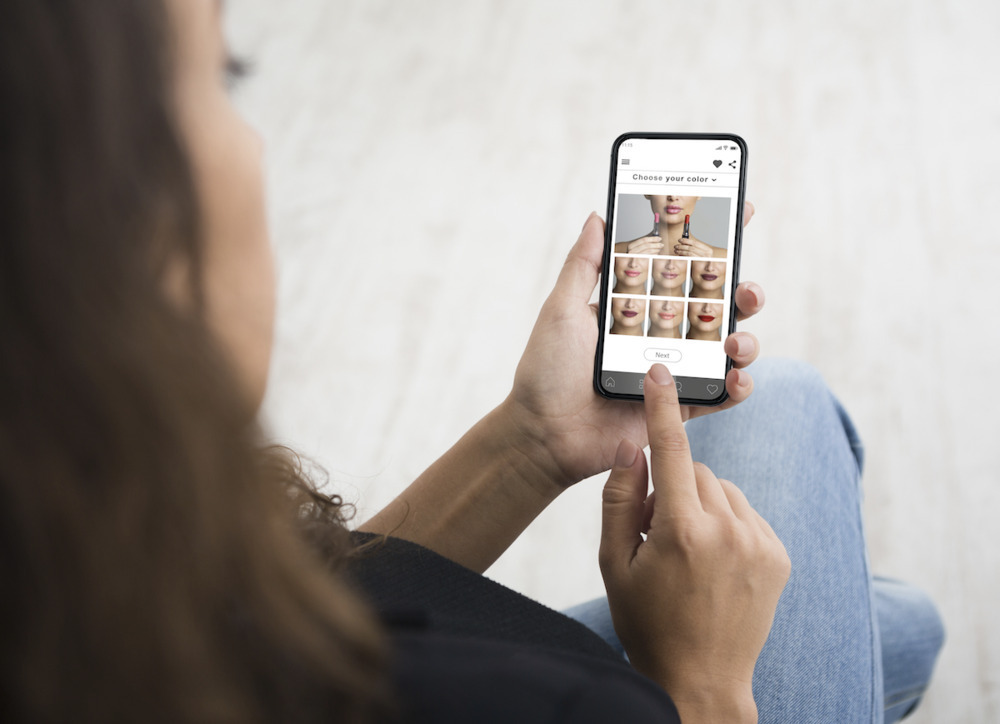 Now that you have a clear understanding of what augmented reality is, let's look at some augmented reality examples you can implement as part of your marketing strategies.
1. IKEA Place
The IKEA Place's AR mobile app empowers users to virtually try furniture in their interiors. This interactive user experience enables shoppers to see how pieces of furniture fit in their living rooms and other chambers. IKEA Place is taking augmented reality up a notch by allowing users to capture entire 3D models of room plans and re-design them by leveraging the LIDAR sensors in iPhones.
The term LIDAR stands for Light Detection and Ranging, and it is deployed on iPhones so that they could sense the surroundings by sending the light pulses. Using the point cloud data, IKEA's app crafts the 3D models.
IKEA's augmented reality example is the classic use case of how AR features reduce product returns.
2. Sephora
The cosmetics retailer has rolled out its AR feature to encourage consumers to preview how certain products such as an eyeshadow or a lipstick might look like on the viewer. This is great for matching skin tone to cosmetics without leaving the home or opening products. All that shoppers need is their Android or iOS mobile phones.
This venture has helped Sephora increase its e-commerce sales by more than 30%.
3. James Allen
James Allen encourages online jewelry retailing through its virtual try-on AR feature.
Consumers can go to its e-commerce site and choose engagement rings or wedding bands. From the product page, they could then use the AR feature to see how the chosen ring will look on their finger. Once satisfied with the selection, James Allen lets you take a photo of your hand and share it on social media to get feedback from friends and family.
4. Courbet and Edenly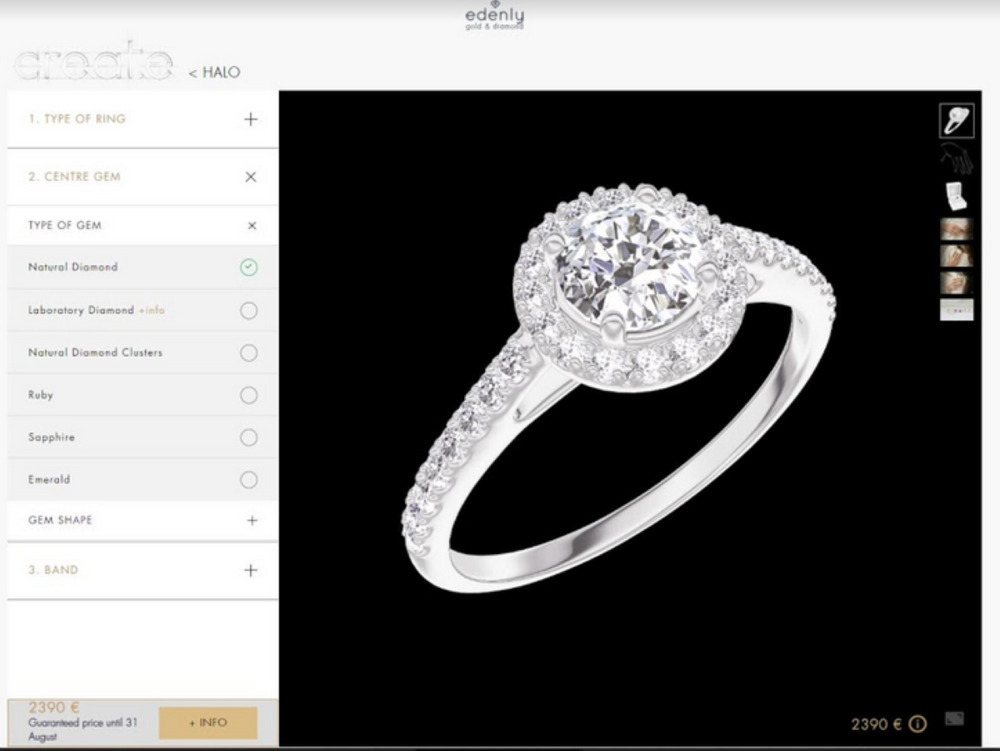 Image credit: Edenly
Some fine jewelry brands like Courbet and Edenly use 3D configurators to allow customers to customize the jewelry pieces. This way, shoppers can decide between a solitaire engagement ring or a diamond engagement ring/wedding ring. They can choose from a variety of gemstones available, and adjust their carat weight, ring size, ring designs, ring styles, and ring setting.
It even extends to the point wherein shoppers can customize the metal color — rose gold, yellow gold, or white gold per their wish. Plus, folks could venture for a cut diamond or a center stone with their birthstone or any other jewelry design they'd like. All this to say that shoppers can choose from numerous variations and can have the jewelers manufacture their favorite ring.
These 3D configurations when coupled with virtual ring try-on, can help couples find the perfect engagement ring. It's conflict-free and channels a smooth journey towards sales.
5. Baccarat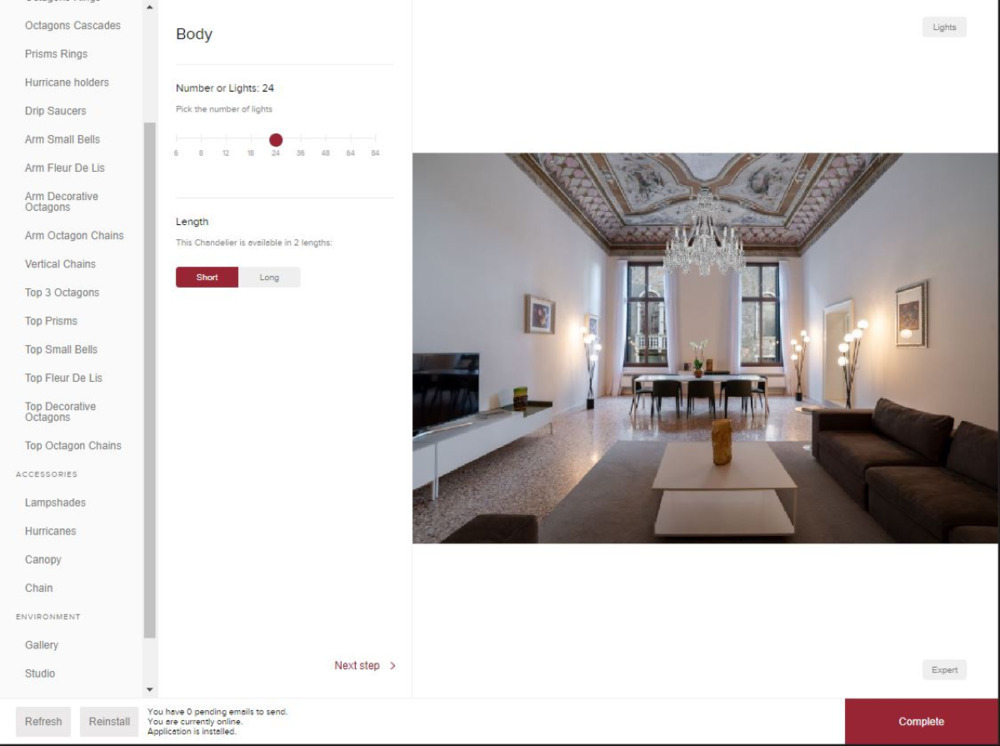 Image credit: Baccarat
Baccarat's augmented reality example is similar to that of IKEA Place. This luxury goods retailer uses our SaaS tool, Apviz, to simulate and customize their products through an interactive augmented reality experience. From its entire collection of lighting fixtures, shoppers can enjoy 3D visualization at a 360-degree angle.
Whether it's the candelabra's size or the number of lights, the color of the crystal, or the presence of accessories, shoppers can customize anything and everything on their personalized fixture.
Then, using the virtual try-on AR feature, shoppers can see how their customized lighting feature dazzles in their interior.
6. Baume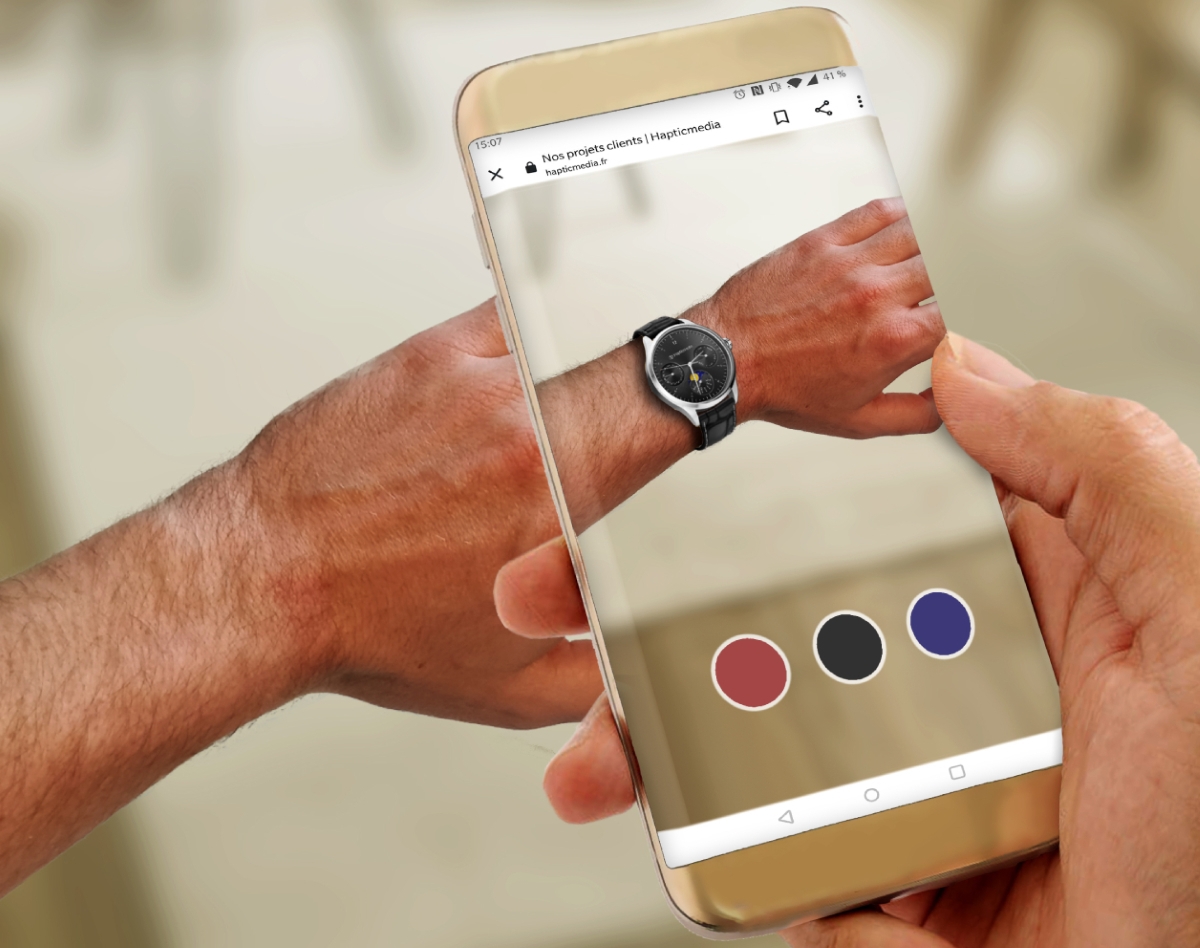 Image credit: Baume
The latest brand in the Richemont Group, Baume has an augmented reality example that's a gamechanger for the luxury watchmaking business. Baume allows shoppers to preview customizations on the timepieces — including the hands, dial, straps, dial, and engraving.
Once consumers have designed their favorite watch, they can use the virtual try-on AR app on Baume's e-commerce site to see how it will look on their wrists.
Ready to try augmented reality for your business?
If the augmented reality examples above teach anything, it is that augmented reality can greatly improve your user experience, and brands who don't use it may fall behind the competition. Whether you are a startup or an established luxury retailer, investing in an augmented reality software like Apviz is the wisest decision you could make now.
With over 15 years' experience, Apviz stands as an augmented reality leader in the luxury goods space. Leverage its augmented reality feature along with product configurators, packshots, virtual try-on, and others to augment your e-commerce sales.
Inspired by these augmented reality examples?
It's easy to get started with Apviz. Talk to us about how we can help skyrocket your sales with augmented reality solutions.