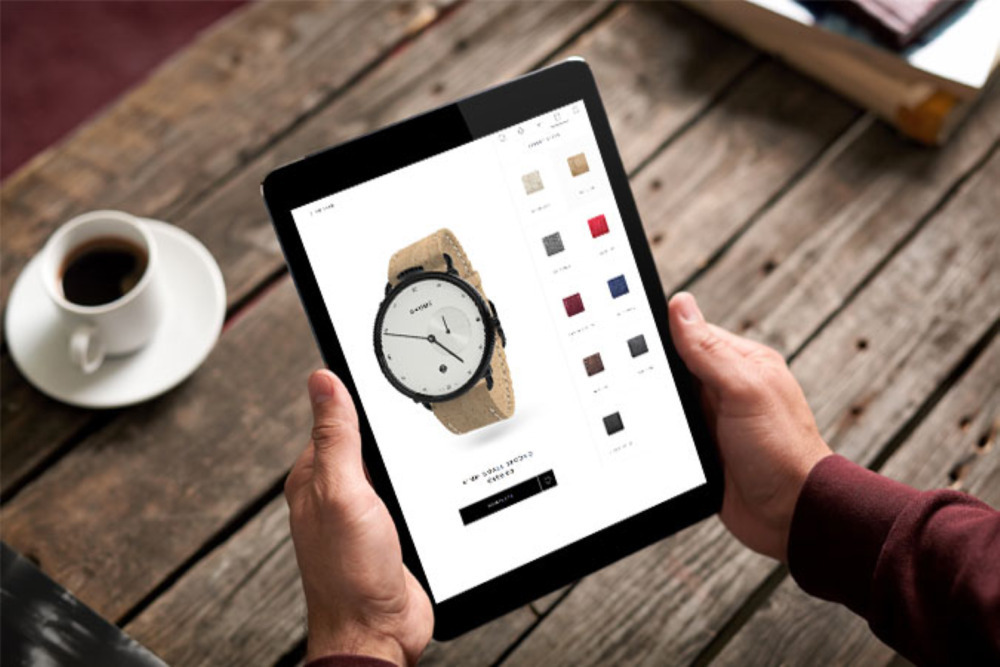 At its inception, the 3D technology was just a photograph that gave 3D visual information — such as what you see with those blue and red glasses. The advancements in 3D technology such as 3D printing, 3D configurators, and others have entered the luxury goods industry to ramp up the customer engagement game.
In this article, we'll therefore probe what exactly 3D technology is, types of 3D technology, and the benefits that it could render to your business.
Let's get started.
What is 3D technology?
3D technology refers to any form of technology that uses 3D visuals to represent different virtual or real-life experiences. For instance, when you watch a movie with those 3D glasses, you get a three-dimensional view of the virtual features displayed on the movie screen.
These experiences can be created through the overlap of technology (stereoscopy) or via immersive virtual reality and augmented reality devices.
The most common usage of 3D technology is 3D printing, whose value reached almost $16 billion in 2020 (Forbes). While 3D printing technology is enabling print-on-demand, 3D devices such as VR and AR are elevating the shopping experience for customers.
Now, if you are new to 3D devices, here's a quick definition:
Augmented reality (AR) is a 3D device that makes use of an existing environment by overlaying new information on top of it. Baccarat does an excellent job with AR. This luxury goods retailer sells high-quality light fixtures which could be customized by customers. Through AR technology, Baccarat allows its customers to position the chandelier in their homes to see if the design goes well with their interior.
On the other hand, virtual reality simply creates an artificial environment, so that there is no physical interaction between real-life things and the 3D simulated things. Everything happens on the screen. A case in point is Sephora's virtual artist app where customers can virtually try various shades of cosmetics.
However, in both AR and VR, the 3D image or information is made available through smartphones and headsets. And statistics indicate that by 2023, the global extended reality (XR — a term that combines AR, VR, and mixed reality MR) headset shipments will reach over 28 million units per year.
The key takeaway here is that customers are moving towards 3D technology. Let's take a closer look.
What are the types of 3D technology?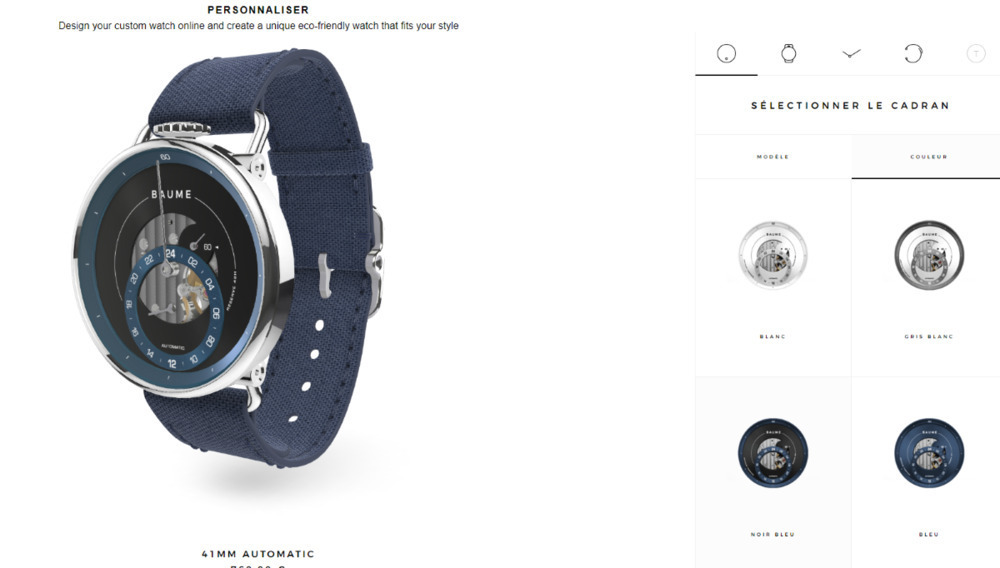 Image Credit: Baume
As far as the luxury industry is concerned, 3D technology comes in four types, as listed below:
3D printing
3D configurator
3D scanning and optimization
3D virtual try-on
Let's explore them.
1. 3D printing
The 3D printing industry has also entered the jewelry industry, giving jewelry customers the flexibility to create custom 3D design jewels. The great boon of this 3D system is that the jeweler needn't invest in collection pieces. They could wait for the customer to place a custom jewelry design order and then have it printed on-demand.
Research by Facts and Factors illustrates that the global 3D printed jewelry market is estimated to reach $5,650 million by 2026. This promises a scalable business realm for luxury jewelers.
Some of the common methods of the 3D printing manufacturing processes are as follows:
Digital Light Processing (DLP)
Fused Deposition Modeling (FDM)
Selective Laser Sintering (SLS)
Stereolithography
You can read more about the 3D scanners' printing processes and production methods here.
2. 3D configurator
A 3D configurator is yet another 3D technology that allows your customers to personalize a product to their specifications. Here, customers have a greater room for visualization and customization.
To understand this technology better, let's explore how Kenzo, a fashion luxury retailer uses the Apviz 3D configurator.
Note that customers get these visualization and customization flexibilities because the Apviz 3D configurator integrates with Kenzo's online store. This allows customers to change the color of the shoes and see how the sole, collar, toe, and other parts of the shoe appear. They can rotate the 3D model in all 360-degrees.
A great customer experience indeed!
3. 3D scanning and optimization
Designing a Computer-Aided Design (CAD) of objects, especially jewelry, right from the first pixel can be complex. Here's where new technology in the likes of 3D scanning can assist.
Guerlain uses 3D scanning and optimization as a base for its 3D modeling and visualization. With Apviz's 3D scanner, Guerlain has created 3D models of its perfume decanters and lipstick cases. Using them as the base, Apviz has enabled Guerlain to deploy the 3D configuration of its products.
The results?
Guerlain increased its sales by up to 50%.
4. 3D virtual try-on
Virtual try-on 3D technology allows your customers to virtually try your products.
For instance, Baume enhances the customer experience by not only allowing customers to customize the timepieces but also letting them virtually see how these customizations will look. So, customers can use their smartphone cameras to capture their wrist. Then, they can see the customized watch on their wrists. This functionality is embedded in Baume's eCommerce store, thus yielding them a better online sales return on investment (ROI).
Research shows that customers value product customization and AR experiences.
What are the benefits of 3D technology?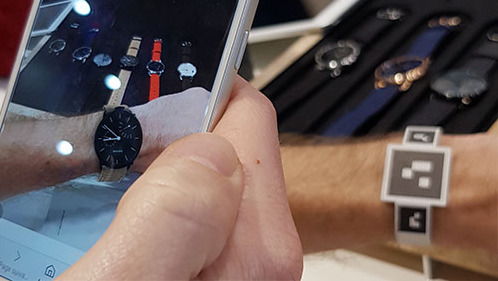 Image Credit: Baume
As you can see, various luxury brands are embracing 3D technology to better engage with their customers and grow their profits. Here are some unique benefits of 3D technology that'll help you understand its full potential.
1. Design flexibility
As opposed to the traditional production processes, 3D technology lets you design and 3D print more complex designs. While traditional production methods do impose certain design restrictions, these limits don't exist as much with 3D printing.
2. Print-on-demand
With 3D technology, you need not invest in a lot of space to stock inventory. Since the 3D design files of your products are all stored in a virtual library, you could fetch the 3D models when needed and print them on-demand.
Even editing designs can be very affordable.
3. Rapid prototyping
With the 3D printing technology, you could manufacture jewelry/clothes/shoes/furniture printed parts in hours, thus accelerating the prototyping process. This way, each phase of the product fabrication is completed faster.
Besides, in comparison to machining prototypes, 3D printers are inexpensive and quicker in creating parts. That facilitates efficient and easy design modification in each phase of the manufacturing process.
4. Better customer experience
3D technology doesn't only benefit retailers — it renders shoppers with impeccable shopping experiences.
When retailers use 3D models as the base for customization, shoppers can interact with products in real-time. These immersive experiences expedite the decision-making phase for the customers.
Integrate 3D technology into your business
In this blog, we looked into the various types of 3D technology that luxury goods retailers could leverage. To integrate them into your business model, get in touch with Apviz, an industry leader in 3D technology.
Just like how Apviz has helped Kenzo, Baccarat, Baume, and Guerlain, it can help you as well. And the good news is you can get started for free.
Apviz has all forms of 3D technology and other immersive experience technology under its platform suite. Some key features of Apviz are:
3D configurator
Packshots
Exporting CAD to the web
Virtual try-on
Dynamic overlay
Connect with Apviz and integrate 3D technology into your business.
Stay informed
Discover
more articles